10 Must-Have Trench Coats to Wear This Spring
From black to beige, these trench coats will make you wish it was rainy season all year long.
Spring has sprung, and April showers bring May flowers. Outerwear is the name of the game this season, with trench coats being go-to, versatile pieces that can elevate and complete any look.
Whether you prefer long or short, beige or blue, plaid or plain, the perfect trench coat is just waiting for you to add it to your wardrobe this season. Below, we're sharing 10 of our favorite trench coat picks for this Spring.
1. Reversible Trench Coat by Mango
With classy plaid print on one side and neutral beige on the other, this 2-in-1 coat is the best of both worlds. While you can switch off between casual and sophisticated, the classic collar and long-line cut with button fastening ensures no matter which side you wear, it'll be perfectly tailored and seamlessly sophisticated.
Shop the Reversible Trench Coat for $84.99 at Mango.
2. Single-Breasted Trench Coat by Uniqlo
Available in beige and dark gray, this simple longline trench coat is exactly what your wardrobe needs this season to pair with anything from sweats to jeans to slacks. With a relaxed A-line fit and raglan sleeves, Uniqlo's trench coat is versatile and on-trend.
Shop the Single-Breasted Trench Coat for $149.90 at Uniqlo.
3. Khaki Trench Coat by J. Crew Factory
Minimalist and simple, this trench coat pairs with almost everything. A true staple piece, it features a lapel collar and regular cut, a cotton take on a clothing classic. Pair it with a formal look to dress it up, or streetwear favorites for everyday vibes.
Shop the Khaki Trench Coat for $168 at J. Crew Factory.
4. Technical Trench Coat by Massimo Dutti
Massimo Dutti makes a trench coat for the man of taste, fashion and refinement. In navy blue with a water-repellent and windproof fabric, the straight-cut trench with a back vent, side pockets and button fastening is really man's best friend this Spring—and his wardrobe's favorite piece.
Shop the Technical Trench Coat for $249 at Massimo Dutti.
5. Munson Slim-Fit Modern Raincoat by Calvin Klein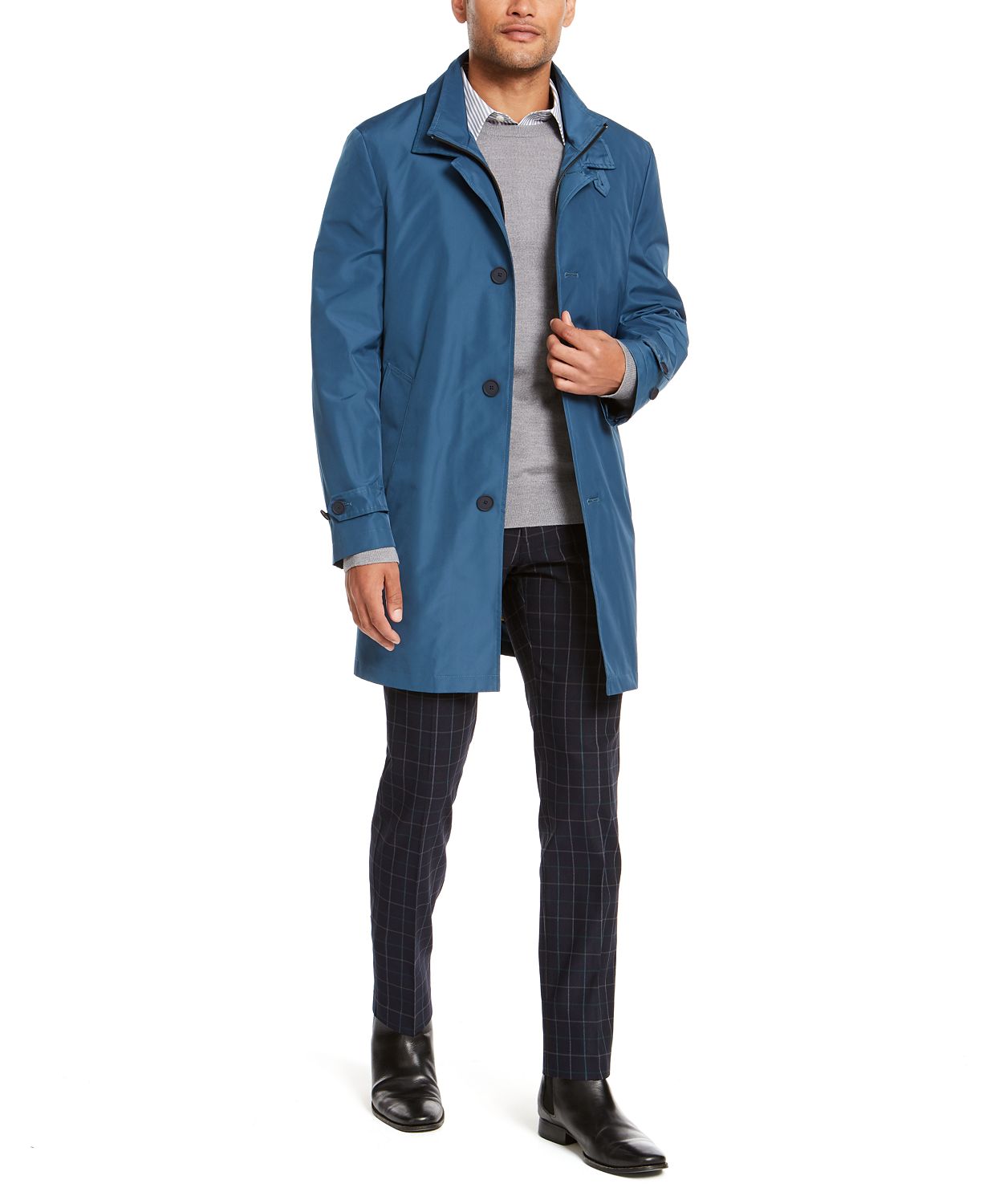 Whether you're stepping into the office, a coffeeshop, or just the block for a quick neighborhood walk, this trench coat is your saving grace on a chilly Spring day. In bold blue, sleek black or crisp charcoal, the slim-fit tailoring and mid-length cut make for a versatile and contemporary look—and the hidden zip closure and button fastening ensure maximum comfort and warmth.
Shop the Munson Slim-Fit Modern Raincoat for $395 at Macy's.
6. Beige and Black Trench Coat With Check Motif by The Kooples
The Kooples' sleek plaid trench coat is a statement piece for your wardrobe, a garment which can be dressed up, dressed down, worn with everything. In a classy and neutral color palette, the refined urban style is complete with retro check squares and large black buttons, giving your look that classic Kooples edginess.
Shop the Beige and Black Trench Coat for $570 at The Kooples.
7. Thibaud Tech Trench Coat by Officine Generale
A modern take on the classic trench coat is envisioned by Officine Generale, portrayed in the spread collar, concealed button coat. With waist welt pockets and tab-buttoned cuffs, this khaki coat is truly minimalistic and functional, a clean, contemporary slate for your Spring wardrobe.
Shop the Thibaud Tech Trench Coat for $645 at Saks Fifth Avenue.
8. Cotton-Twill Coat by Aspesi
In rugged army green, Aspesi creates a laid-back trench coat for the casual endeavors of the season, taking cues from the style of the everyday urban man. Reminiscent of classic military gear and workwear, the internal drawstring at the waist and mesh inserts ensure breathability in this classic mid-weight coat.
Shop the Cotton-Twill Coat for $725 at Mr. Porter.
9. Mid-Length Chelsea Heritage Coat by Burberry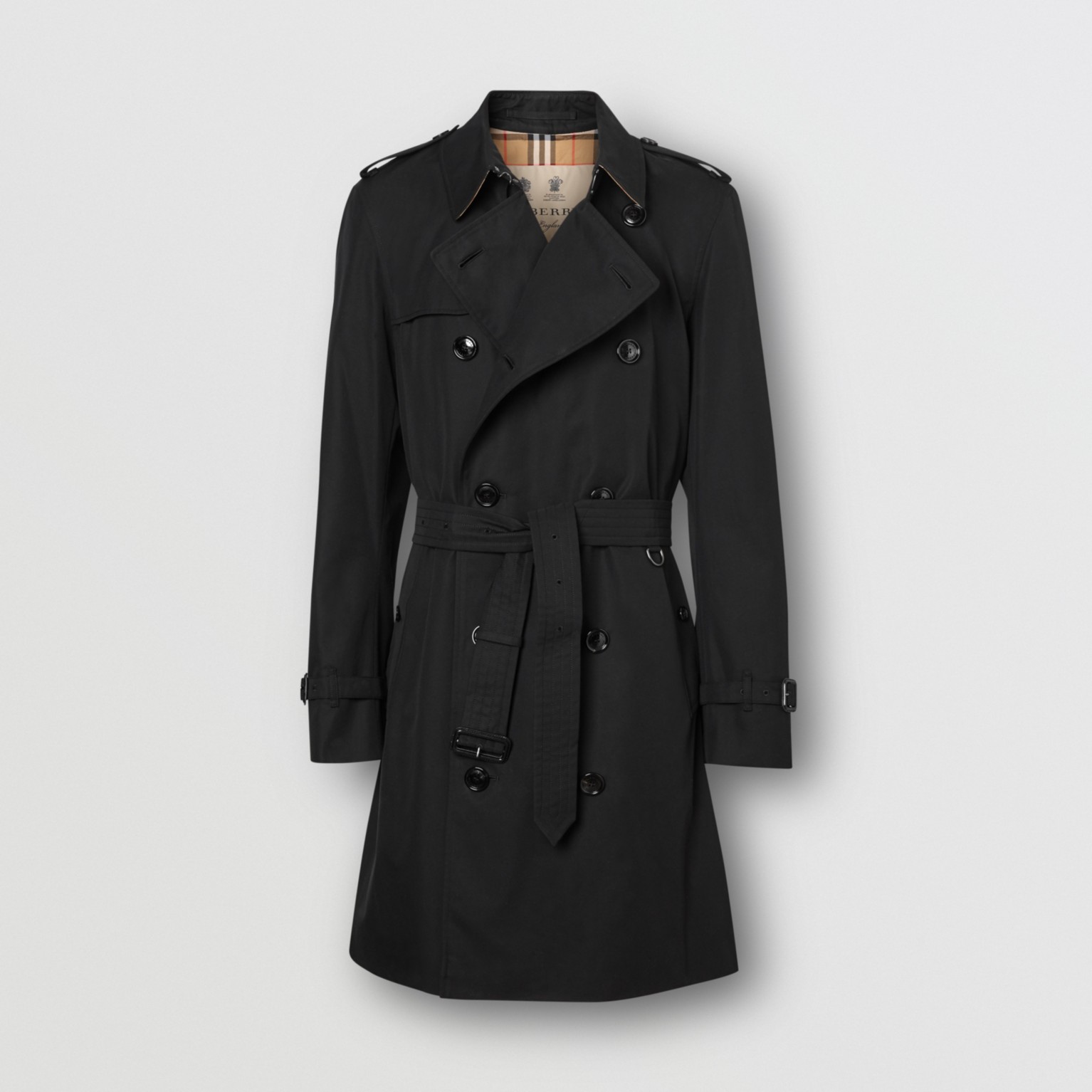 Who knows trench coats better than Burberry? In black, charcoal and beige, their classic mid-length trench is sleek and suave, featuring the signature house Vintage check lining under the collar and on the inside. Slim-fit and clean-cut, this coat is the refined staple of Spring.
Shop the Mid-length Chelsea Trench Coat for $1,990 at Burberry.
10. Check Wool Coat With Gucci Label by Gucci
Finally, Gucci's statement check coat makes all the rain and clouds of springtime more than worth it, if only because you get to bring this out of your closet. With beige and brown check wool and a sartorial label embellishment on the cuff, the timeless coat is chic and classy, fun and sophisticated.
Shop the Check Wool Coat for $2,800 at Gucci.