14 Vegan Leather Pants We've Got Our Eyes On
How can we choose just one?
How can we choose just one?
Quickly merging from just a trend to a timeless classic, a gorgeous vegan leather pant seems like it's here to stay, offering a look so elegant and refined it's hard to believe it takes little-to-no effort to dress up or dress down. Though we used to just see them in standard straight-leg format in black or brown, the vegan leather pant has completely transformed, being perfected in its original silhouettes and standing out in new unique shapes. We've gathered ten below that we'd consider our favorites.
Alice + Olivia Athena Vegan Leather Wide Leg Pant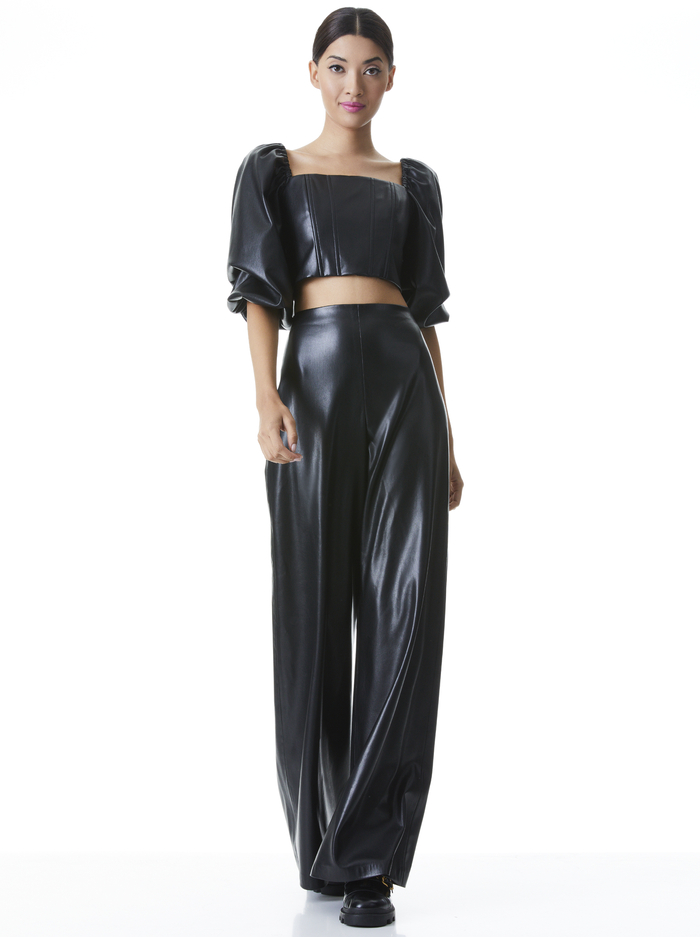 Who knew vegan leather could come in a shape like this? These Alice + Olivia pants ($295) offer a high-rise waist with draping wide legs.
Simon Miller Black Vegan Leather Pants
Patent vegan leather? Please, sign us up. These Simon Miller pants ($395) are lined in satin and are fashioned with silver-tone hardware. You're sure to turn some heads in these.
Abercrombie & Fitch Vegan Leather 90s Straight Pants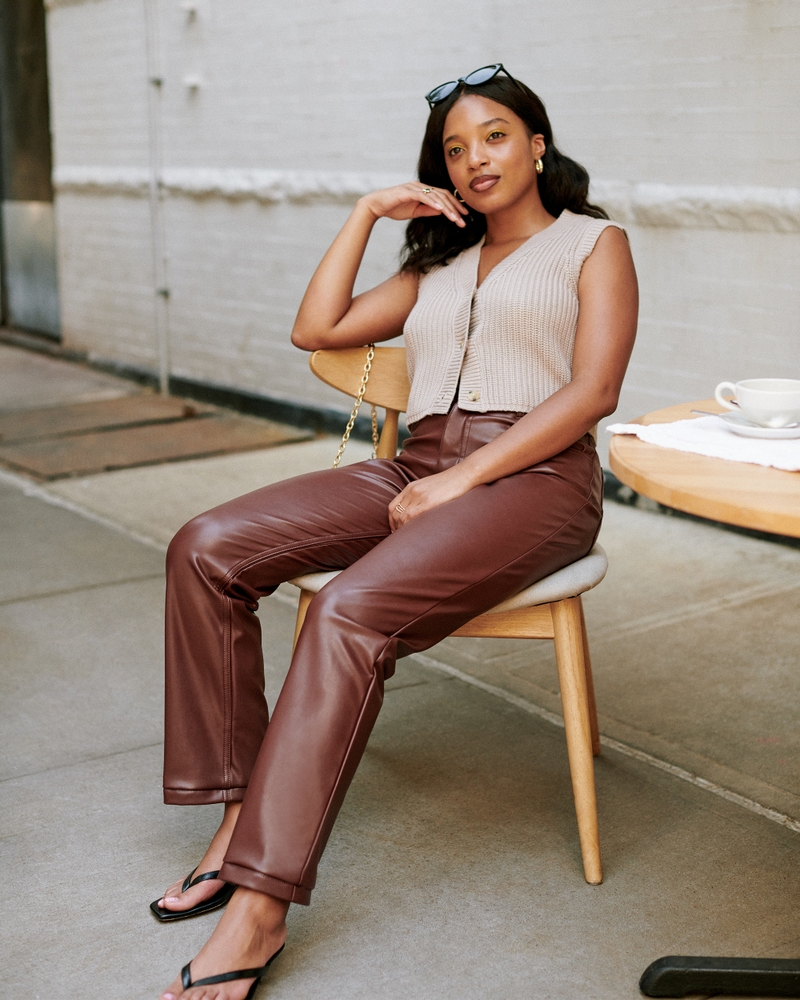 The comeback no one saw coming, Abercrombie's vegan leather pant collection ($99) hits all the right bases. The pair above comes in varied lengths from extra short to long and are a perfect blend of comfiness and style.
AFRM Heston Vegan Leather Pant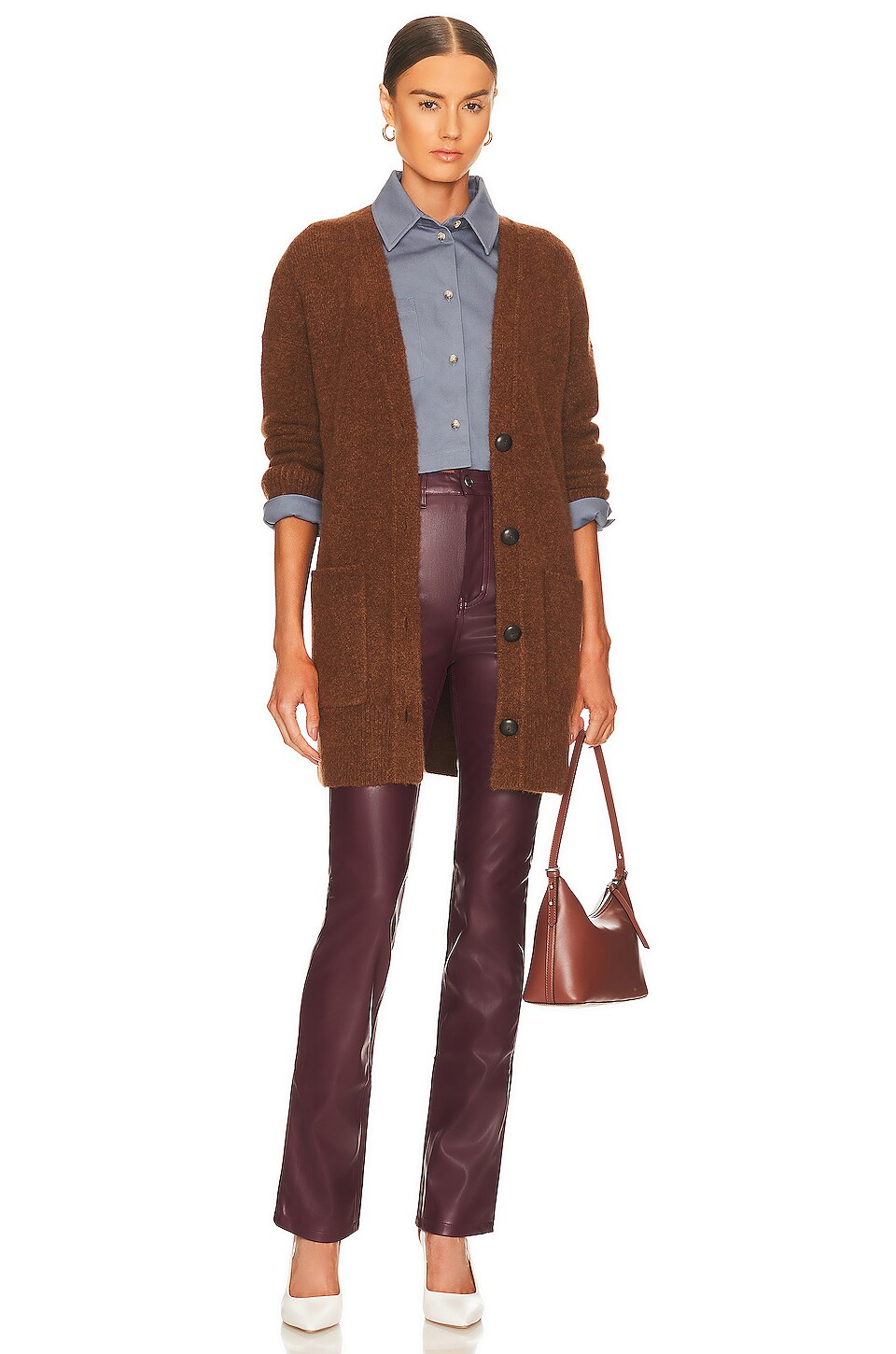 A supreme colorway and a delightful fit, AFRM's Heston Pant ($88) will have you standing out in the crowd from a mile away.
Staud Eli Pant 
With a straight-leg fit and white stitching throughout, the STAUD Eli Pant's (on sale for $210) unique contrast sets this pair apart from others.
CULTNAKED FOREVER Killa Trousers
Made of 100% upcycled leather, CULTNAKED wants these ($470) pants to last you forever. Emphasizing curves and elongating the legs, these are sure to be a forever staple.
Free People Rebel At Heart Vegan Slim Pants
A buttery look in color and feel, the Free People Rebel At Heart Vegan Slim Pants ($78) show us that vegan leather pants aren't just limited to a darker color palette, taking the leather pant from season to season.
SPANX Faux Leather Leggings
Looking for vegan leather in the form of a comfortable legging? Look no further, because Spanx (yes, Spanx!) has got you covered with a pair ($98).
AGOLDE Recycled Leather 90's Pinch Waist Trousers
Close fitting and vintage inspired, these Agolde Trousers ($298) come in a range of colors and have that perfect leather sheen.
Nanushka Vinni Cropped Vegan Leather Pants
Known for their signature vegan leather, Nanushka's Vinni Pants ($465) are fully flattering and all about style. 
Zara Full Length Faux Leather Francoise Pants
Taking you directly to the streets of Paris, these Zara leather pants ($49.90) are an essential option when you want the loose trouser-type of style.
Free People Factor Patent Vegan Leather Pants
Offering another unique silhouette and color, Free People's It Factor Patent Vegan Leather Pants ($128) put a little spark in our vegan leather pants endeavors. 
A.L.C. Christopher Vegan Leather Pant
Oh-so-sleek, these A.L.C. vegan leather pants ($395) are the embodiment of a perfect pant. Should we say more or should we say the perfect slouch of the ankle speak for itself?
Aritzia Melina Wide Leg Pant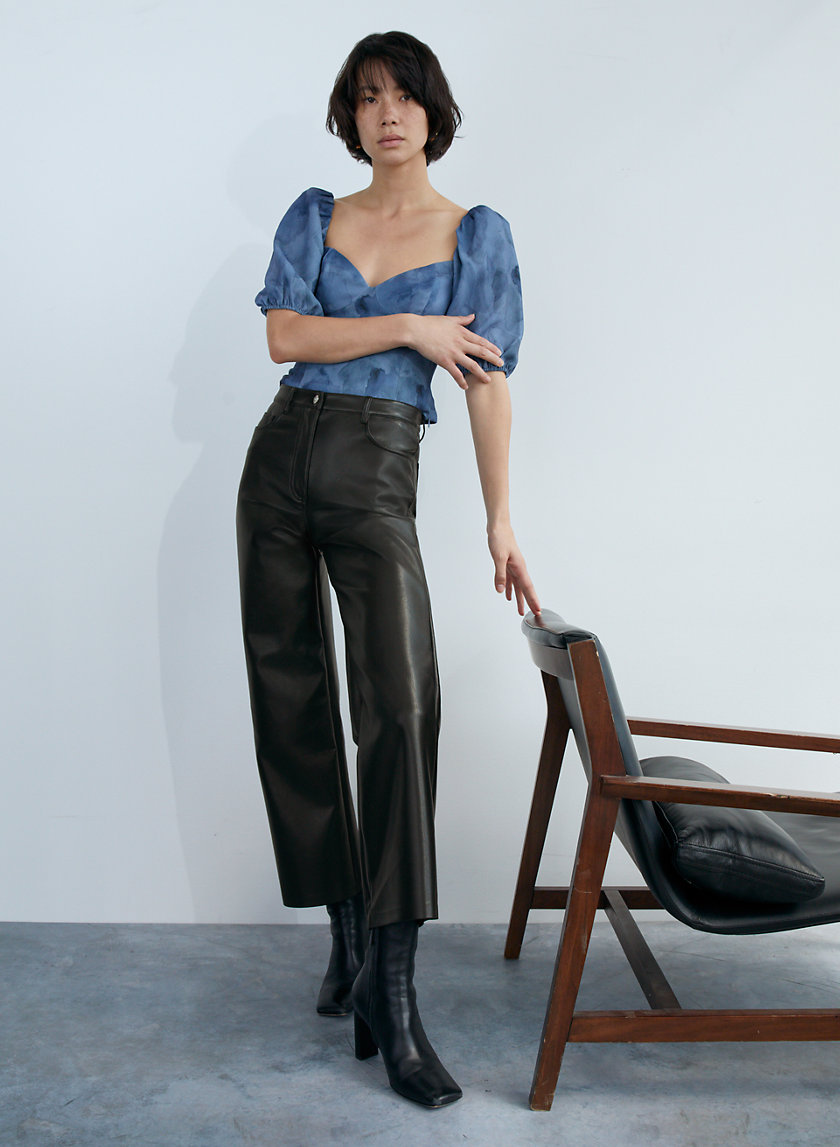 Arguably the one that started it all, Aritzia's Melina pants  ($148) from their Wilfred collection serve as the ideal vegan leather pants in our eyes. 
Credits: All images courtesy of brands.