6 Standout Looks From Superbowl LV
This year's theme? Jazzed-up jackets.
This year's theme? Jazzed-up jackets.
From Lady Gaga's gravity-defying bodysuit to Shakira and J. Lo's gold and silver ensembles, the Super Bowl has a history of inspiring head-turning fashion moments. While performances looked a little different this year, the headliners and guests at the Super Bowl LV managed to pull off some incredible ensembles. Here are our most memorable picks.
Amanda Gorman in Moschino
After making headlines for her poetic prowess as the U.S.'s youngest inaugural poet, 22-year-old Amanda Gorman dazzled in a metallic baby blue coat from Moschino and regal pearl headband. The poet laureate looked powerful while eulogizing pandemic heroes.
Tom Brady in Tom Ford
Before claiming his seventh Super Bowl win — a record-shattering achievement — Tom Brady stepped out in a dapper herringbone blouson by Tom Ford and twill denim pants. However, we think the ensemble would have looked better with a mask.
Camille Kostek
The Sports Illustrated Swimsuit cover model and partner of champion Rob Gronkowski looked every bit the adoring girlfriend in a custom cropped red jacket adorned with Gronk's number. Kostek kept things on trend by pairing the jacket with leather pants and a corset top.
Miley Cyrus in Gucci
Miley Cyrus streamed her Super Bowl performance on Tik Tok, where she wore this custom Gucci cheerleader outfit with zipper detailing. Voluminous hair and bold eyeshadow added to the 80s-inspired ensemble.
The Weeknd in Givenchy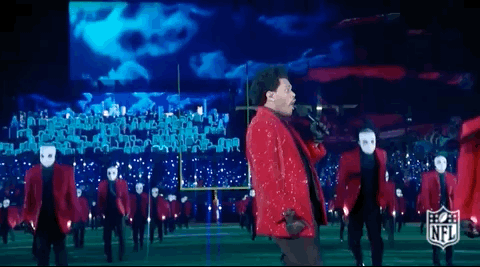 The Weeknd shone during his solo halftime performance in his signature red blazer, this time in a scintillating version from Givenchy which took 250 hours to make.
Jazmine Sullivan in Area
The singer's stunning vocals during the National Anthem were complemented by a crisp white pantsuit from the brand Area. Details from her crystal headpiece were incorporated into the pantsuit, lending a cohesive feel to her look.