7 Sage Green Statement Pieces for Your Wardrobe This Spring
If you haven't heard yet, sage green is the color of the season. The soft, muted hue with slightly desaturated undertones is adorning everything: bags, sunnies, coats and boots. We can't get enough of this color, and if you can't either, these are the new finds you need for your spring wardrobe.
1. Illesteva Vinyl Sunglasses
Possibly the only spring item trendier than sage green are chunky, rectangular sunglasses, and these frames by Illesteva combine the best of both worlds. With a very vintage feel and old school sweetness, the acetate frames have dark grey lenses and a bold sage rim—just the right dose of green for any outfit.
Shop the Illesteva Vinyl Sunglasses for $220 here.
2. Tabi Vintage Leather Boots
Tabi boots are iconic, but Tabi boots in sage green are on a different plane entirely. The star of your outfit, the legendary style from Margiela gets a flirty spring twist in sage green, with the Tabi split-toe and a white stitch at the back. Pair it with a dress, jeans or a skirt, and you're ready for anything.
Shop the Tabi Vintage Leather Boots for $990 here.
3. Aritzia Ribbed Crew Socks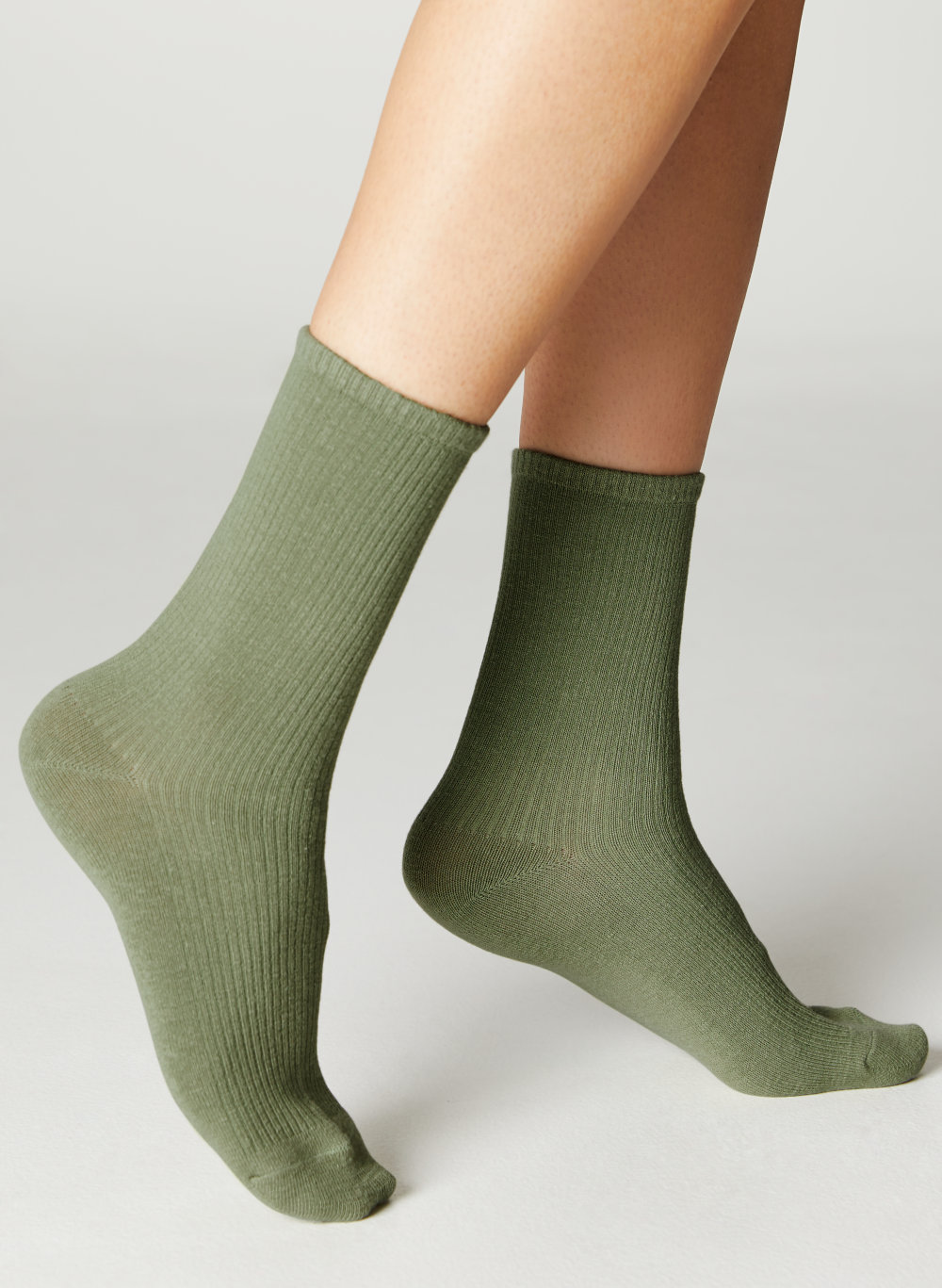 For a more subtle sage green look, socks are the way to go. Style them peeking out of your favorite platform shoes or sneakers, and match them to sage green you have elsewhere in your fit, or entirely on their own. These soft cotton socks are versatile and fashion-forward, perfect for the everyday.
Shop the Ribbed Crew Sock for $18 here.
4. Bottega Veneta Pleated Satin-Twill Wide-Leg Pants
Silk trousers practically scream "springtime," and in sage green, they couldn't be better matched for this season. With Bottega Veneta's impeccable tailoring and a fitted waist that billows into a soft, wide-legged silhouette, these trousers are casual yet elevated, best dressed up or down.
Shop the Pleated Satin-Twill Pants for $950 here.
5. Loewe Mini Puzzle Bag 
Made with calfskin and Loewe's luxury leather finery, this miniature purse is a must-have for spring. With sage green accents and a soft white and charcoal base, the bag is a cuboid structured masterpiece, complete with a shoulder, crossbody, top handle or clutch carry to go with you anywhere.
Shop the Mini Puzzle Bag for $1,990 here.
6. Camila Coelho Michelle Crop Top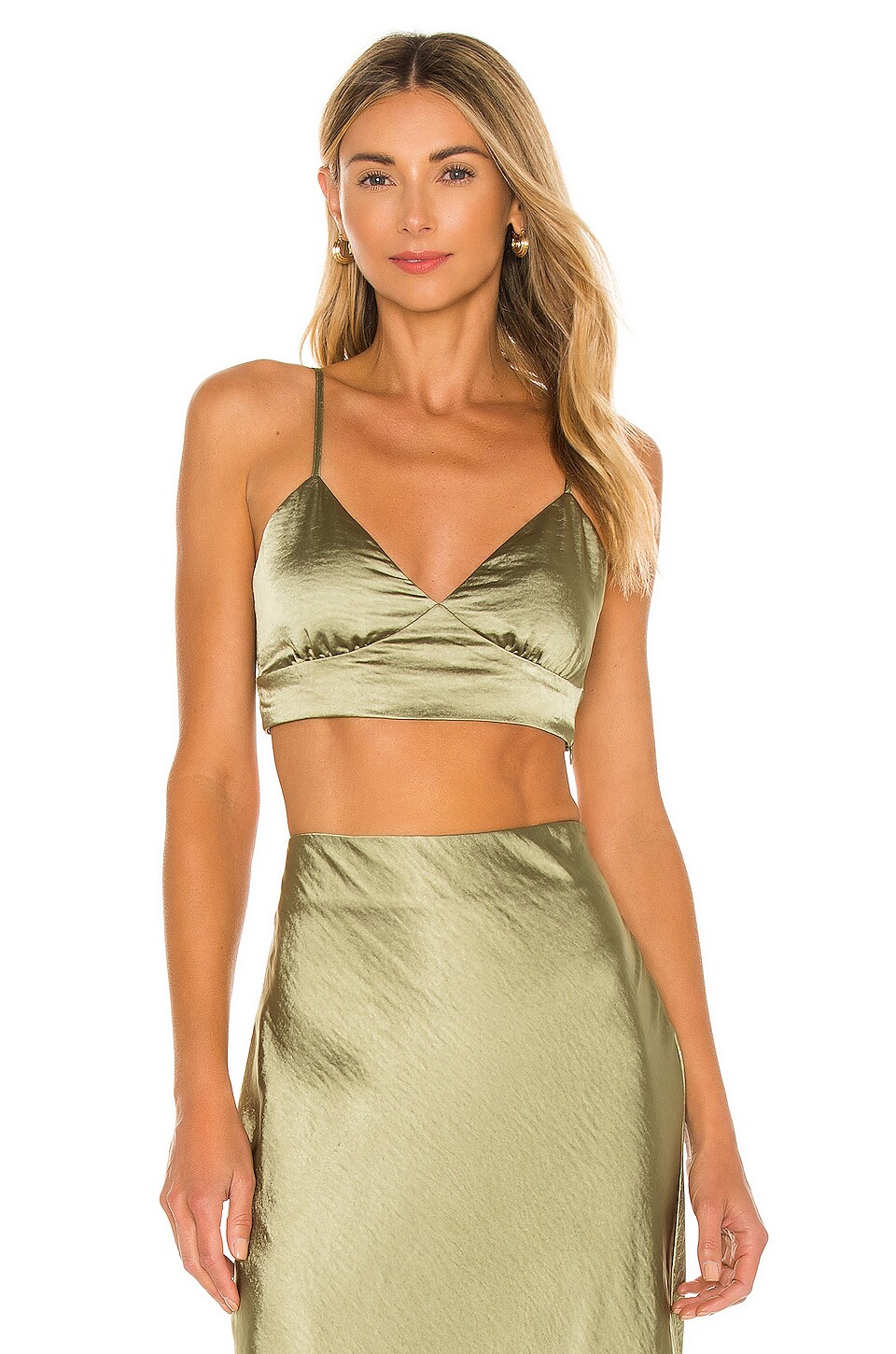 A flirty and fun style for the season, this sage green bra top is silky soft and perfectly vibrant. With a V-neck cut and adjustable strappy shoulders, it's perfect for layering, on its own, or anytime you feel the need for green.
Shop the Michelle Crop Top for $108 here.
7. Saks Potts Shorty Shearling-Trimmed Leather Jacket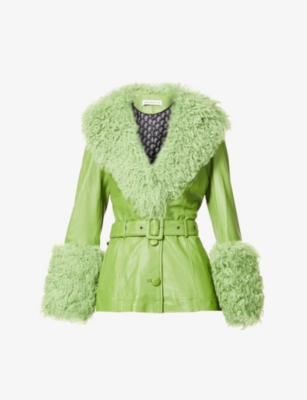 Finally, nothing makes a statement like a Saks Potts jacket—and nothing makes a trendier statement than one in sage green. Made from 100% lamb leather, the shearling collar and cuffs are exaggerated and chic, and the button closure is the elevated finish to the carefree springtime essential.
Shop the Shorty Shearling-Trimmed Leather Jacket for $1,235 here.