8 Trendy Sunglasses for a Sunny Forecast
From colorful to monochrome, sleek to oversized, these are the best shades of springtime.
Aside from longer days and shorter hemlines, one of the best things about the return of the sunny season is the ability it allows to accessorize with sunglasses. When the sun is shining overhead, another tool is in your fashion arsenal, and it is one which simultaneously completes your look, adds extra eye protection and spruces up your style with a little bit extra of your taste.
Whether you prefer blocky sunglasses or slim and sleek shades, bright springtime hues or chic neutrals, we have the perfect sunglasses for you this spring. Read on for 8 of the trendiest sunglasses this season, from mid to high range.
1. Dixie Sunglasses by Vehla
Evoking the 70s with oversized rectangular lenses and a honey tort/graphite acetate frame, these sunglasses are fun and flirty, adding an air of vintage to your best springtime outfits. The exaggerated style flatters the face (and the look as a whole), bringing carefree and laidback chicness.
Shop the Dixie sunglasses for $142 at VehlaEyewear.com.
2. Nina Sunglasses by Ray-Ban
Ray-Ban's sleek cat-eye frames are glossy black and trendy green—what's not to love? Minimalistic yet fashion-forward, these smaller frames are perfect for spring days spent brunching and shopping, or even just running outside for errands; no matter what the occasion, the Nina sunnies elevate without overdoing it.
Shop the Nina sunglasses for $165 at Ray-Ban.com.
3. Castaway 48MM Oval Sunglasses by Karen Walker
A spin on chunky, oversized frames, these blocky oval sunglasses are the silhouette of spring. With thick black frames including a signature arrow detail and lavender lenses, these aren't your typical black sunnies—they're better. Dynamic and chic, there's no going wrong with these bulky frames.
Shop the Castaway sunglasses by Karen Walker for $200 at SaksFifthAvenue.com.
4. Logomania Round Sunglasses by Versace
With thin lenses and nearly nonexistent circular frames, these sunglasses are the chicest and sleekest pair of round eyewear you'll find. Versace's signature 90s vintage logo is laser-engraved in gold, a sophisticated contrast to the light brown and grey lenses. With a thin double-brow ridge and Versace's iconic everyday coolness, these sunnies are adaptable from spring to all year-round.
Shop the Logomania sunglasses for $278 at Versace.com.
5. Small Acetate Sunglasses by Loewe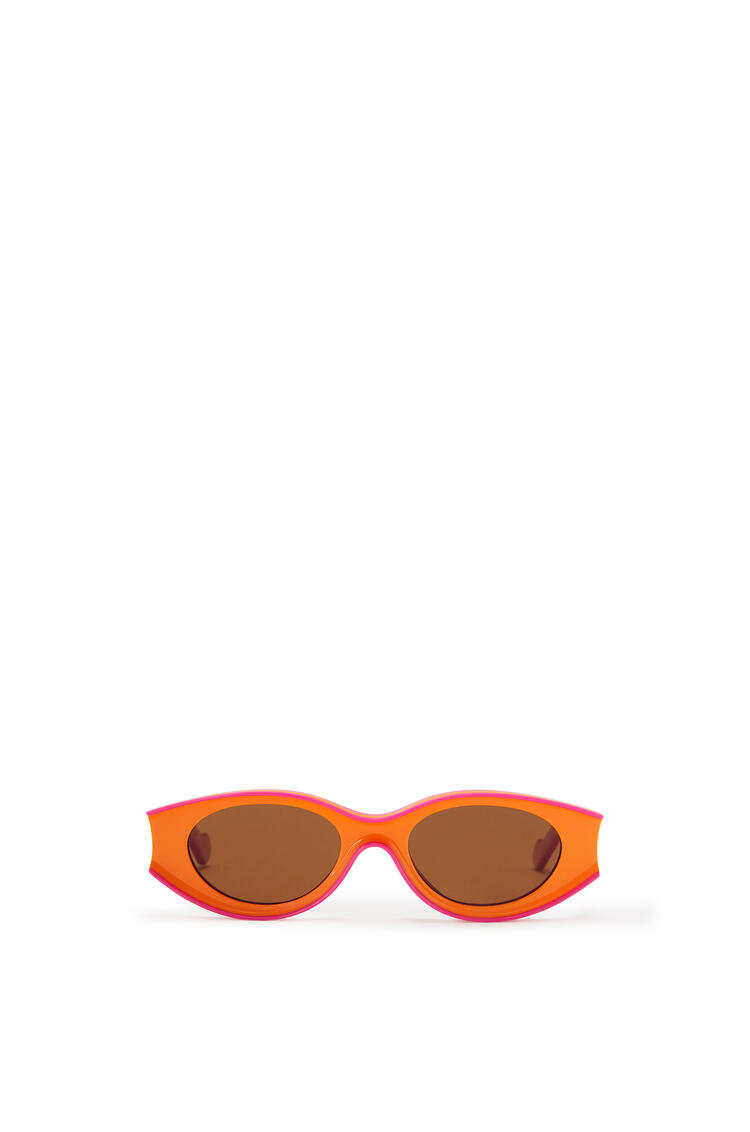 Loewe's neon orange and pink acetate frames bring all the fun of vintage with all the style of the fashion house itself. Inspired by the 90s with a contemporary twist, these bright acetate frames with gold metallic detailing were made for springtime, ready to be paired with your best dressed up or dressed down look.
Shop the Small Acetate sunglasses for $340 at Loewe.com.
5. Coded Rectangular Acetate Sunglasses by Fenty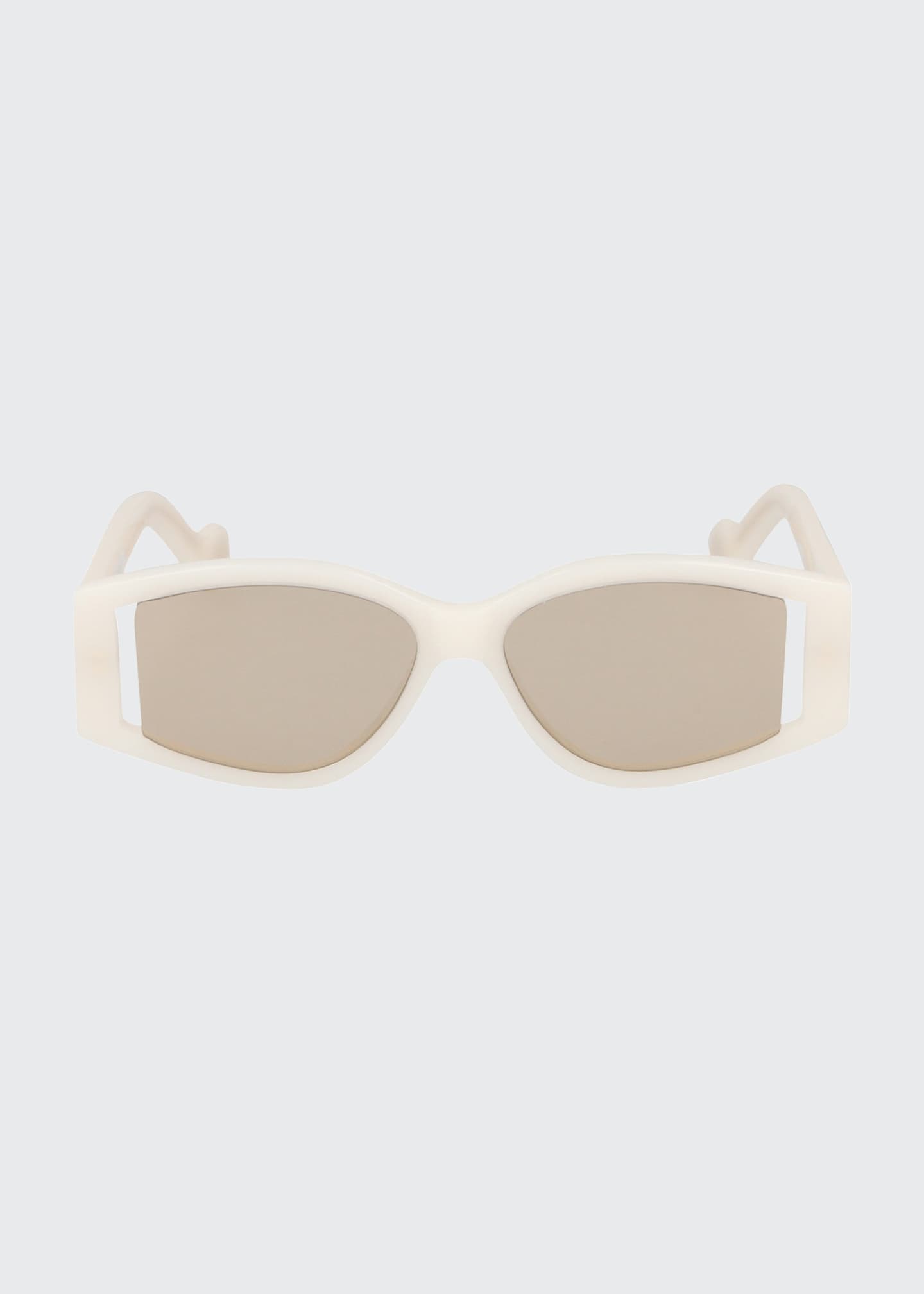 If you can look to anyone for sunglasses inspo, it's RiRi herself, and Fenty's oversized rectangular shades in ivory definitely don't disappoint. A statement look contrasting the typical black of eyewear, these rectangular frames feature rounded edges and cutouts at the sides, putting a cool spin on a classic shape.
Shop the Coded Rectangular sunglasses for $340 at BergdorfGoodman.com.
7. The Row by Oliver Peoples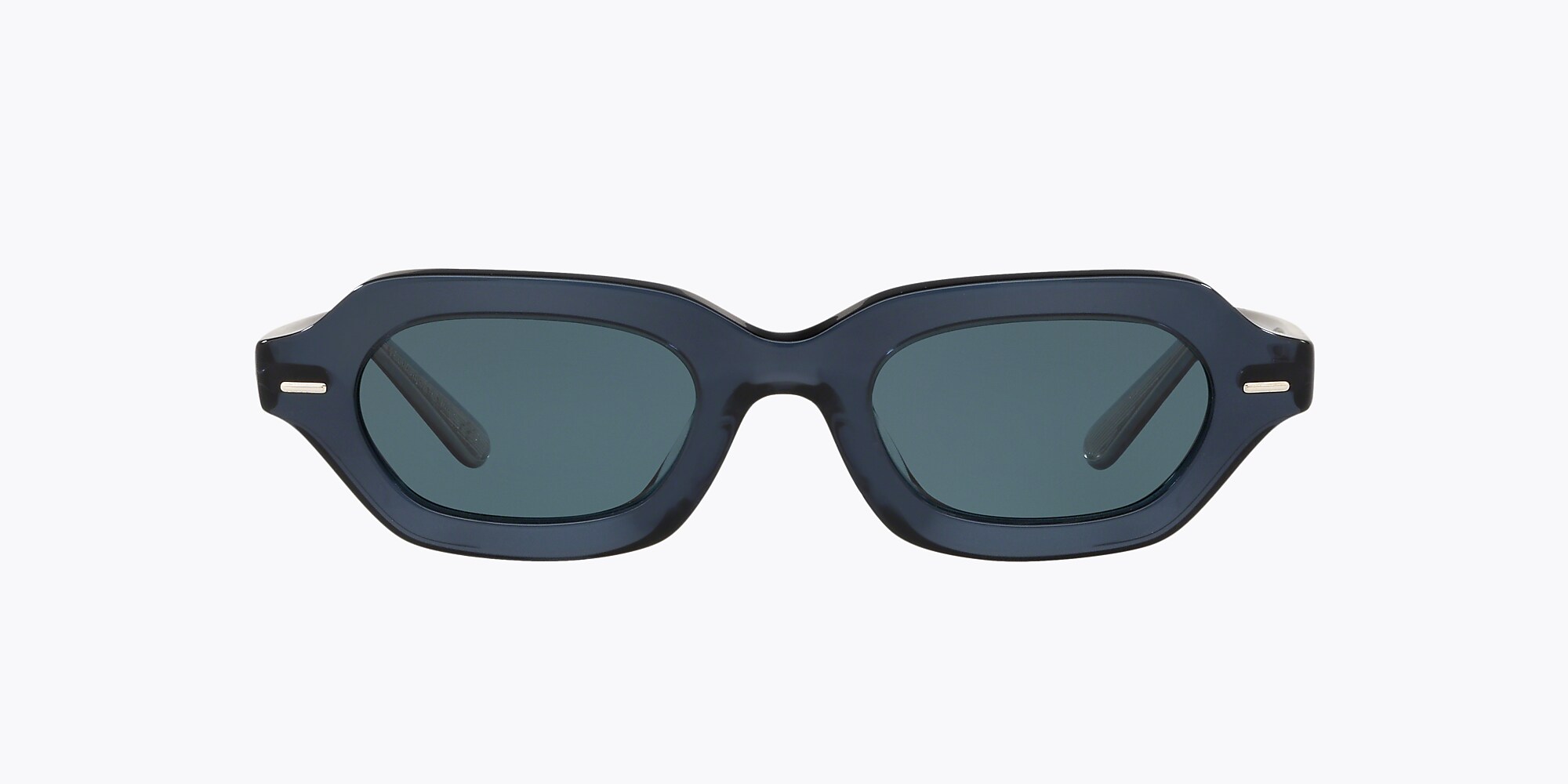 Ever the eyewear innovator, Oliver Peoples pairs a shallow, vivid blue lens with glossy black, hexagonal shades for an undeniably suave springtime look. With metallic silver detailing on the sides, these shades are understated yet cool, bringing an avant garde dimension to your fit.
Shop The Row sunglasses for $531 at OliverPeoples.com.
8. Square-Frame GG Lens Sunglasses by Gucci
If there was a must-have pair of statement sunglasses out there, it would undeniably be these funky, playful shades by Gucci. With sleek black frames and lenses featuring the iconic GG monogram logo all over, these sunglasses are timeless, bringing boxy frames into any particular look or moment.
Shop the Square-frame sunglasses for $680 at Gucci.com.