Anwar Hadid Makes a Musical Comeback with Single, "Off@Night"
The younger brother of Gigi and Bella drops his last name for the mononymous stage name, "Anwar".
Anwar Hadid is diversifying his resume. First, a model. Then, a jewelry designer. And as of this week, a singer.
The youngest Hadid sibling debuted in the music scene this week with the release of his single, "Off@Night", freshly dropped with an accompanying '90s-esque music video. The track features a punk rock sound and tell-tale lyrics — Anwar croons about his mental health battles and the ability to overcome the darkest of days. "I've now found my peace from the hell I lived in for days and nights," he sings. "It came on over me, that I hated what I saw, and took my heart for granted."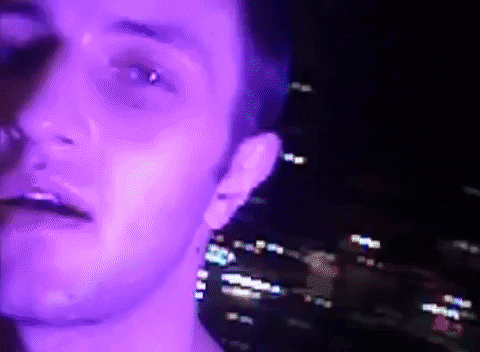 Leading in with a droning electronic sound, the beat kicks in with a pounding guitar and drum beat that feels like 2021-meets-1990's-Nirvana. Keeping on tune with the 90s grunge vibe, the music video captures Anwar in a series of lo-fi scenes from wandering the aisles of a bodega, lighting a cigarette in the backseat of a car, and moodily standing on a New York street with a smokestack steaming behind him. The "Off@Night" music video is the product of Anwar's many creative alliances, directed by his friends, Arb and Kuj Durollari, the sibling duo behind LA-based clothing line, BOND. 
Anwar is no stranger to the spotlight but this is the first time we hear his voice, his story, and not just his image used for promotion (ie. his countless fashion campaigns). The 21-year-old multi-hyphenate talent explains his new release is "inspired by inarticulate irritation — that feeling in the moments when you lack the right words to adequately express yourself." Well, consider yourself adequately expressed, Anwar.
One special someone in the young Hadid's life found the right words to express herself about the new single. His girlfriend, pop music's queen-of-the-moment, Dua Lipa shared her excitement in a seven-picture Instagram post of the couple dining in a swanky London cafe, gushing "proud of you mi lovieeeee." Naturally, this got us thinking how amazing a Dula Peep pop x Anwar grunge crossover could sound. Will there be a musical collab in the future? Watch this space.
Listen to Anwar's new single, "Off@Night", out now.