History carries great weight at a heritage house such as that of Valentino. One could argue heritage is at the core of its every move—but maybe history doesn't have to stay confined to the archives of the past. Perhaps it can be used as more than a point of reference. The house proposes the past can be repurposed for the future with Valentino Vintage.
Here's how it works.
First, bring a pre-loved Valentino garment to select a Valentino Vintage shop. Then choose a new design to exchange your pre-loved vestiary baby with. It's as easy as that.
Unfettered by seasonal trends, the project allows the global fashion community to explore garments of the past that speak to them in a dynamic mode of shopping.
Valentino Vintage first opened its eyes to the fashion world in 2021. What started as a small project became an international sensation, with boutiques opening in fashion capitals worldwide. There's Madame Pauline in Milan, where its eccentric personality recontextualizes vintage fits, and the Plaisir Palace in Paris, where distinctive elegance is splashed with vivacious color. Lest we forget Rellik: a hotspot for stylists and celebrities nested in London where an experimental selection flirts with treasured pieces from the 60s.
The list goes on to include Recess in Los Angeles, with its collection ranging from couture gowns to band t-shirts, and The Vintage Dress in Tokyo, whose inventory spans a century. Janemarch Maison, curated by Lifestyle Creative Director Jung Jae Ok, brings the Parisian boutique to Seoul's vibrant Seongsu-dong neighborhood. At the same time, New York Vintage in New York City magnetizes A-list clients such as Rihanna and Michelle Obama with its rich collection of vintage treasures.
While all unique in their identity and the collections they hold, these boutiques are united by the belief that views fashion as eternal rather than ephemeral. Valentino knows this. That's why the iconic fashion brand carefully selected them as hosts for Valentino Vintage. Weaving their city's unique culture and the distinct vision behind their collections into Valentino's legacy, each boutique brings a different narrative to the table.
However, it's not just about the clothes; it's also about the talent behind them. To empower and educate today's emerging talent via archival fashion, Maison Valentino linked up with 1 Granary in a collaboration that welcomes the new generation of creatives to the world of Valentino Vintage. Seven design schools across seven cities will receive donations of Valentino's vintage marvels to delve deeper into the world of the house's historical heritage.
Fostering engagement activities and providing students with critical resources to bring their visions to fruition, the project will connect with students via the 1 Granary community online and in person in seven fashion and art schools, one in each of the cities of participating boutiques. Renowned institutions such as IED in Milan, Institut Français de la Mode in Paris, Central Saint Martins in London, Otis College of Art and Design in Los Angeles, Coconogacco in Tokyo, ESMOD in Seoul, and Parsons School of Design in New York find themselves on the roster.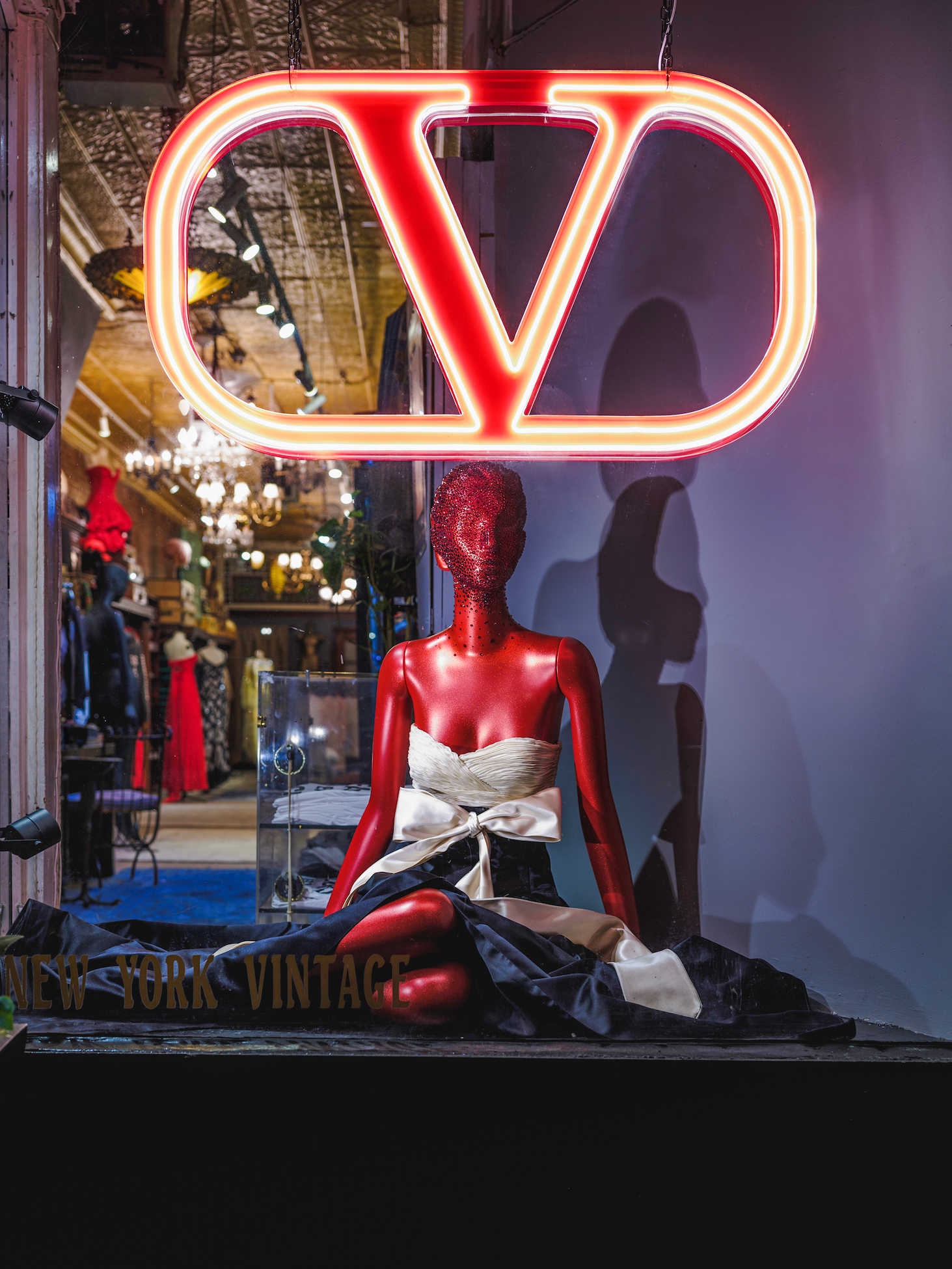 Starting April 18th, participating boutiques will undergo a global Valentino takeover—all transformed with a very Valentino display where the house's DNA will synthesize with each boutique's.