COVID Couture: Our Favorite Stylish and Sustainable Masks
Because protecting the health of our earth while protecting the health of our selves will always be in style.
Being almost 8 months into the global pandemic, we've all probably (hopefully) used our fair share of face masks. The importance of protecting ourselves and others from COVID-19 means wearing a face covering wherever we go, whether that may be school, work, the grocery store or even a walk around the neighborhood.
But all the extra face mask usage can have a lot of strain on the environment, especially when we're wont to throw away disposable masks after a single use. The global pandemic doesn't have to tumble into an environmental pandemic, too, however—below, we're sharing our favorite sustainable COVID masks so you can be safe in style.
The Sustainable Mask by Christy Dawn
Available in 5 various 3-pack styles, these crisp and cool autumnal masks are COVID-friendly and fashion-forward—plus, they're sustainably made. Each $30 pack of masks comes with 3 individual, reusable masks in it, made with "deadstock" fabric and organic cotton. Reusable and washable, these masks prove that adding a layer of fabric to your face is just another opportunity to accessorize.
Find the Christy Dawn masks here.
The 100% Human Face Mask 5-Pack by Everlane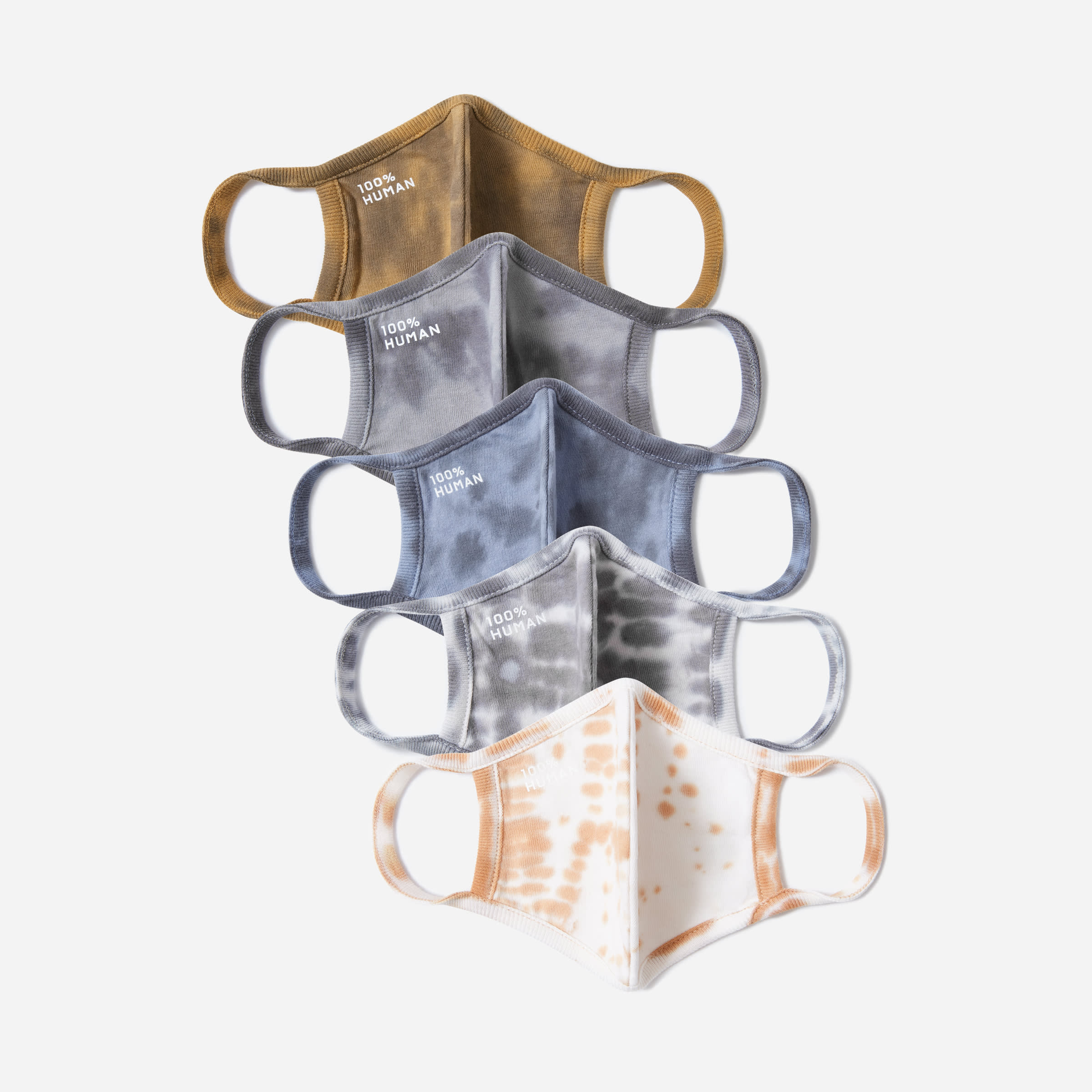 Everlane's "100% Human" line advocates for human rights by donating 10% of each product sold do the ACLU. In the face mask 5-pack, reusable non-medical masks are made from ethical factories with full transparency and use 100% cotton to structure masks in cool, neutral tie dye prints for only $5 per mask.
Find the Everlane masks here.
Salvaged Hemp Blend Face Mask by United by Blue
For each 3-pack of masks purchased, United by Blue donates one mask to Chosen 300 in order to benefit residents of Philadelphia facing homelessness. These suave blue-printed masks include a filter slot and are made from a blend of deadstock fabric including Hemp, Organic Cotton, Recycled Polyester and TENCEL, plus they're ethically produced in China.
Shop the United by Blue masks here.
Fashion Face Mask with Bows by Collina Strada
Collina Strada never fails to make fashion fun, and doesn't miss the mark when it comes to COVID masks. Made from deadstock materials from other Collina Strada collections, this face mask epitomizes high-fashion in the pandemic and provides 3 face coverings to Seeding Sovereignty, an Indigenous-led climate collective, with the purchase of one. Moreover, every mask is unique: using limited fabric, no two are alike, but they're all guaranteed to be stylish and sustainable with large statement bows to fasten it on each side.
Shop the Collina Strada masks here.
Face Masks by Tasi Travels
These Aussie-made face masks are extra protective and extra stylish. With a triple layer design produced from ethically sourced fabrics (made from offcuts from other garments), these masks are structured around reducing wastage and 1% of sales goes to 1% for The Planet. At $20 a piece in 6 funky prints and patterns, you'll want to step out just to show these off.
Shop the Tasi Travels masks here.
Molded Mask with Elastic by Hackwith Design House
A good mask for a great cause—what's not to love? These masks are form-fitting to your face and have a filter pocket, plus they're lined with soft 100% cotton. 10% of all mask sales from Hackwith go to the Domestic Abuse Project, who are committed to ending cycles of domestic abuse, particularly during the quarantining periods of this pandemic. Available in 5 different rich-toned prints at $14 each, it's no question why these are quickly becoming a COVID staple.
Find the Hackwith Design House masks here.