Devon Lee Carlson is Here For A Strong Girl Summer
The creative talks her must-have styling tips for a hot girl summer and shares an exclusive outfit photo diary in this V interview.
If you're on the Internet, you've heard the name Devon Lee Carlson. 
Digital girl wonder and virtual force of nature, the 27-year-old multi-hyphenate is all but universally acknowledged as every girl's Insta-BFF, a setter of trends and keeper of the coveted effortlessly cool, easy-breezy-California-It-Girl aesthetic.
For years, Carlson's charisma has been spreading like wildfire across the web, her sense of style and energetic demeanor just as infectious as her famous smile (seriously, who else's mouth would you buy a phone case of?). If you're not double-tapping photos of Carlson and her girlfriends or saving her fit pics to your own inspiration boards, you're seeing her iconic Wildflower Cases designs on the backs of smartphones everywhere; if you're not watching her vlogs, you're seeing her in music videos from your favorite artists. 
Really, Devon Lee Carlson seems to be exactly where she should be: everywhere. She's one step ahead of the fashion game at all times, bringing back babydoll tees and trucker hats when the rest of the population is still hesitant, convincing us all that, yes, if Devon can wear it and look this good, surely we ought to give it a try ourselves. Most recently, though, when she isn't on your For You Page (dancing in her kitchen wearing sweats) or your Instagram feed (posing in Los Angeles wearing vintage Versace), she's in your closet. Just this summer, Carlson dropped a collection for Marc Jacobs, a collaboration with Frankie's Bikinis for Wildflower Cases and a trio of hats in collaboration with Lack of Color. If you wanted to, you could literally wear Devon Lee Carlson from head to toe, and who wouldn't?
Below, the girl who does it all shares a taste of what her life has been like behind the scenes of designing three collabs and issuing their releases this summer, plus essential fashion tips and an exclusive photo diary. Read on for the full interview—it's a Devon girl summer.
V MAGAZINE: Hi, Devon! How are you? I heard you've had such a crazy day today.
DEVON CARLSON: I literally have, it's been nonstop. I'm wearing the first thing I saw on my closet floor.
V: So I know you've had a busy day, but you've also had quite a busy summer—you've released your collection with Marc Jacobs, done a collab with Frankie's Bikinis for Wildflower, and done a hat collab with Lack of Color. How does it feel to have all these amazing projects finally out to the world?
DC: It's a slight relief, but also bittersweetness, because it's like, 'Oh my gosh! I guess that whole process is over.' But it's also exciting because I feel like now I can take that memory and the learning experiences from that and put it toward my next adventure.
V: That is so amazing! It's so clear you put so much work into your collabs, and they all came out so beautifully. I feel like Devon Lee Carlson as a name, as a brand, you have such a clear aesthetic. How did that come together in all the collabs you've done? How did your vision unite with what the brand was?
DC: That's such a hard question. I knew they were all going to release within months of each other, so I had been mentally prepping looks. Frankie's was such a collaboration between me, my sister, and Francesca [Aiello]. We all grew up together, so we all knew each other really well, and that was such a seamless, easy process. We all liked the same things growing up, and I feel like everything I wear right now is just my dream middle school and high school wardrobe that I feel like I didn't have the confidence or the body to wear. I mean, I did at that time, too, but I felt like a kid still. I feel like now it's more appropriate for me to be wearing really tiny dresses and whatever, making my young self proud. 
V: What's your favorite piece in the Devon x MJ collection?
DC: Gosh, it changes every day. When I was making the outfits [for my V Magazine photo diary] I originally put on the dress, and then I was like, I'm feeling the sweats today, it was gloomy this morning when I was trying on everything. 
V: Whatever piece you pick, you can't miss. What is one styling tip that you absolutely adhere by?
DC: The clothes have to fit. It's all about the fit, for me. It's so funny, my sister and I always get in arguments because either I'll borrow a pair of her pants or she'll borrow a pair of my pants, and I'm like, "The pants are not touching the ground, the sleeves aren't hitting!" Even if it's not technically supposed to fit, if I buy a pair of jeans purposely bigger than what I would have normally bought them, it's about how they fit. Just fit in general makes you look so elevated and put-together, whether it's just a tank top and jeans or a really fun babydoll tee and baggy pants or something, but it's the perfect baggy pants. It's all about fit for me, is what it really comes down to. You can wear the trashiest, tackiest stuff, but if it fits good, it works.
V: You put together a little photo diary for V Magazine, which was amazing, absolutely love those outfits; can you walk me through each of the looks, how and why you put them together?
DC: Yes! Which one do you want to talk about first?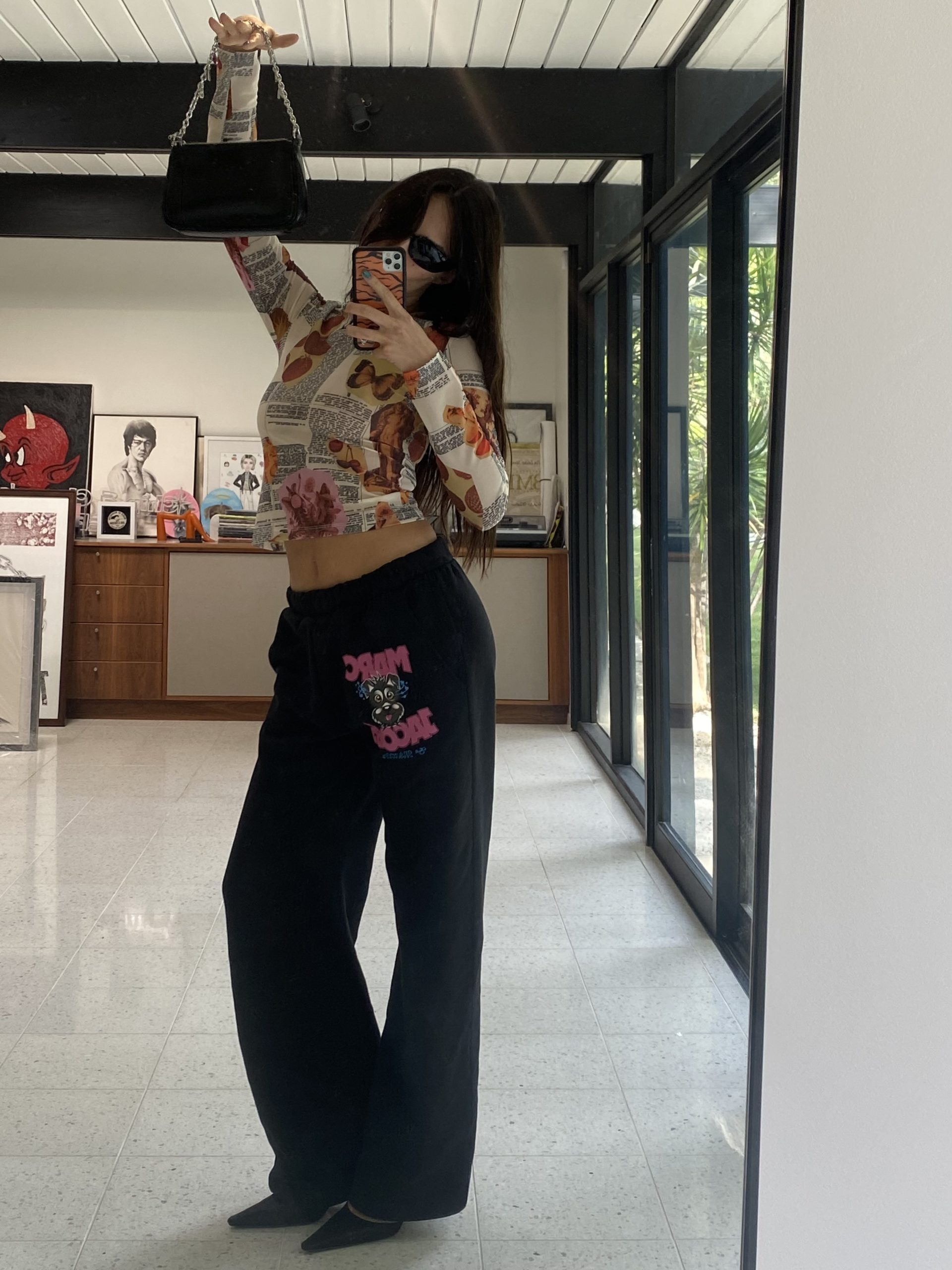 V: Let's start with the one where you're wearing the Devon x Marc Jacobs sweats and the butterfly top.
DC: This look, in particular, is a girl who probably had 10 minutes to get ready, she has been working all day, she does not feel like putting on jeans so she put on very cute, perfectly fitted sweats. But her friends are like, "We're going out!" We're probably going to have a glass of wine, so I can't show up in sneakers—well I could, but I feel like this fit is calling for a nice pump. So I put on these satin kitten heel mules that are literally my favorite shoe. And then a fun mesh top by Miaou, and then the matching Marc Jacobs bag. I also feel like because the sun goes down at 9 PM now, I get the excuse to wear sunglasses to dinner, so I've been wearing sunglasses to go out at nighttime and that's been fun. These are a pair of gas station sunglasses that I can't stop wearing. I have a shopping addiction, so I will shop in any store that I get the opportunity to. Oh! And I have the tiger Wildflower case because it perfectly matches the Miaou top.
V: It totally does. Perfect fit! What about the one with the white dress and the straw hat?
DC: This dress is from Pretties, it is the perfect summertime dress. It fits that vibe of being in the sun all day. It's my Malibu look. I was at the beach all day, this little dress also fit in my beach bag, so I could take off my bikini and just put on the dress, and I'm feeling sun-kissed. And my hair is still a little messy from the beach so I can put on my cowboy hat, and I curl in the sides extra because there's this Rihanna photo where she has them really curled in, so that was my inspiration for that. I love matching my shoes and my bag, I feel like that's one of my habits. These are both by a brand called Sooki La La. I'm obsessed with them, it's this collaged '60s print of housewives. It looks a little comic book-y, but it's really cute. And the dress has little ruffles at the bottom!
V: So cute. And the butterfly case!
DC: Oh, yeah. The butterfly case is perfect because it matches each piece individually. When I was looking at all of my cases altogether, I just thought the butterfly was essential to the look.
V: Absolutely. Then you have your Frankie's look.
DC: Hot.
V: Very hot.
DC: This [Twelve Terry] dress speaks for itself, it doesn't need too much of anything else. I love this dress also because you can wear it a little lower or you can pull it up and have the keyhole at the top of your hips or you can have it at the bottom of your hips. Then I matched my shoes with my bag, obviously. The shoes are—I don't even know what they are. I bought them in two different colors over quarantine. I was obsessing over flip-flop heels which is funny because I used to make so much fun of them in high school, and now it's all I can wear. I matched my phone case to my dress, because when it's a simple look, I like feeling like there's two matching items and two other matching items. Then I put my hair back and I was like no makeup, no bracelet, no rings, no nothing. Just the two matching pieces.
V: Simple but stylish, it's so good.
DC: I feel like this is a good vacation look too, or I'd wear this if I was in Miami, or even in New York. A New York summer night, strolling down the street, walking to some random bar. My hair will probably get put up halfway through the night. [laughs] I love making a story with everything.
V: Yeah, this look gives the full story! Kind of a broader question now—what does 'hot girl summer' mean to you?
DC: Hot girl summer means doing whatever you want, whenever you want, and living your best life. But, I have been leaning towards strong girl summer. That's my friends' and I's motto right now. Mentally and physically, we've all been on our workout grinds, and just being strong girls. Powerful girls, just standing up for each other and being strong. You know what I mean?
V: I know what you mean! Words to live by.
DC: Words to live by.
V: And one last question that's on all of our minds: Can we expect more clothing collabs or even your own line from you in the future?
DC: I mean…you'll just have to wait and see, I guess. Now I know the whole process, so I'm craving it, you know?
V: We're craving it, too! Now you're a seasoned pro, you can just get out there and do your thing.
DC: We'll see! I want to eventually venture into some new things that I haven't done yet, so constantly trying to learn and grow and evolve and have fun.