Freaking Out About Miu Miu's Mini Skirts? Here Are 8 Styles to Shop Today
If you are loving the sexed-up nostalgia at the Italian label, here are a handful of daring options to keep on your radar.
If you are loving the sexed-up nostalgia at the Italian label, here are a handful of daring options to keep on your radar.
As labels returned to traditional formats for Spring/Summer 2022, the fashion industry's love for nostalgia manifested itself in '90s-inspired silhouettes at Chanel, pop-culture references at Balenciaga, and scandalous micro skirts at Miu Miu that harkened back to the questionable styles of the early aughts.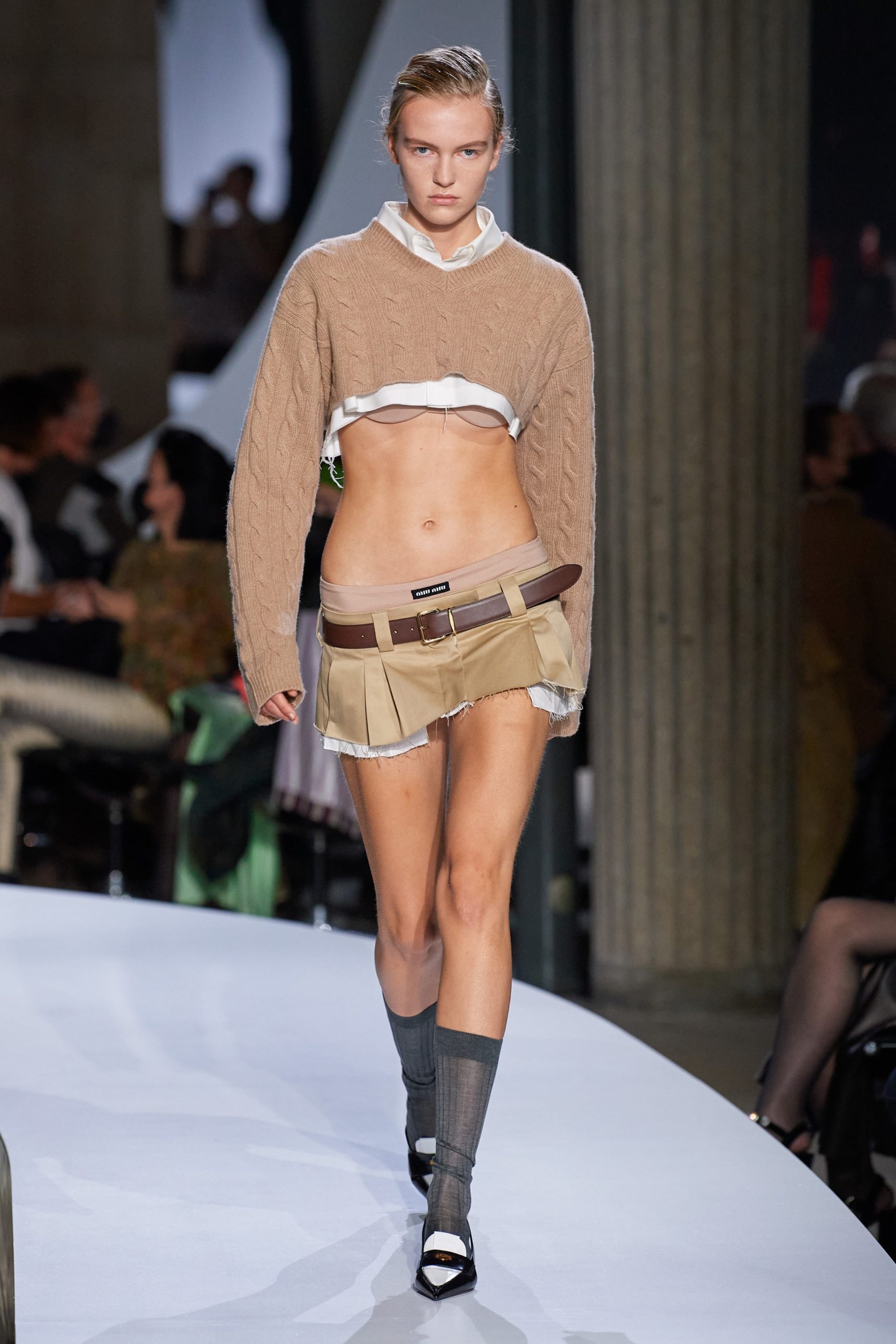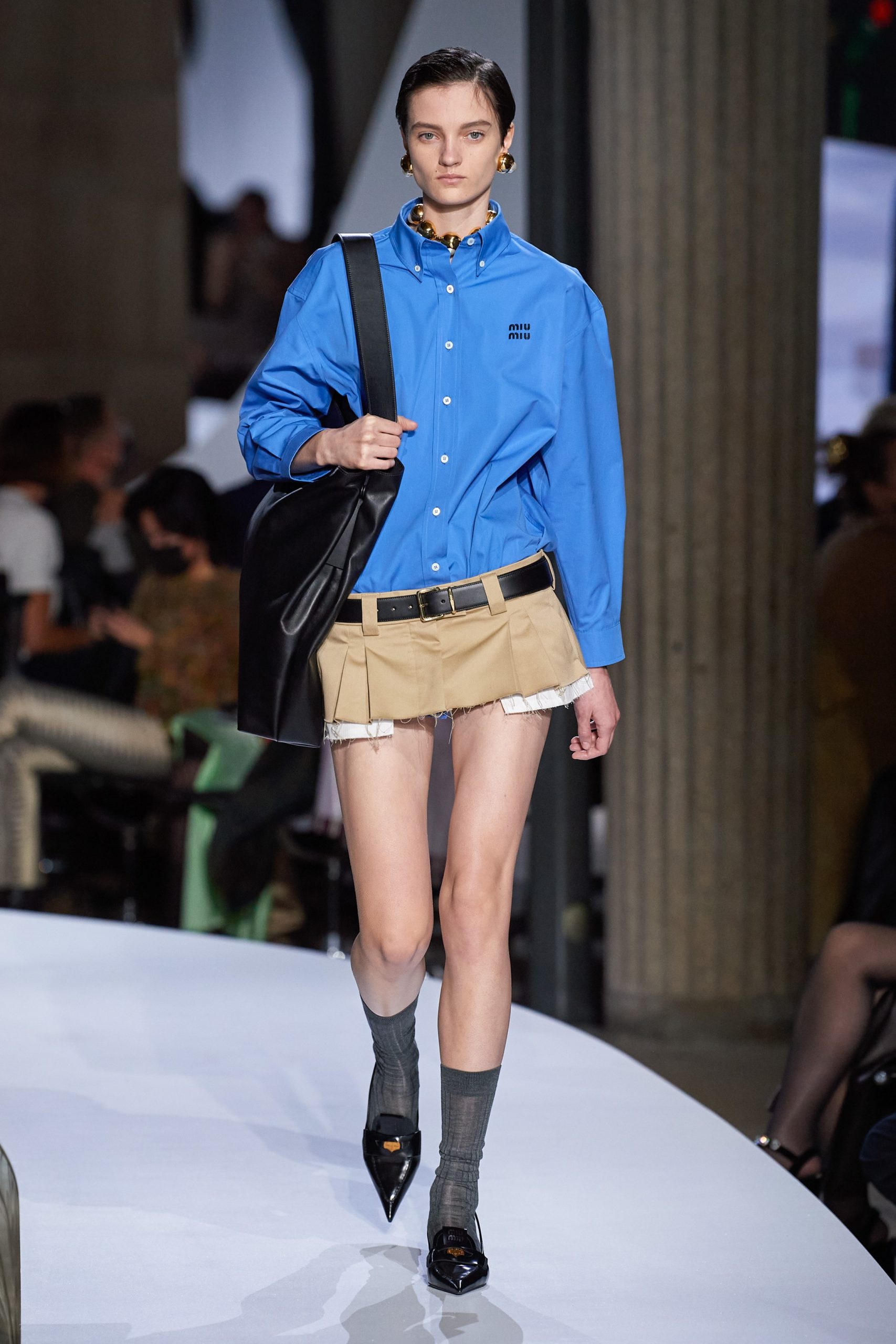 Looking to reimagine the sleepy corporate wardrobe, Creative Director Miuccia Prada merged ultra cropped argyle sweaters and button downs with low-rise skirts and trousers that would make 2000s style icons jealous. The designer's cheeky separates were an instant hit across social media, causing onlookers to reimagine the hotly contested trend and debate if they should take scissors to neglected khaki skirts from years prior. For those looking to recreate Miu Miu's nostalgic silhouette, here are 8 slinky styles to shop.
Miaou Micro Mini Skirt
Looking to '90s supermodels and icons as inspiration, French label Miaou's sexy separates and revitalized corset tops have become a favorite across social media platforms. The brand's micro mini skirt is crafted out of recycled wool and boasts a 2000s-esque low-rise silhouette — with a slit, of course.
$155, www.miaou.com.
Saint Laurent Mini Skirt in Lamé Calfskin
Creative Director Anthony Vaccarello's embrace of slinky silhouettes resulted in a slew of low-rise silhouettes for Saint Laurent's Fall/Winter 2021. Modeled after denim styles that dominated the 2000s, the leather skirt is perfect for layering under statement tights or pairing with oversized pieces.
$2490, www.saintlaurent.com.
Tank Air Collect $$ Mini Skirt
Worn by the likes of Kim Kardashian and Kylie Jenner, LA-based label Tank Air's comfortable tanks and matching sets wholly reimagine silhouettes of the early aughts. The mid-rise collect $$ mini skirt is cut from upcycled fabrics and contours the figure effortlessly.
$125, www.tankair.com.
Versace Medusa Satin Mini Skirt
Always a go-to brand for sexed-up silhouettes, Versace's Medusa mini skirt invokes the brand's distinct house codes while also toying with particular stylistic elements like a draped sash and gold waist strap.
$695, www.versace.com.
Marshall Columbia Pink Cut Out Mini Skirt
For those looking for an increasingly daring iteration of the mini skirt, Brooklyn-based designer Marshall Columbia has you covered. Columbia's barely there skirt features a bevy of angular cut outs and is crafted in a stretchy jersey fabric.
$450, www.ssense.com.
Danielle Guizio Micro Stretch Mini Skirt
New York designer Danielle Guizio's cropped corsets and stretchy pieces have captured the attention of stylish celebrities like Hailey Bieber, Dua Lipa, and Kendall Jenner. Offering her take on the mini skirt, Guizio designed a no fuss low-rise garment that is perfect for 2000s-inspired style moments
$170, www.danielleguiziony.com.
Prada Rhinestone Embroidered Mini Skirt
Miuccia Prada's love affair with mini skirts continued at her eponymous label. This time, Prada's creative brilliance resulted in a sparkling rhinestone mini complete with the brand's signature triangular logo.
$4650, www.prada.com.
Maisie Wilen Ruched Printed Stretch Jersey Mini Skirt
Mentored by Kanye West, Maisie Schloss' label Maisie Wilen is modeled after '90s-inspired evening wear — achieved through playful prints and slouchy jersey separates. The LA-based brand's ruched skirt combines energetic style with comfortable ease.
$188, www.net-a-porter.com.