Gen V: Evan Mock
The multihyphenate reflects on his journey from high school dropout to industry it-boy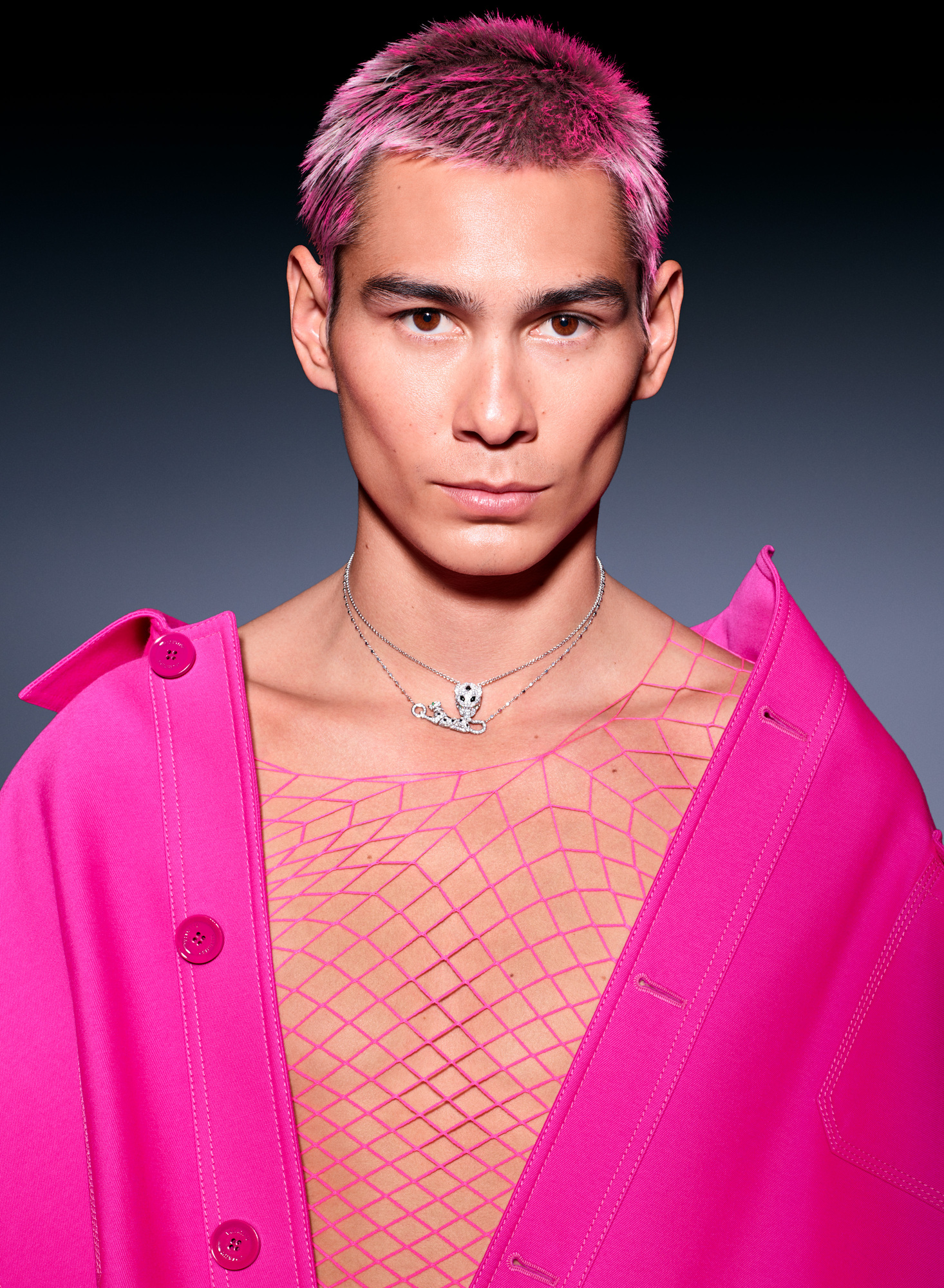 This cover story appears in V137, The Gen V Issue: available to order now!
Rubbing elbows with the Upper East Side's elite, galavanting to highfalutin galas, and populating prestigious prep schools may seem like second nature to Evan Mock…but I can assure you it's quite literally all for show. Stumbling into the character of Aki Menzies on HBO Max's Gossip Girl precisely one year ago, Mock took on the role of a lifetime—as his real-life didn't imitate this art. Born and raised in the Hawaiian island of O'ahu, the creative's first job was taking tourists to swim with sharks. After mustering up enough courage and money, Mock dropped out of school, sold his car, and made the move to Southern California in hopes of skating professionally. "When I first moved, I lived in a room with six of my homies. I was barely scraping by and eating Top Ramen. But [I was] holding onto this figment of my imagination, holding onto this dream," he shares. Quickly rising in the ranks of California's skate scene, the burgeoning buzzed-cut boy-wonder graduated from landing kick-flips to landing campaigns for Paco Rabanne and Louis Vuitton. And before he knew it, he was trading up California dreaming for front-row seats at fashion week as a fixture in NYC's "it-boy" renaissance. 
Although it wasn't his birthright, you could say through the power of manifestation, Mock manufactured his own affluence. "I knew I was always going to be in the position I'm in now," he shares candidly. "I didn't know on what level, but I knew that I was going to do some[thing] that people cared about." From gracing the covers of countless glossies, and inking lucrative brand ambassadorships, to his recent foray into fashion design with the launch of his brand Wahine—the 25-year-old multihyphenate has imbued the essence of today's generation. Showcasing the poetic spontaneity of "creating with no boundaries" he provides a masterclass in the art of shapeshifting. And with the "Evan Mock effect" continuing to permeate the stratosphere sending echoes through this era, he remains as grounded as the shores of his native land. 
Currently finishing up the filming of Gossip Girl's second season, the character Mock once drew no "real" parallels to, has added layers to his forever evolving ethos. "I think my character has actually pushed my limits in real life. Through [Aki] I am learning that life is just a series of 'trials and errors'. There's ups and there's downs." But whether up or down you better believe he is taking it all in stride.
"Pink

 

is

an attitude, it's a life style"
-Evan Mock
Read the extended cover interview below where Mock reflects on his journey from high school dropout to industry it-boy.
Evan Mock: When I first got the role [on Gossip Girl], I was so nervous that I couldn't sleep or eat. Going into the experience I didn't know what to expect, it was like diving into a whole new world that I'm not used to at all. I didn't know the terminology, didn't know how anything worked or operated. So it was definitely scary for me. But now that we're on the second season, the crew is so tightly knit and everyone's such a big family that I enjoy going to work and I enjoy seeing everyone every day. It's not my chosen family and not my chosen friends because we were brought together by this amazing opportunity. And it's not my chosen career, but it's been such an amazing experience to be able to just jump right into this realm and soak everything up like a sponge.
V Magazine: And how would you say this experience of entering this area of the unknown, and stepping into acting professionally has helped you grow? How does Evan, the actor, on season one's set compare to season two? 
EM: It's been such an amazing learning experience for me to be able to, you know, just tap into my acting skills a bit more on this second season. It's been interesting even thinking of myself as an "actor" in a professional sense. I've been having such a great time in the last couple of weeks, we're working with Jen Lynch who is directing a couple of episodes for this second season. Working with her has been a highlight for me in getting to know myself a bit more as an "actor". It's been such a great experience because through working with her, I've also been able to see my growth because she directed a couple of episodes in the first season. This time around I'm just more comfortable in myself and my acting skills. This time around, I'm less in my head and I've been having a great time with the work. You know, when it's all said and done, there's a lot of prep and there's a lot of things leading up to the moment before they say action…but I'm actually thoroughly enjoying all that comes with it. I have a deeper understanding and I see why people do it. I understand how much work it takes, but it is all worth it once you see the final product. And with season two, by now everyone is so set in what they're doing and so professional. So I know I have to pull through with my own performance. You know what I mean?
V: Yeah, definitely. Outside of the experience on set and learning the craft, how would you say that your character Aki has helped you grow? What are some takeaways?  
EM: I think my character has actually pushed my limits in real life. Through [Aki] I am learning that life is just a series of 'trials and errors'. There's ups and there's downs. Another thing I think Aki has brought to [light for me] is, in real life, there's the glitz and the glamor, but there's also a not-so-glamorous side. You could be a billionaire, and you can be a closeted person and still face struggles and obstacles. Money won't solve everything. And I think my character really, really embodies that, he absorbs life, you know, learns from his mistakes. 
V: It's refreshing to hear that you have those sentiments and have had that experience. I think a lot of people see the show and get lost in the prestige and power of it all but theres a bigger message there. 
EM: Yeah. It's interesting playing someone completely different from who you are. But in many ways, it opens you up to the opportunity to learn more about yourself in real life.
V: I think that's the beauty of acting and film. 
EM: Exactly! 
V: Moving away from acting, you wear so many hats and I think that's what we all find fascinating…like what can't he do? But your recent endeavor kind of marks a new era for you, with the addition of designer and entrepreneur to your resume. You launched your brand Wahine just a week ago or so. 
EM: I mean, everything I do, I try to glorify Hawaii and where I'm from. So Wahine is basically a version of that. The brand is shaped by my upbringing in Hawaii and some of the things I used to wear as a little kid. It's also a nod to the things that I've grown up seeing but kind of putting my own spin on it. This is just another creative outlet to make stuff. I don't want to call myself an artist, but I always want to put things out that are a reflection of me in a way that my vision is seen. Design-wise it's a mix of just things that I'm into and things that I want to wear. I want to make things that I want to wear and of course stuff that my friends would want to wear as well. But I also want to make stuff that people may not want to wear. You know? 
V: Yeah I get that! You want to be able to create for the sake of art and expression rather than just for wearability or selling.  
EM: Exactly, it's another creative outlet. I get bored super easily. I'm really always trying to do something, whether it's making a phone case, a dress, a rash guard or literally anything. I think that's kind of my way of trying to express other things that I can't get out in a [traditional] way  There's nothing like owning your own company. There's something special about having creative freedom and having the power in your hands to determine whether you fail or succeed. So I'm kind of trying to figure out the things that I'm into. And in that process, I'm just making things that I'm into. I think Wahine really is growing into something that can be worn on stage in arenas, on a private jet, or on a commercial plane, maybe even on a boat ride. 
V: I love that! It's something for everyone. 
EM: Yeah it's fun trying to tap into your audience to see what they like. Obviously, a lot of the push was from people that were into what I'm doing, but I want to break that mold and kind of go into the realms of people who don't know what my name is. People who don't know who I am at all, but they just honestly like what I'm making and they want to wear it. 
V: How long have you been working on this? 
EM: A little over a year. It's been a fun journey working on this for a year and a half. I'm super happy that it's finally out as of a week ago and yeah, just continuing to build [my brand]. I'm trying to continue to stay inspired and make cool things. 
V: You could have partnered with a brand on a collection, you have such a great roster of ambassadorships/partnerships…but you decided to branch out on your own? 
EM: There are so many people that you have to go through if you're doing anything for a bigger fashion house. When creating for someone else I find things like there are very few yeses, but so many no's, mostly no's. You just can't make a decision solely. You can't say "I want to make this and this is what it's gonna look like," without going through someone else. When you are on your own, you don't have to talk to anyone else about it, you are free to create. 
V: What are some other things that you are excited about or ready to get into? I just feel like you keep surprising people. Going from surfing and then to skating, then getting into modeling to trying your hand in acting and now designing. What would you say is next for you? What is exciting to you currently that you want to jump into and pour some of that unfiltered creativity into? 
EM: I mean off the top of my head, I can just think about my social coin that I made with P00LS. It's called $MAHCOIN. We sold out within… 
V: Within a few hours…I feel like I read it was sold out within an hour or two somewhere? 
EM: Yeah. They've never done that before. And they have had people that are way bigger than me with a larger following than what I have. So for it to sell out way before reaching 24 hours, and the fact that it never happened previously was mind-blowing. So I think we actually have something there and it was such a great process diving into that. I am nowhere near a metaverse or crypto nerd at all, but it was really nice to kind of try to wrap my head around what the whole thing is, the meaning of it, and how it works. This stuff is all new to us, it kind of feels as if I was learning about the internet for the first time. 
V: Where did the inspiration for the $MACOIN come from, and what was it like bringing it to life? 
EM: It's something tailored to me, that I created and designed. I had the whole creative part behind it with my idea and mixed that with the metaverse and cryptocurrency and hype, I guess. It was just a cool process to actually learn more about that. Not just for my own sake, but learning about other people's [cryptocurrency], how it works, and why it works. Right now we're just kind of starting to develop more ideas about how we can keep people more interested and also come back on a daily basis. But that's been fun! And other than that, I'm just loving life and trying to not suck at skateboarding and improve my acting skills.
V: What have you been doing to better them? Have you been taking a few classes? Or do you find yourself to be more of a natural learner, someone who learns in the moment. 
EM: For me in my acting career, I've kind of just been winging it (laughs). I also have been learning so much through just actually filming and going through these new episodes for the new season. Obviously, everyone has bad days, but I feel like I've just been having better and better days every single time that I get in front of the camera. So that's my most progressive and efficient way of learning…just actually doing it at that moment and being forced to be good. 
V: That's interesting. Having to turn it on and not let people down is definitely a way to make sure that you're where you need to be. It's a lot of pressure though, but pressure makes diamonds.
EM: (Laughs) Exactly, that's right. You just gotta be a beast by force. 
V: Through this entire conversation we've kind of gone through your trajectory and amazing journey to this very moment. So I just want to kind of close this out with your sentiments on where you started and where you are now. What has the journey been like for you? If there's any advice you could offer the current generation of creatives and multi-hyphenates based on your experience, what would that be? 
EM: I mean, for me, I knew I was always going to be in the position I'm in now. I didn't know on what level, I didn't know what category I would be in, but I knew that I was going to do some[thing] that people cared about. And I've also obviously had amazing mentors and people telling me the same, but it really comes down to passion and loving something and looking at it in the purest form. Not just loving it and not caring about anything else but also just having such a drive and passion for whatever that may be. It could be multiple different things. It could be one thing. It could be things you never thought you'd ever do. But also I realized I grew the most when I was just having fun and like not thinking about the outcome…just being in the moment.
Photography Richard Burbridge
Fashion Direction Nicola Formichetti
Styled by Davey Sutton
Editorial Direction Czar Van Gaal
Hair Ashley Stewart
Makeup Raisa Flowers (EDMA)
Manicure Leanne Woodley
 Digital technician Nick Barr
Photo assistants Peter Siskos, Jesse Allan
Stylist Assistant Emma V. Oleck
Makeup assistant Eunice Kristen
Hair assistants Ashley Stewart, Trisha Johnson