How Fausto Puglisi Found His Own Stripes At Roberto Cavalli
V's Kevin Ponce chats with the Italian fashion house's new creative consultant about reimagining the brand through his unique lens, his unexpected muses, and how the new generation is changing the fashion scene with inclusivity and a sense of freedom.
V's Kevin Ponce chats with the Italian fashion house's new creative consultant about reimagining the brand through his unique lens, his unexpected muses, and how the new generation is changing the fashion scene with inclusivity and a sense of freedom.
Roberto Cavalli was once the king of the party, and now Fausto Puglisi, the designer best known for creating iconic looks for Madonna, Whitney Houston, J-Lo and his eponymous label, is keeping the Cavalli celebration alive. After being appointed as the creative consultant of the famed Florentine label back in October of 2020, the fashion world wondered what Cavalli will look like under the direction of Puglisi. After seeing previews on Instagram consisting of models like Mark Vanderloo and Jhona Burjack cloaked in a spotted and striped flag, lavishly jeweled accessories, and even a black-lacquered Cadillac El Dorado, it's safe to say the collection is everything you'd imagine from Puglisi; It's bold, sexy, loud. It's Sicily meets the Lower East Side. It's the party you wish you were invited to. And luckily for me, I got to witness the celebration over Zoom with Puglisi as we went through the wild collection together and discussed his hopes and desires behind the debut collection.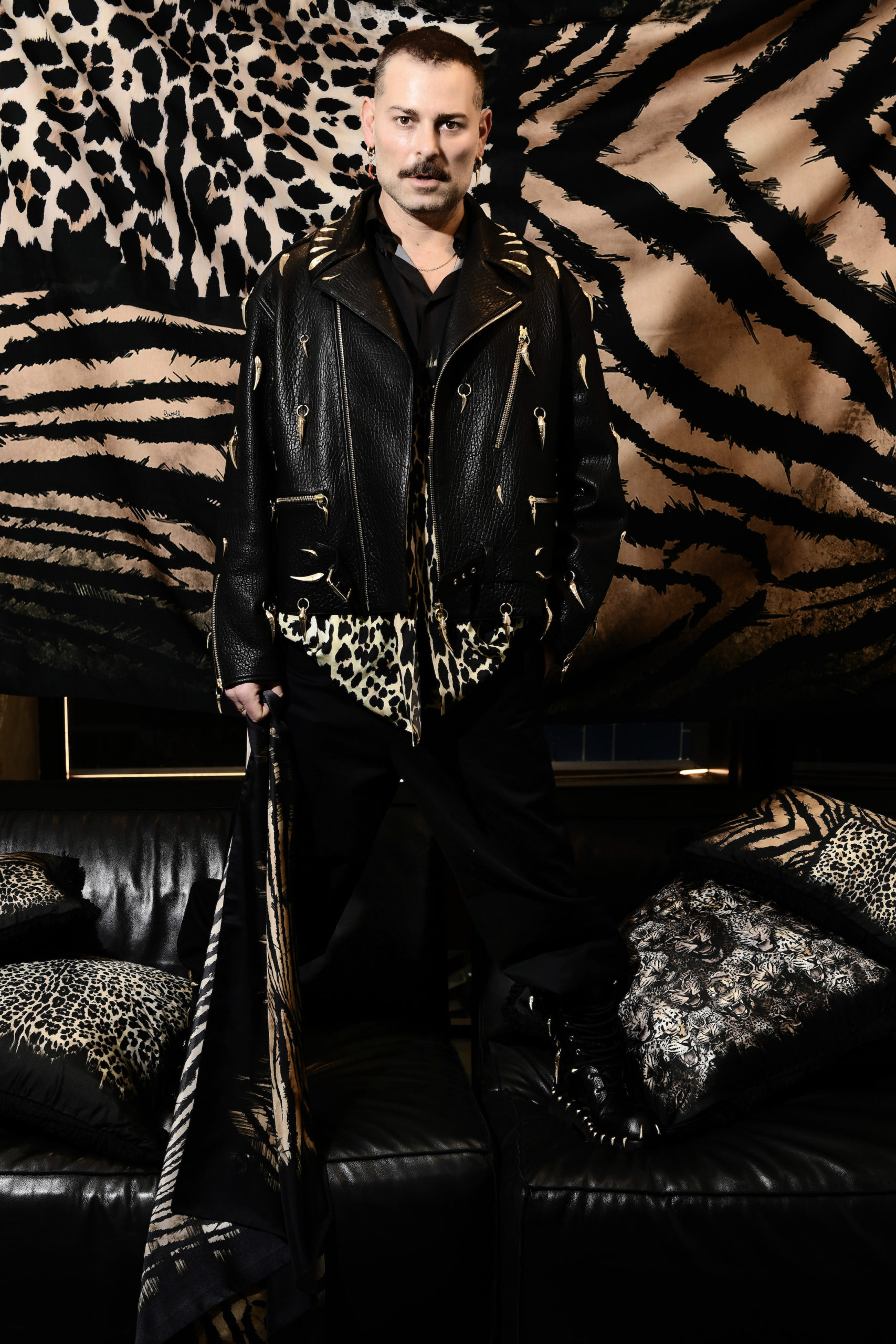 Kevin Ponce: Okay—THAT was amazing! The girls of my generation will scream for this. 
Fausto Puglisi: Oh wow! Thank you, Kevin! You know, it's a challenge for me because [everyone] knows about Cavalli, the glorious past, and what's [been] going on in the past years. So I felt very nervous when they told me about V Magazine coming in—I grew up with V so thank you so much for [doing] this. 
KP: That's so sweet! I also just want to say that I love the fact that you used Daniela [Santiago] of Veneno!
FP: I adore Daniela—she's amazing! You know, when we say inclusion, I can't stand it because I always did it. It was always part of my DNA, even when it was not fashionable to talk about this. It's a philosophy, it's not a fashion moment. With Daniela, she's just brilliant and so humble. She's really a character.
KP: The whole casting for this debut collection is incredible. You've got all sorts of characters in Cavalli now. What was your thought process when selecting everyone?
FP: When I decided on the casting, I wanted [them] to represent the new era of Cavalli—not just [about] the moment. I'm talking about a dialogue between different cultures. So different kinds of skin colors, body shapes, ages, everything [had to] be genderless and fluid—this is what I want for Cavalli. I don't want to use the word inclusive because it's really obvious that I'm inclusive. Since I was five years old, my family [taught] me about culture and I've always been open and curious. It's why I moved to New York when I was 17 and that's why I made this [Roberto Cavalli] flag.
KP: Oh yes! I saw the Cavalli flag all over Instagram!
FP: It started from my obsession for the American flag, without any kind of politics [involved]. From Sicily, I moved to the United States—first New York than LA. The flag for me has a special meaning because it's connected to music like rock and roll and to art like Warhol's pop art. [America] is the only place in the world connecting different cultures. So I said "let's do the Cavalli flag" and instead of the star, we put the Jaguar spots, and instead of stripes, we put zebra stripes. So the casting started from here and my need to create a less ghetto-ish Cavalli. I don't like sexy women. I don't like supermodels. I like all women. I wanted Cavalli to be extremely open and to be…inclusive. *laughs*
KP: You know, when I saw the flag previews on Instagram, I thought about Ginger Spice of the Spice Girls and when she wore the Union Jack flag as a dress and that to me represented a bit of fashion rebellion and self-empowerment and how this marks a new Cavalli woman. In your opinion, who is the Cavalli woman in this new decade? How would you describe her?
FP: The world is changing and the woman is changing. I wanted to give Cavalli a much more modern feel. I wanted it to be larger than life. I like sexy frocks but I also like beautiful long flared skirts and I love masculine shirts and biker jackets on women. I wanted it to be an expression of different women because now there is not just one [type of] woman anymore. Now, women are much more independent. They like to have fun with fashion and mix and match different things. So I decided to create a wardrobe for a woman and not design a woman. I hate designers that feel the need to [create] a woman.
KP: Totally! When I was looking at that film, I was already interpreting how I could pull off some of the pieces with my sense of style. I like that you're trying to assimilate this new Cavalli fantasy into the everyday woman's wardrobe.
FP: It's a difficult exercise because we're talking about redesigning the alphabet or DNA of a brand. So it was really important to create different kinds of possibilities to mix together. 
KP: Since this is your debut collection, were you scared about putting this out or worried about how the public is going to perceive this? 
FP: I was scared to meet you, really!
KP: *laughs* Oh stop! 
FP: But you know what, this job for me is like a drug. Even when I dream, I wake up and design something because I dreamt about it. It's my biggest obsession. When you have such a huge love for creating, you forget the fear because you're doing [what feels] natural. You know, it's not a script, you're not acting. It's something that comes from your heart. In a rational way, I know that Cavalli was such an amazing thing [at one point]. So you have a big responsibility because what I want is to translate that strength and power nowadays. We did this collection in a month and a half. It was all in a rush but I was very enthusiastic and excited to do it. For instance, there was a development with denim because Roberto started with denim in the seventies before Fiorucci. He was transforming American denim into fashion statements. [After] I saw the archive, I decided to [create] denim with these garage effects. I didn't want any flashy colors—I wanted to [focus] on the colors of skin from light, dark, to neutral. I wanted it to still be glamorous, beautiful, strong, sexy, but in neutrals. 
KP: Let's talk about the archives because now you've piqued my interest with Cavalli's connection to denim. How often are you going through the archives to draw inspiration and sort of see what was done before to understand what you can do now? 
FP: I saw the archives many times because it's like Luna park; it was like a trip in this amazing world. You are looking at all this incredible craftsmanship and [though] I respect the tradition so much, I wanted to translate it through my lens. Just looking at the archive [more] became kind of frustrating and limiting. The archive is like a memory—there is no future without memories, without respect. So you need to destroy that to create something new.
KP: Right, because you don't want to just take something from the archive, plop it on the runway, and be like "Okay, there's something new"—it's already been done!
FP: For instance, there is one dress which I adored, which is the Cindy Crawford tiger dress. If you see the way it was cut, you'd go crazy. I love it because it's a bias cut which is fantastic because it fits different body shapes. I wanted to translate some of the pieces from the archive in a much more natural way.
KP: Are there any sort of muses that helped inspire and fuel this collection or who you see wearing it?
FP: I like women with an attitude that is extremely strong, independent, and self-confident. I think about Whitney Houston, Madonna, Helmut Newton. John Carpenter is my muse and John Cassavetes is another. But at the moment, let's say it's Kim Kardashian meets Queen Elizabeth. 
KP: *laughs* I love that. You never know who you're going to get inspiration from. Going into Cavali now, are there any artistic codes or similarities that inspire you from him?
FP: The music was loud with Roberto [Cavalli] and the music [will be] super loud with me. He's like a Ferrari and I'm a Lamborghini, with all due respect since he knows much more than me. We're like two Italian sports cars going so far and so fast with the music blasting.
KP: When this comes out, it'll be interesting to see how my generation takes on your version of Cavalli. Growing up, what we saw was the party Cavalli and that's all I was used to, but now we want something else. I'm glad that you're at the helm now because from what I just saw, it's exactly what I'm wanting and feeling now so I'm excited about this. 
FP: When you design something with so much energy, passion, and strength and people like you say something like this, it's the best answer. It's the best thing because you hope and pray that your work and your message get by clearly. And for that, I thank you so much—I'll hug you now!
KP: *laugh* Virtual hugs!