How To Get The Beth Harmon Look
The Queen's Gambit starlet is a fashion icon in the making.
The Queen's Gambit starlet is a fashion icon in the making.
It's the show that has made chess sexy: The Queen's Gambit. In the midst of all the high-stress competition and alcoholic nights, a style star has emerged. Over the course of the seven part miniseries, main character Beth Harmon develops into a bona-fide fashionista, taking down her opponents in expertly crafted mini dresses.
Many viewers, myself included, had the same thought: how do I put her look on my body? Wonder no longer, we have an answer.
The styling for The Queen's Gambit was done by Berlin-based stylist Gabriele Binder. She took inspiration from 50s and 60s icons including Jean Seberg, Edie Sedgwick, and later Biba style. A few things remain constant for Harmon through the decades: her love of checks (a reference to the chess board), her bright red bob, and her adorable collars.
Here are a few things to look out for if you're attempting to mix a bit of Harmon into your look.
Classic Makeup
Beth's makeup evolves a great deal over the course of the show, a symbol of her growing maturity. She normally goes for a classic 60s look: a bold lip and winged liner. There is only one point where she tries a truly wild style, shown above. The makeup team claims this was actually meant to look bad, as contextualized by her night of heavy drinking and spiraling. I, however, think it's badass and tried it out myself. We'll leave it up to you to decide on this one. Perhaps you'd like to stick with a simple wing.
Try Tea-Length
The first item of clothing Beth is able to buy with her own money is a checked, tea-length dress. Tea-length (like tea-time, get it?) is a style that cuts off just past the knees. Though it's a bit retro, it's also universally flattering and unabashedly feminine. Try picking up a circle skirt or tea length dress. As Beth shows, the dress can be worn over a blouse. You could also tuck it under a sweater or jacket. In the 50s, they had fewer pieces in their closet and thus knew how to make them versatile.
Embrace Straight Lines
Beth really hit her fashion stride in the 60s, the decade of the anti-hourglass. Straight cut jackets, sweaters, and dresses dominated, all shown on Beth throughout the course of the show. Though it stands in stark contrast to our current curves-obsessed society, a straight cut can often be very flattering, especially on the mini dresses Beth is so fond of. Hers often also feature geometric patterns or prints.
Refine Your Loungewear
Even at home, Beth always manages to look dashing. She often pairs plain black slacks with a sweater or boxy t-shirt. Minimalism is the key to refined style, so try investing in just a few relaxed pieces that can be rotated through a number of different outfits. A well-fitting pair of slacks will serve you well, and dress up any top. A soft, quality sweater with subtle detailing can really tie the whole look together. Here, Beth wears a cream top with buttons on the neckline. Throw on a pair of loafers and this look is ready to hit the streets.
Go Monochrome
Here's one trend that's still kicking. Monochrome is the easiest way to put together an attention-grabbing outfit. Beth frequently employs this technique. Here she is in an all white look, though at other times she can be seen in all black. Anna Wintour did famously say that the only thing she would never wear was all black, but on the other hand, it's one of Audrey Hepburn's most famous styles. And who are we to argue with Audrey? Beth takes the trend to the next level by including her accessories, a pair of healed boots and a beanie, in her monochromatic scheme.
Old-School Accessories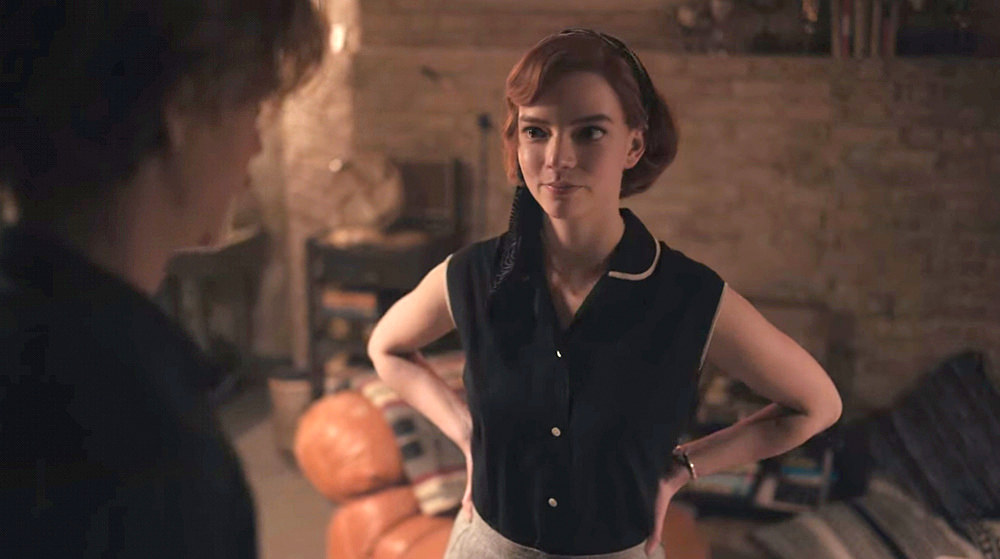 If there are two things you can count on Beth Harmon to have in rotation (besides checks obviously), they are scarves and Peter Pan collars. Beth mostly opts to tie her scarves around her head and let the tails fly out from under her bob. The Peter Pan collars pop up on everything from dresses to this buttoned vest. Again, these details are proudly feminine, just like Beth. She shows that fierceness and femininity can go hand in hand.
If you would still like more tips on how to dress like Beth, you can't go wrong by taking a nod from her muses or classic mid-century sensibilities.
Credits: Photos courtesy of Netflix.