Keke Palmer Is Enjoying It All
V Exclusive: VMAs first Black female host sets the stage for virtual ceremony and numerous upcoming projects. 
As an all-around career trailblazer: singer, actress, and TV personality Keke Palmer is the quintessential candidate to host this year's MTV Video Music Awards. She has voiced many characters throughout her two-decade-long career including projects, Akeelah and the Bee, True Jackson VP, maturing onto Masters of Sex, Hustlers, and the daytime talk show, Strahan, Sara, and Keke. She is highly recognized for her acting portfolio but the multi-hyphenate creative has been booked and busy during the months of quarantine, adding to her discography a new R&B EP, Virgo Tendencies Part I. 
Between portraying these characters, hosting, and writing songs, Keke has grown noticeably confident in her voice — ready to use it tonight, amongst the world's largest summer stage. And deservingly, after her impressive career thus far, the 27-year-old is set to make broadcasting history on the Music Television network. Not only is Keke Palmer hosting the first-ever virtual VMAs but, she is also the first Black woman to solely host the awards show as well. 
We are inviting you to an exclusive V pre-show before the premiere of the 2020 VMAs this Sunday at 8 pm ET. Palmer spoke to VMagazine as to what viewers can expect from the evening, the projects she has lined up for the rest of 2020 — and how she is simply enjoying all that her journey has to offer. 
See below:
V Magazine You're hosting the VMAs this year, what can viewers expect?
Keke Palmer Oh my gosh, so excited! I mean, I grew up on MTV. The VMAs are usually very iconic and just fused with pop culture and music and for me, I'm so excited because I'm into all those things. I think they can expect a lot of laughs, fun, and surprises. A lot of stuff went into this show for the fact we want to give people the opportunity to come together and see me inspired by the night but in a fun way. And I hope it's what [viewers] would want the MTV VMAs 2020 awards to be and try to find some way to balance a lot of the intense stuff we're all experiencing.
V In your VMA announcement video, you asked True Jackson for a look that says, "Snack, Sticky, and Thick." Can you tell us what kind of looks we can expect to see you in? 
KP Yes, a lot of extra. The main thing you can be expecting is for the looks to be giving and all kinds of looks. Up to the awards, to the day of the awards, I'm going to be giving out as many fab looks as I can give you guys.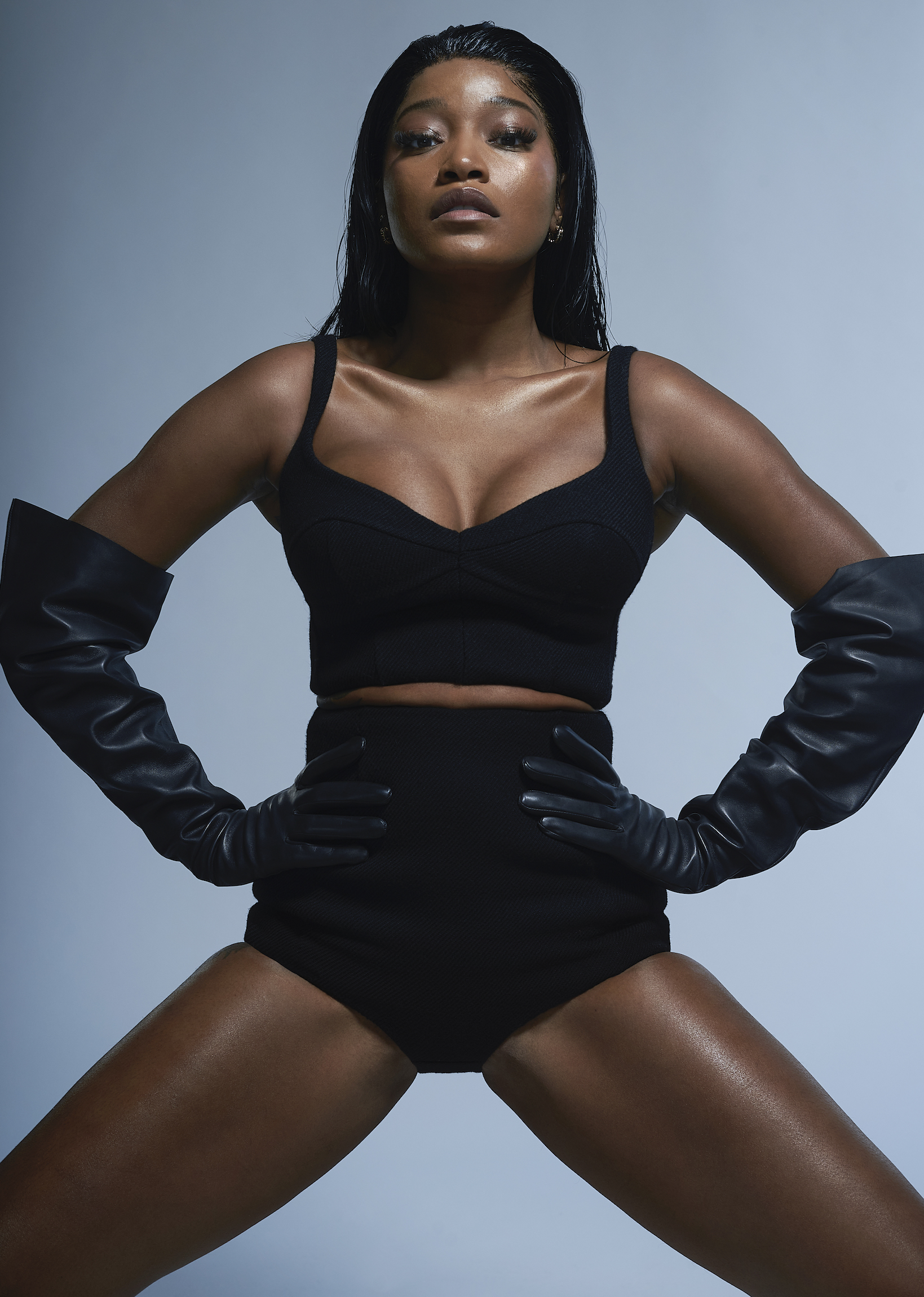 V What is something you are looking forward to with hosting a digital format of the VMAs versus if it were held traditionally in person?
KP I think bringing the content. We know that it's different, but we're hoping it fills in the spaces of things you would possibly be missing. Spinning the kind of traditional things on their head, so you still can have them, but in a way that is safe for everyone right now. [Laughs] I don't want to say too much, I'm trying not to reveal everything.
V You will be the first woman of color to host the VMAs since Downtown Julie Brown co-hosted in 1986-87. What emotions do you feel with that fact it has been so long since a Black woman hosted the award show? 
KP First of all, I was so shocked that it had been so long and that [the VMAs]  had never had a solo female Black host. That to me was very, very shocking and long overdue. I'm excited and happy that I'm getting the opportunity, but I'm hoping for sure that I'm not the last. I'm going to have a lot of fun and I'm looking forward to it, but I was definitely shocked. 
V VMAs aside, can you talk more about your character Maya, the 14-year-old activist, you will be voicing on Proud Family: Louder and Prouder reboot?
KP I think when they [The Proud Family] said activism, a lot of people were assuming that would be the whole storyline. But I think, in general, Maya's character will remind you of a combination of the Gen Z and millennials of today. Someone that is just involved with everything and always wants to make sure things are being done the right way. Maya is ready to throw out the old and begin with the new, kind of like that — 'I'm learning and I've realized some things that I need you to realize too' attitude. She's very strong-willed and you have a lot of moments of learning between her and Penny.
V What do you want young kids to walk away with when watching Maya?
KP That you are never too young to care or to be involved. I think that's the biggest thing we don't see as much. Even though it seems like a heavy concept for people that on a kid's show you would have somebody that is showing attributes of an activist, but the reality is, we need more young people to know that too is a career. We need young people [to want] to be a part of their local administration, mayors, senators, and teachers. I think this kind of show encourages that– and I hope that when kids watch they feel like they can relate.
V Inline with your character, is there anything you would like to say about this year's election and the importance of voting?
KP We have to start caring about voting. I think that it hasn't always been easily explained so a lot of times the way we look at voting, and the way some people — young voters and new voters — look at voting is confusing. If you don't understand how things are working from a local standpoint up to the national, then people will be confused and feel as if their vote doesn't count. 
Beyond the Presidential vote, if people want to have more control over legislation or feel like the changes that are happening are not representative of what they want — then people have to be involved at the local level. 
Look, I feel the same way as everybody else. It does seem like a mess and a joke sometimes—it is haywire but, I can't be upset about a system that I'm not trying to be engaged and involved enough in to make a change. It doesn't work that way. We have to have faith and we have to know that our votes count because if our vote didn't count, then people wouldn't be trying to talk us out of it all the time.  
V Even with all the heaviness in the world, you have been a source of many people's happiness and laughter over quarantine. Who do you listen to and what types of things do you watch to make yourself happy?
KP Well, I love memes! I always watch them, they're fun. 
V Your famous catchphrase, "The gag is…" do people ever shout it out when they see you in public? What is the most common thing fans say when they first meet you?
KP Yes, all the time. It's either, "The gag is…" they say,  "Little girl if you don't stop popping that gum," or " Hey! Ms. Jackson VP!" Those are the top three. 
V Speaking of True Jackson VP. Do you have any updates for the reboot or the movie Alice you are set to star in?
KP Yes. So Alice, per COVID-19 rules of safety, we had to push it back. I'm still filming it this year but we are waiting and trying to figure out how to make sure we can do so safely during this time. Then the other one, True Jackson, VP, I can't speak too much on it. But I'm hoping I'll have updates soon.
V There is a lot of scrutiny as of late about how talk show hosts treat others. Being a host yourself, what are your thoughts on chat show ethics in general? How were your experiences while on set? 
KP My ethics on sets is just trying to treat everybody with respect and treat everybody how I would want to be treated. I think that's it at the end of the day, at any set, or any place that I've been. I've mostly had great situations, always felt comfortable and stuff like that. But when you're not in a comfortable situation, I feel like you always have to speak up. People only do what you allow them to do. And you know, sometimes it's scary to speak up, but if you don't then no changes are made. 
V Tell us all about your just-released EP, Virgo Tendencies Part I, and what listeners can look forward to in Part II?
KP Virgo Tendencies is a project that I've been working on for a while. I don't force anything, I just let it come to me. So through the music and the space that I was in creatively because of COVID-19, I came up with Virgo Tendencies Part I. Which is like the Virgo fun, excitement, and high energy that I was harnessing. Then Virgo Tendencies Part II is what I was reflecting on and what I was going through on a deeper emotional level, also the longing aspects of it. 
V As someone who's been famous since you were young, what advice would you give to young creatives currently?
KP Make sure you're having fun and understand that it's a job too. Being creative and being able to make a living off of it is very lucky, but also very tricky because you can fall into thinking it's a game and take it for granted. Make sure you just treat everything with respect and have the responsibility to withhold the steps that we could be being granted. Be able to understand how to go with the flow-through ups and downs because everything's not always going to be the best. When you have these amazing moments, celebrate them. Stay connected to what you're doing and find your passion through stretching yourself creatively — not getting that next hit or that next view. Just have fun. 
V You, as well as your family, are from the Chicago area. How is your family doing with all the protesting activity?
KP My family is doing good. They live pretty far outside of the city. I think there was some small stuff where they were but they didn't have a lot of protests or see a lot of protests. 
V The city is known for its deep-dish pizza, what's your go-to pizza order?
KP I like Giordano's but I don't like deep dish pizza at all. I strongly despise deep dish pizza. [Laughs] It's way too deep and too much dough. I'm more like a New York pizza gal.
V What is next for you Ms. Keke?
KP Well, I'm very excited about Alice. I'm excited about what's happening with Turnt Up With The Taylors, the Facebook watch-show that I have, and ready to expand more upon that. Very much looking forward to music and what I can do with maybe ever bridging those two worlds together into a show of some kind. But again, those things are all a little bit harder to do right now. I think for me it's just about continuing to enjoy the journey and create. Whether it's in the comedy space or the music space or the film space. I'm just enjoying it all.