Laura Harrier and Halle Berry Get Real About Racism in Hollywood
In our September issue, two generations of black actresses unite.
This article appears in V126, VMagazine's September Issue, available now for pre-order.  
In Ryan Murphy's latest Netflix miniseries, Hollywood, Laura Harrier plays Camille Washington, a beautiful 1940s studio-era actress who goes on to be the first Black woman to win an Academy Award in a leading lady role. Washington—who is a fictionalized character, though loosely based on the great Dorothy Dandridge—finds herself moving in the same circles as Hollywood legends such as Hattie McDaniel (the first Black actress to win an Oscar); the Chinese-American actress Anna May Wong and beefcake leading man Rock Hudson—except in this version Hattie is Queen Latifah; Wong, like Washington, is formally recognized for her talents and not typecast as stereotypes of her race; and Hudson proudly comes out as gay on the red carpet. It's the kind of revisionism popular in entertainment right now, one that lets the audience really wonder, "What if?" What if Hollywood wasn't so white, so racist, so sexist, so homophobic? What if those who were (and still are) marginalized had been centered, and allowed to tell their own stories on the big screen? What if—to put it bluntly—the world was radically just more fair?
In reality, there was no Camille Washington (Wong died 1961, frustrated and rejected by Hollywood; Hudson died of AIDS-related complications in 1985, only coming out of the closet that year). It wasn't until 2001 that Halle Berry became the first Black woman to win an Academy Award for Best Actress for her role as Leticia Musgrove in Monster's Ball. In an emotional moment (which you can find archived on YouTube), Berry accepts the statue in utter shock, tears streaming down her face: "This moment is so much bigger than me," she says, stunned. "This moment is for Dorothy Dandridge, Lena Horne, Diahann Carroll. It's for the women who stand beside me, Jada Pinkett, Angela Bassett, Vivica Fox. And it's for every nameless face of women of color who now have a chance because this door has been opened." "I really didn't think I was going to win," she told Harrier, in a recent conversation the two had over Zoom—with Harrier, a Louis Vuitton ambassador, and Berry both self-isolating at home in Los Angeles. Berry was in between edits for her upcoming film about an MMA fighter, in which she is both starring and directing. "My body went into total shock. I hadn't written a speech because I [thought] I wouldn't be there."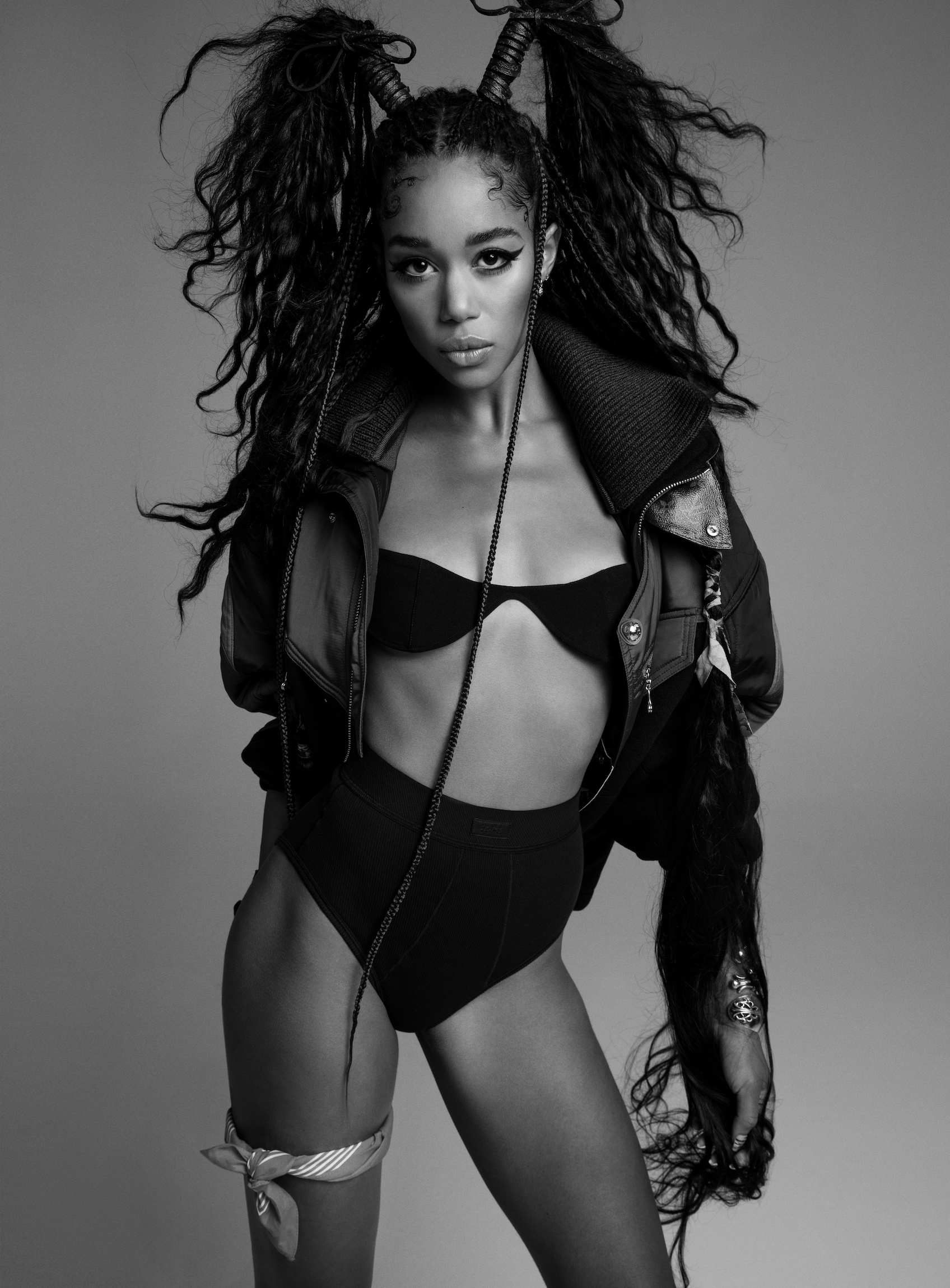 Their conversation—which touched not only on McDaniel and Dandridge, but also the actors's thoughts on the murder of George Floyd as well as how they personally identify as Black women— ranged from contemplative to sobering to uplifting. Berry, who, at 54, is 24 years older than the 30-year-old Harrier, acknowledged that Harrier was the new face of "young Hollywood" and repeatedly told Harrier how "proud I am of you." It was a touching reminder of how empowerment and support really works in a competitive industry that pits beautiful women against each other. Harrier responded in kind, reminding Berry how much of a "trailblazer" she has been to young Black women with dreams to act.
Though a Black actress has not won an Oscar for Best Actress since Berry, despite subsequent nominations for Gabourey Sidibe, Viola Davis, Quvenzhané Wallis, Ruth Negga, and Cynthia Erivo, Berry and Harrier's encounter offered a sense of hope. As the conversation wound down, Berry told Harrier, "After directing this movie, I may be calling on you. I want to highlight Black women and tell stories where they star and our stories are told. So yeah, I might be calling you." Harrier's face broke into a wide smile. "I'm here!" she said. 
HALLE BERRY I'm so happy to be doing this with you, and I'm so proud—really, so proud of you. 
LAURA HARRIER I'm going to try not to freak out, because you're basically the reason I wanted to be an actress. I've looked up to you forever. And it's really, really special to hear that from you. So thank you.
HB Oh my god, that's amazing! Well, first, I want to talk about the obvious thing that's happening in the world—quarantine. How have you been handling it? Everybody has a different story. Some people have found silver linings, some people are having shit hard times. How has it been for you?
 LH It's been hard. I've been trying to be positive, but honestly, when your life is all about moving and traveling, and being surrounded by people…Being stuck is super difficult. And I've been going a little crazy. But also trying to stay creative and think about what I want to do next. It was nice to have Hollywood press to do in this time.
HB How has press been?
LH It sucks! [Laughs]…I mean, it's cool that I can still Zoom and promote the show, but the fun parts like dressing up and getting to travel and be with your cast…that is obviously [lacking].
HB And you're someone who loves fashion, as do I. I have a new movie coming out and one of my first thoughts was, "You mean I'm not going to get to have a fashion moment? What the heck!"
LH When is your new movie coming out?
HB Hopefully this year! It's my directorial debut, so I'm super excited. We just got into the Toronto Film Festival. But still, I thought of all the missed fashion moments. I'm trying to think of ways to still give it to them while in quarantine. Not to take away from what's happening in the world. But we need those diversions.
LH Exactly! I had so many looks planned for Hollywood. [Instead] I was wearing like Versace on top, sweatpants on the bottom.
HB Hey, I've been doing Zooms with shirts on top, underwear on bottom! [Laughs] So, you are a part of the new, young Hollywood. When I see young women like you taking the reigns and being bold, I feel so proud. What has it been like for you, since your life changed? I'm curious how your experience differs from mine.
LH I'm so interested to talk to you about this, and I'd love to know how it was for you. I feel like now, there's so little privacy. And that's been a huge adjustment for me. I don't think anyone can prepare you for that. At the same time, I think social media is amazing, in that it gives us a platform and a voice. Because when I was growing up, it was you! You, and Angela Bassett, and Nia Long, and Jada Pinkett Smith. But, you know, there were just a few of you. And if I can in some ways be that for a new generation, that's my priority: I want young Black girls to feel seen. Representing young women of color is what I care about most.
HB I think it's a huge benefit, because I didn't have the platform of social media. And one of the things that was really frustrating, for me, especially in the early days, was that I didn't have a voice. I felt like for me the same story kept being told, and it didn't reflect my evolution. It didn't reflect the new frontiers that I faced. It was always the story of my broken relationships. Which were so freaking old that I couldn't stand it being regurgitated every time I did an interview. So it was almost a feeling of never being able to escape that stuff, even though I was so far past all of it.
LH Exactly. So what would you do when you felt you'd been misrepresented in the media?
HB Not do interviews! I finally just stopped talking. I didn't do another interview for eight years.
LH Really!
HB But then I got on social media and had this revelation of, I can actually show who I really am. That freedom opened me up to talking again, because I now realize it's not the only outlet, it's just one. So I'm more open to it. To sitting down and talking to you, because I have that other medium. And not talking is not the answer. That was my answer, but I wouldn't say that should be everyone's answer. That's just how I chose to deal with it. And I think we need both: We need our own PR and we need wonderful magazines like this one to highlight you and tell a story through their lens.
LH Right. The highlighting of relationships is so much of what we go through as Black women, that doesn't seem as highlighted for other artists in our industry.
HB How have you been finding your struggle? Do you feel like the people of the past—the Jadas, the Angelas—do you feel like those were significant doors that they opened for you? Is your struggle different?
LH Doors were definitely opened by the generation before, and by you winning your Oscar. But there are still struggles, and [something] I thought about a lot while doing Hollywood was, how could Dorothy Dandridge and Lena Horne have had the bravery and foresight? It must have been so difficult and terrifying to be the actual first, never having seen anyone on screen who looks like you. I'm so grateful that I had that, and have so much respect for the women who came before me. 
HB My biggest heartbreak about that win is that it's been 20 years and there's never been another one. And that's been a real heartbreak. And every year that goes by, it becomes more and more heartbreaking. In that moment, I thought, this really matters. And hearing what you just said affirms that it did matter. But I have to say, I question, at times, what did it mean if anything really at all?
LH It mattered a lot. And I agree, it is crazy to think it's still just you. But I don't think that takes away from what an incredible achievement that was. I was 12, watching you win…
HB 12—That's my daughter's age! Well, it just lets us know that there's still work to be done.
LH Can I ask you what you felt in that moment? What was it like [to win]?
HB You know…I so didn't think I was going to win. 20 years ago, whoever won the Golden Globe seemed to win the Oscar. Golden Globes were really a precursor to the Oscars. So when I didn't win the Golden Globe, my hopes of winning [the Oscar], being part of that history, kind of died. And because I really didn't think I was going to win, my body went into total shock. So much of that night is a total blur. I only remember it because I watched it. I really don't remember it; I was just up there, blank, and seeing nothing. Like, if you get into a car accident, you can still get home; I think it was that sort of feeling. I just walked up and knew I had to say something, I just wasn't in command of what I was saying.
LH The fact that you don't remember is so crazy, because it's the most iconic speech. I've watched it over and over. What you said is so powerful and poignant. And I cry with you every time…
HB [Laughs] I wish I could say I wrote it! But that was my subconscious talking. I'm going to switch subjects…Something not related, but important—this whole thing that's just happened with George Floyd. Where were you when that happened and how did that make you feel?
LH I was in L.A. and I was driving in my car. I think I was listening to NPR, so I heard about it the day it happened. I kind of just pulled into my driveway and sat there, and sat with it. With the pain of it. And sadness and yeah it was a lot. And I flew home to Chicago the next day because I'd been quarantined in L.A., and I wanted to go see my parents. And so I went back there and it was really heavy. For so many people it was this reminder of where we are in our country. As much as it seemed like we have progressed, so little has changed.
But at the same time, it was really amazing to see the marches and be a part of them. I went to a few of the big marches in Chicago. And just like the collective consciousness of people wanting to fight the system, and uplift black people. And wanting to change the way that our country was built. Our country was built on genocide and slavery and that's absolutely still happening today. So that was really powerful…To see the change in people's thoughts. The thoughts of white people, specifically, whose minds have been changed a lot. But it's just…sad. It's so sad. There are so many people whose names we don't even know.
HB Yeah. And that's kind of how I felt. There's so many nameless people. George Floyd just put a new spotlight on the issue, at a time. And I think because of the pandemic—something also very scary—people were in a different mindset. People had to think more deeply about it because they were already hunkered down, outside the normal rat race of life. It was something that we could really focus on. And I was really happy at all the rallies to see so many white people out in support. That, to me, meant, "Oh, something might actually be shifting this time." The people of the country are realizing that it is not just a Black male problem, or a Black problem, but it is a problem of our country. It affects all of us, in so many ways. So I think I felt like you: sad, but also hopeful. George Floyd is going to change our collective thinking, and only positives will come from that.
LH Yeah, I hope so. And I do think that things are starting to shift, but it's definitely…It's like a trauma that we all have to live through, right? And when we see these videos, it's so powerful, but I think that's the reason that things are shifting. Because of how difficult it is to see.
HB Do you have brothers?
LH I do. I have a younger brother, so every time something like this happens, that's who I think about first. And my fears for him, and for all the Black men in my life that I love. It's a constant thought, I think.
HB And I think there have been women who have also lost their lives in the same way. And we also have to work harder to identify and highlight them, and fight for them.
LH Yeah. Breonna Taylor. 
HB Let's take this back to Hollywood—it was set in the 1940s, right?
LH Yes.
HB So how did it feel? Because you know where we are today, and you know the history our country was built on. So how did it feel to embody a woman of color in the 1940s, knowing that was going to be a very different [situation] than what it is today?
LH It was interesting. I don't think [my character] Camille was an idealized version [of anyone], but the outcome of her story was what we would have wished for Dorothy Dandridge: that she'd won the Oscar and had this happy ending. Had she been the first Black woman to win Best Actress in the 1940s, instead of [it taking until] 2002 for a Black woman–you–to win, our industry would be completely different. So that was a cool lens to look through. But obviously I wanted to [show] what it meant to be a Black woman in the '40s and all the barriers that [came with that]. All the racism that she had to experience. I wanted to give real weight and truth to that. So I did my research.
HB I read that some people had an issue with the way [history] was presented, or thought that it somehow diminished what real trailblazers had gone through. But I felt like it was a wonderful and a refreshing look at what could have been. To me, it was [also about] what can be.
LH Exactly.
HB [It made me think] wow, what is coming? I just hope I live long enough to see it.
LH Yeah. You will.
HB You're going to see it! I'm sure of it!
LH I'm sure of it, too! Yeah, that's how I felt. I think most people know the real history. We know what happened. Especially in the times we're living in, I think people want to see something uplifting and positive, and think about what could be, and think about hopefully what the future holds.
HB Yes, because we often go back and look at slavery and look at all the hardships that we went through, and we revisit that over and over and over. It's nice to look at a new narrative that can make us feel good about ourselves, right? And a narrative that would have supported us. And I think that's good for all people, to be able to take a look at, and sort of chew on that, you know? And I think you also realize more deeply the injustice that's been done to us, at the same time. Even through this lens you still see it.
LH Yeah, to see that contrast, I think, really highlights the good and the bad.
HB Yeah. Now you, like me…we're both interracial. Right? Do you have one white parent and a Black parent?
LH Yes. My mom's white. My dad's Black.
HB Same with me. So how do you identify? Do you see yourself as a Black woman? Do you identify as mixed race? How have you made sense of your place in the industry, or just in life?
LH I definitely see myself as a Black woman. I identify as a Black woman. I think, growing up, I probably identified more strongly as being mixed-race just because the place I grew up in was very diverse. There were a lot of mixed-race people, and that's what my family is. And I'm really grateful for both sides of my family. But I think it was really eye-opening to move to New York at 17, and be out in the world on my own, [where I was] solely being identified as a Black woman. Which wasn't bad at all, but it was eye-opening. Seeing [that] this is actually completely how the world sees me. Most people wouldn't stop to think about, "Oh, your mom is half-Ukrainian. Tell me about that." No, the world just sees me as a Black woman, which is something I'm very proud to be. It just was sort of a strange realization, at that age, of the one-sidedness of how the industry [sees you]. Not seeing all of the facets that I think make Black people so interesting.
HB Right. And did you feel like on some level you were denying a part of you, by taking on this sort of one-dimensional look at yourself?
LH I don't know if I've ever thought about that. But I think no, because I remember having a conversation with my mom about this, who never made me feel that there was anything wrong with identifying as a Black woman. I would never discount my mom or her side of my family, who I'm super, super close with. But I think in terms of my racial identity, it definitely leans more toward my Blackness…How do you feel about it?
HB Yeah, I have known always that I was a Black woman. Growing up, my mother, who's white, was the first one to tell me: you need to accept that. And, by accepting that, it doesn't mean you're denying me. It just means you're accepting the reality of who you are and how the world will see you. And the sooner you accept that, the easier your life is going to be. When I was growing up, to walk around saying I'm mixed-race—no one would have cared. And I didn't look very "mixed-race." I looked very much like what I am: a Black girl. That's how I identify. And that's how I've been treated and discriminated against. I've never had confusion over it. But now, being a mother of a daughter… Her father is white. And she has the conversation with me now, where she says, "I'm 75% white and 25% Black." And I said, "Oh, really? Well, you go out in the world with that sentiment, and you tell people, and you see how far that gets you."
LH What do you tell her?
HB I tell her that when she grows up, she is going to be viewed by society as a Black woman, because that's how she's viewed at school already. You know what I mean? She's not passing for white, nor does she want to, but I said, "Nobody's going to care about your percentages…You are going to be discriminated against as a Black woman as you grow. And so let's just face that fact, that's what you are." That's my messaging as her mother, and as a Black woman. But at the end of the day, I say, "The truth is, I will support you in whatever way you identify. But here's what I think will be the path of least resistance." That's my point of view. So, we'll see. She's only 12, and she's kind of figuring all that out right now for herself.
LH I want to ask you questions! When you were starting your career, before the Oscars, did you realize that your were a trailblazer? Or were you just doing what you loved?
HB I think it's a little bit of both. I understood I was carrying the torch. After I did Introducing Dorothy Dandridge, and I got into her life and embodied her, I got really deeply connected to her trailblazing and how much that meant for me and my life. I got very connected to what my life and my career would mean for young actresses behind me, like yourself. And I knew that I had to be brave, take some risks, try to forge a way out of no way. Because nobody had really gone where I was wanting to go. I knew that that was a responsibility of mine, right? But at the same time, as an artist, I just wanted to do things that I loved, and that challenged me. And by doing so, not everything was perceived in the way I had imagined [they would be] by people. But that often happens, when you're trailblazing: You do things other people haven't done, and sometimes you do it five minutes too early. And people aren't quite ready for it.
But what I want to say to you is, you can't let that deter you from continuing to blaze that trail. That you have to stay brave. You have to take chances. If you want to move us forward, then you have to be forward-thinking. And that means innovating. If someone has already done it, then you're not really innovating. That's like a lateral move. So think of ways that you can innovate and move your ball forward, for everybody. And that's by doing things that have never been done. That's by taking chances. And that's what I was encouraged to do at that time in my life, by my manager that I had at the time. And so that's what I tell young actors like yourself, just be brave. Be courageous. Don't let the fact that it's never been done before, or the fear that other people will put on you, stop you from taking those risks. If you fail, okay, you get back up and you do it again. But if you win, you win so big that it's worth any thought of failure. Because the win moves you forward in such a big way. And the failure is just like a hiccup. You can recover from that.
LH That's very good advice. Thank you. I needed to hear that.
HB Yeah. Never be afraid. And I'll tell you a story. People get afraid for me all the time. Like when I did Monster's Ball—it was a little tiny movie and I loved the script. I love playing characters that are tortured and damaged. It's a part of myself that I love to access, because I work through my own damage, my own torture, my own childhood that left me scarred. Right? And those movies give me a chance to work through that. So it's very cathartic for me. So when I read this script, I was like, "Oh, yes. I'm definitely doing this."
And then people around me started to try to talk me out of it. They said, "But it's explicit nudity. And it's a little tiny movie. You're going to get paid nothing. If you're going to bare your whole body, you better be getting a check, girl. That's crazy." All these people tried to [project] their fears onto me. But in the quiet of my own mind, I had to go away and think, "Okay, if I win at this…" I never dreamed of an Oscar, but I dreamed of having a stellar performance that would be something very different for a woman like me. And I thought, "If I win at this, I'm really moving our collective ball significantly forward. And if I fail and my career is over, like they all say could happen, well, then at least I'm dying on the sword that I planted in the ground. I'm dying on my own merit, on my own decisions, Not on the fears of someone else." So I did that, and then that Oscar moment ended up happening. So that was an example of facing your fear.
And I just had it recently; when I went to direct my first film, I was also starring in it, playing an MMA fighter. By many accounts, it's a dumb thing to do. "Why do your first movie and play such a big role? And have to do all this fighting and training?" And people would say to me, "But you've never directed before! That's too hard! You can't do that. Do you know how hard it is to direct fight scenes? Talk to all the directors that have done those movies—those scenes are hard! How are you going to do this?" It was an onslaught of everybody's fears sitting down on me. And once again, I had to say, "You know what? I can do this. Just because they can't do it doesn't mean I can't do it. Yeah, they're scared. I get it. But they're not me." Right? So once again, I had to fight through the fears of other people. And I ended up getting it made, and I'm really proud of it right now. I think that's my biggest message: Don't let other people's fears sit down on you, or their limitations sit down on you. Always check in with yourself before you let somebody else's limitations dictate what you do or what you don't do.
LH I need to write that down.
HB That's my advice.
LH It's amazing advice. Do you feel like you've always had that bravery?
HB I think so. I got into a lot of fights as a kid. A lot of fights. Fist fights! So, yeah, I think I got myself into a lot of fights because of my irreverence and my ability to stand up for myself. When sometimes I could have just walked away but, for whatever reason, there's a part of me that doesn't want to walk away. I want to face it and deal with it. That has always been a part of my personality. I like taking risks, and the fear of something often excites me. I become a moth to the flame. Sometimes that's been wonderful, and sometimes that's been terrible. It's been destructive and hard, but that's just who I am. That's how I came here—with that personality.
And I have to manage it, because sometimes it puts me in positions that are hard to navigate. But it's also the same personality that has propelled me in my career as an actor, and especially as a female [actor] of color. That quality, I think, has helped me stay alive for 30 years and do the things that I love to do.
LH I think that's a great quality to have. I have a lot of the same. Sometimes you have to tame it, but also I think it propels you.
HB And as you grow, you'll learn how to tame it. You'll learn from mistakes that you'll make. And then you'll get to the point where I am now. I'm going to be fifty-four this year. I'm at a point where sometimes…I call her my Leo. When I hear her rising up, I have to say, "No, sit down, Leo, sit down. Down, down, Leo. Sit on down." I've learned how to manage that part of myself. So if that is truly a part of yourself, learn how to manage that sooner rather than later. It'll make your life easier.
LH Oh my God. Okay. That's good to hear. I need to try.
HB Yeah, but it's a beautiful part of who you are, too.
LH Yeah. Why we're here, right?
HB Yes. That's why we're here. Why we're here. Laura, when this pandemic is over, I would love to just get together with you for dinner or coffee, anything.
LH I would love that so much, you have no idea. And thank you for your advice and the time to speak to me. And I'd love to stay in touch and keep bugging you with questions.
HB I'm always here. I'll make sure at the end of this I'll give you my phone number. And I'm here, if ever you need anything, I am here and I would love to talk to you. I love seeing you. And I'm just so proud of you and so in support of any and everything you do. And if I get to direct again, after directing this movie, I may be calling on you.
LH I'm here!
HB My full focus is going to be to highlight Black women and tell stories where they star and they're featured and our stories are told. So yeah, I might be calling you.
LH I'll be here, girl. I'll answer the phone.