Meet Janthavy Norton, the Skater-Turned-Actress on Everyone's Radar
The LA-based mega talent exclusively sits down with V to talk about being a woman in a male dominated sport, her burgeoning acting career and how going with the flow is key to her success.
The LA-based mega talent exclusively sits down with V to talk about being a woman in a male dominated sport, her burgeoning acting career and how going with the flow is key to her success.
Janthavy Norton is a name to remember. A multihyphenate talent hailing from Arizona, the skateboarder
slash
actress
slash
artist exemplifies a generation refusing to fit into just one category. At 17, she stumbled into her skateboarding career through a serendipitous introduction at a house party. True to Zillennial form, Norton juggled a full-time job and her skateboarding-centric Instagram before unexpectedly catching the eyes of film execs casting for characters with skating expertise. "I was literally working in real estate and I'm like 'I guess I'll go be this model or actor for the weekend'," said Norton. "I'd work Monday thru Friday and then if it worked out with my schedule, I would drive out to LA and I did that for 2 years." Now 25, her resume boasts of film roles and TV appearances — not to mention her beloved side hustle creating resin jewelry. A first-gen American born to a Cambodian mother and Vietnamese father, Norton is bringing representation to a whole new generation of young female skaters. V sat down with Norton to talk about her skateboarding prowess and how she avoids boxing herself in. "I'm trying to leave the space open and see what rolls in. It's always just been that way for a few years now, it's really weird!"
V MAGAZINE:
So first things first: skateboarding. I've seen your skating videos and the things you can do are insane! How did you first get started in skateboarding?
JANTHAVY NORTON:
Let's see, it's pretty funny. I think I was 17 and I was at a house party and I got bored and I noticed they had a half-pipe in the backyard so I asked this guy if I could use his skateboard to skate this ramp and then all of these people were like "Oh, you should drop in!". And I was trying. And it didn't work out. I think I fell at least 20 times. (laughs) Then I just went, got my own board, started going to the parks and trying to figure it out for myself.
I had to work at it when I first started and I was learning really quickly but I also went like, 7 days a week.
V:
You were dedicated.
JN:
I was pretty dedicated in the beginning. I was like "I have to skate 10 hours a week!". That was my goal.
V:
Oh wow! I love that. You set a goal for yourself! Do you feel like you're the type of person who gets obsessed with something and you have to be the best at it? Or was it just a new obsession randomly with skateboarding?
JN:
I mean I've always liked sports. I've done cheer, track, dance, karate and jiu-jitsu. I like trying new things but skateboarding was the only thing that stuck with me. I'm pretty motivated to try and learn stuff but actually staying with it and trying to perfect it - I think skating is the only thing that I've tried to do that with.
V:
So I also saw that you have a background in acting as well with roles on
NCIS: New Orleans
and even a Sia music video! How did you get started in that and is that something you'd like to further explore in the future?
JN:
It's so weird, I actually got into it because of skating! When I was living back in Arizona, people were hitting me up on Instagram and asking me to do these commercials and random shit, right? I'm like "What is this?!". I was literally working in real estate and I'm like "I guess I'll go be this model or actor for the weekend". So I'd work Monday thru Friday and then if it worked out with my schedule, I would drive out to LA and I did that for 2 years. But the first gig — I think it was skating in a pool —
they needed a skater and I was like "Yeah, I'm down!". But as far as acting goes, that started to develop a little bit more when I auditioned for this role in a movie. Again, really strange, they were filming a skate movie in India. She messaged me and I was like "Are they trying to abduct me or…?". (laughs)
V:
Yeah! Sounds a little sketch.
JN:
I know! And of course, my mom being a mom, she's like, "You're going to die, you're going to die". I was like "Um…". (laughs) I don't know, I looked up their work. So I literally auditioned. It's funny, I recently looked at that reel and it was terrible. The lighting was bad and I did
not
know what I was doing. But I booked it! And I flew all the way out there. And I think after that, being 8,000 miles away from home, I was like "Ok! I'm doing it!". And I thought I could continue doing that. So then I finally got representation and now I'm definitely starting to think of future goals and wanting to get more into film and TV stuff. It's pretty fun. (laughs) There are so many different avenues so you really aren't limited to one thing.
V:
Yeah, absolutely. I like how it really just developed from a skateboarding passion and then opened so many doors up for you.
JN:
Literally.
V:
So speaking of artistic endeavors: I saw that you post some of your art on your Instagram. Did you grow up in an artistic home and how did you become an artist?
JN:
I'm actually first generation so at home, nobody was really too artistic. I was the one in the family that was always wanting to do all this "wild" stuff like painting and crafting. Since I was little, I've always made handmade cards for my family and friends and I just really enjoy arts and crafts. Definitely trying to get more into paint — I'm doing resin jewelry right now.
V:
Oh, that's awesome! Isn't that when you cover a flower or something in resin, is that what you do?
JN:
Yeah! You can get molds or you can get open vessels and fill it and use press flowers or even pigments. It's wild, you can do so many things with it so I'm playing with that. I was selling them for a little but then I got burnt out so I've stopped for a little bit (laughs)
V:
Yeah, that's awesome! How do you think you blend your art and skateboarding passions? Do you feel like one medium of self-expression influences the other? Is your art influenced by your skateboarding at all or vice versa?
JN:
I think the only time that it really blends is if I'm doing grip art on my skateboard. You can paint on your grip and make it your own individual style. But for the most part, I think that a lot of it stays very separate because skating is kind of like a dance. You notice everybody's different unique styles and how they move. It's more of physical art. The other types of art are more for relaxing and letting my body rest when I can't skate. They actually go hand in hand together but they don't influence each other.
V:
Ah, ok, understood! I also wanted to touch on being a woman in a male-dominated field like skating. What has been your experience being a woman in skateboarding which is dominated by men usually?
JN:
I think there's a lot of judgment in it. I mean, we're working really, really hard to break that but I always feel like there's a huge group of men that feel like women that are sponsored don't deserve things because [men] can do things "better". In my personal experience, I've had a lot of online comments of "Why would
she
get that?! I could do this so much better" or "Why is she even sponsored?". For some moments, you definitely feel like, "Oh, why
am
I getting hooked up?". But then I remember that no, I worked
really
hard. Like, in the beginning, I pushed myself to learn and progress and this is my
own
journey. There's definitely a lot of pressure in it, but I feel like the females group together and everybody is really supportive in the scene. There's
some
people that are really particular and very judgmental but for the most part, everybody in it is all about love and just having fun.
V:
Yeah, I like that! Do you ever struggle with imposter syndrome in being a woman in a typically male space? How do you deal with that?
JN:
It's definitely getting better but I believe that a lot of people think that girls try to do it for attention or whatever. I try to just keep my eyes forward, doing my thing, remembering that this is something that
I
love and I try to just block all of that out and only open the space for the people that are really like-minded. They're just there to have a good time, enjoy the community and find new spots. It's also really good for your mental health and I think a lot of skaters get that. When we're out there together, we just sort of bond and stick together and take care of one another and ignore all of the negativity that surrounds skating, I guess.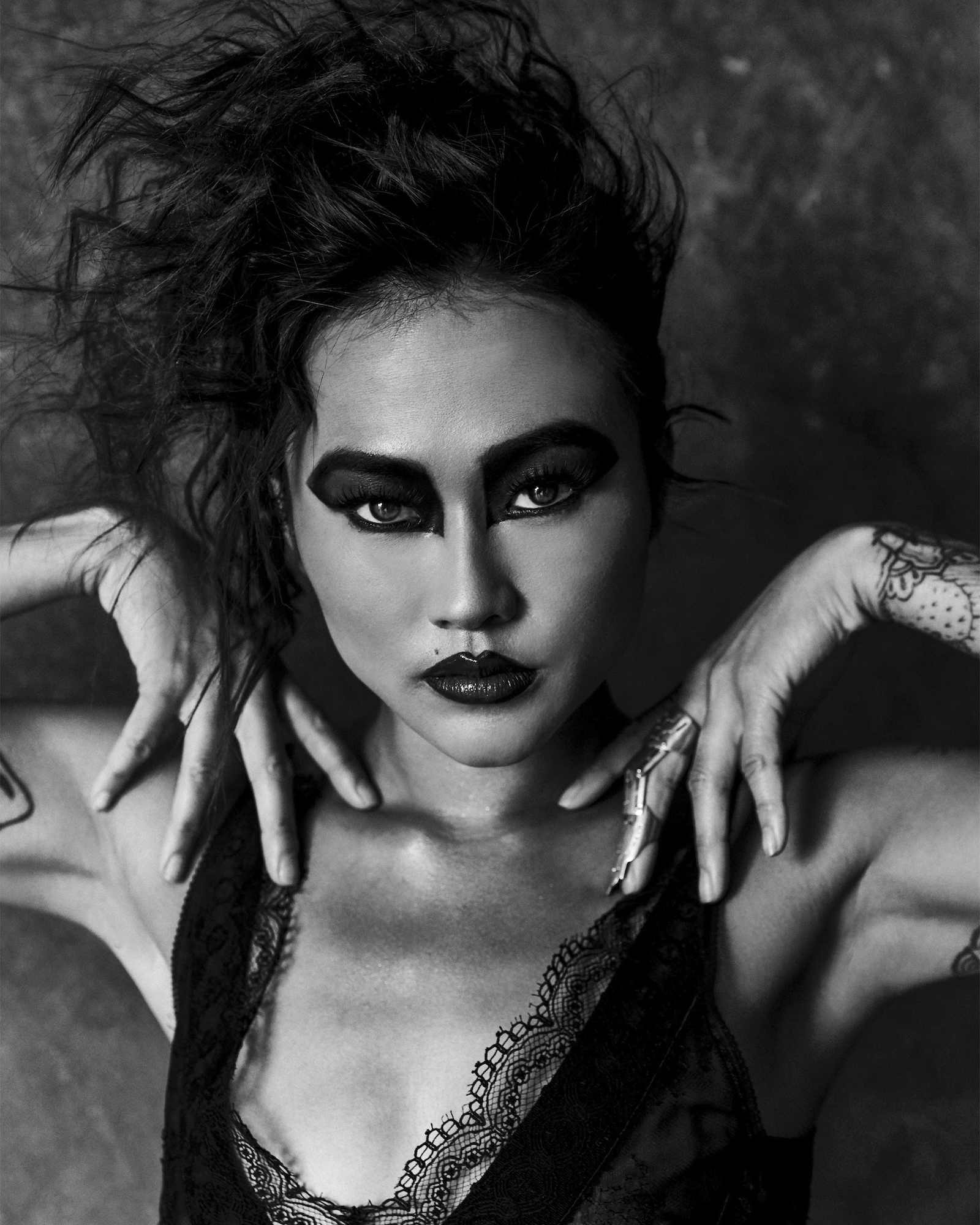 V:
And obviously representation is a huge contributor to inspiring other young girls to not be afraid to get involved in a male-dominated sport. So I wanted to know what does representation mean to you and do you feel a sense of responsibility in being a female skateboarder that other young girls can look up to?
JN:
So I actually used to teach clinics so I actually used to hear little girls' opinions on skateboarding and they were always very nervous. What I would tell them is "No! You can try literally anything in the world that you want to do". It doesn't matter if there's more boys that do it and you feel out of place cause you're a girl. You should do whatever makes you feel happy. Just don't be afraid to step into a space - own the space! You know? And not in an aggressive way but you're doing this for
you
. It's not for anyone else, it's not about what other people think so I would just tell them "Just show up". What are people going to say? Does it even matter? And do their opinions mean anything to you? At the end of the day, as long as you're happy… I know I have a lot of little girls that are following me, so I feel like it's important to show them "Hey! You
can
do this! If you fall, you're going to get back up" and keep pursuing it. 
V:
You're really active on social media and as you mentioned, you're super aware of what you post and who is consuming your content. How do you use social media to advance your career or create a community?
JN:
I definitely try to use it for the good. In the beginning, because I was editing and posting skate videos more often, that's kind of how I gained an audience. I started to do girls' skate clinics back home. Then I started to do nonprofit work with Skate Rising which was teaching the youth. I've been able to utilize it to also do fundraisers and raffles and try to donate to good causes, so it's been very beneficial in that way in terms of getting people together, enjoying ourselves and learning something new, but also using it to give back to the community. For example, we did a little fundraiser and I reached out to all these different brands for donations and my followers bought raffle tickets to win these baskets. We raised two grand so we bought tents for the homeless. I think that social media has been really good for networking and work but now I try to just use it for more personal portfolio stuff, just putting work out there that I'm doing and also trying to do stuff for the community.
V:
That's amazing that you're able to use your platform for the greater good. I feel like your future is super bright and you have so many doors open with your art, skateboarding and acting — I'm excited to see! What is next for you creatively and basically what can we expect from you in 2021 and beyond?
JN:
I'm actually trying to push myself into learning more acting techniques and getting better with dialogue. A friend asked me to participate in a little short series so we actually filmed some stuff and we're working on filming some more episodes and then pitching that so we'll see where that goes.
V:
Love it.
JANTHAVY:
That's been fun, it's very different for me. I'm just going to try to push myself in that sense and put myself out there for jobs I'm
mos
t
afraid of. (laughs) Which is usually actual
acting
acting that doesn't involve skating but learning how to express emotions. I'm also working on getting a jewelry business together with my friend. We're going to collaborate and sell more earrings and whatever else we can make. I'm going to push myself more with skating because I got comfortable so I want to try to learn more and go back to vert skating. I'm just trying to advance in every single way — in my sport, in my career and kind of see where it goes. I have no big picture but I'm definitely working towards it.
V:
Yeah! They said you attract what you're meant to attract.
JANTHAVY:
Right? That's what I'm hearing. So I'm like "Ok! I'll wait and see!".
Credits: CREDITS: MAKEUP ELIE MAALOUF / HAIR PATRICIA MORALES (THE VISIONARIES) FOR GARNIER FRUCTIS /  SET DESIGN ENOCH CHOI / EXECUTIVE PRODUCER SACHA DI BONA (SAVVIE) / PRODUCTION MANAGER ANDERSON (SAVVIE) / ON-SET PRODUCER LUIZA FARBER (SAVVIE) / DIGITAL TECHNICIAN ANTHONIE GONZALEZ / STYLIST ASSISTANTS HUNTER CLEM, ALI GRUSELL / PRODUCTION ASSISTANT HUNTER BERNARDI / LOCATION CONCRETE STUDIOS