Meet the Members of Chanel's New Beauty Collective
CHANEL COMETES COLLECTIVE plans to evolve forward with the help of makeup artists
CHANEL COMETES COLLECTIVE plans to evolve forward with the help of makeup artists
Chanel has championed diversity in the past, giving beauty and fashion icons their start. There was Naomi Campbel in the 90s, one of the first black high fashion models to hit the Paris scene, and more recently Fernanda Ly with her pink hair and thickly lined eyes. Her look pushed Chanel forward into the here and now. The brand's priority has always been beauty, no matter where it originates. Now Chanel Makeup Creation Studio has established a collaborative effort to bring the brand into its next phase of excellence, defining beauty for the new generation with the help of talented makeup artists that embody Chanel's dedication to authentic beauty. Those at COMETES COLLECTIVE, Chanel Makeup Creation Studio believe "beauty is a language in perpetual evolution."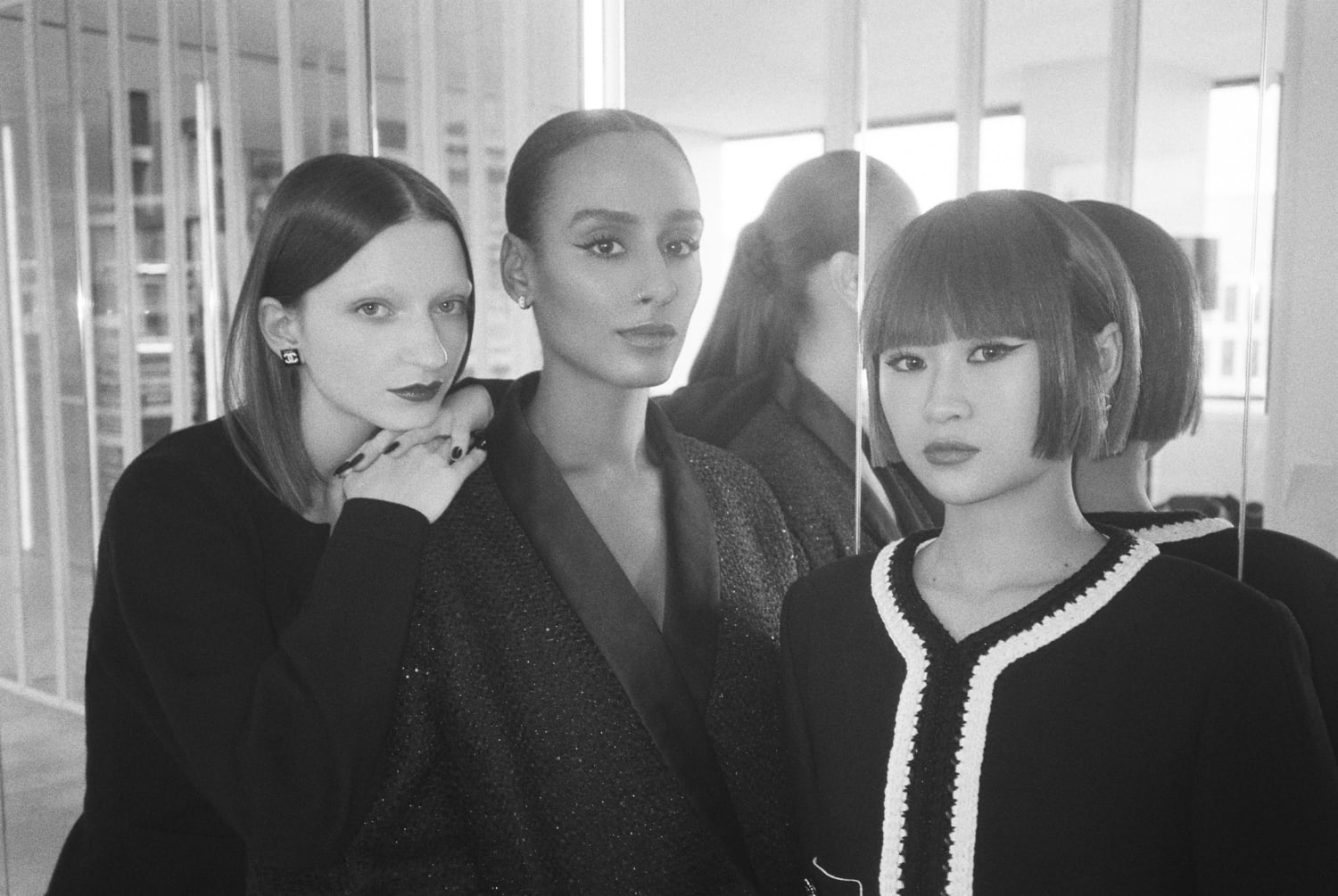 Valentina Li, of China, is a makeup artist that takes editorial makeup to new heights. Bold, fearless, and theatrical her work is Instagramable coupled with expert precision and taste. More is more. A deep dive into Valentina Li's Instagram and you'll find her looks bright and edgy. One look consisted of the artist covering herself completely in flowers. Li was photographed for the announcement in a fabulous cropped Coco Chanel bob, dyed royal blue for a young and edgy finish. Blue is her staple color, if she were to assign herself an avatar it would be a blue jellyfish. Very fitting for the fluid and futuristic effect of her work. The Chinese national is a world traveler who is fluent in English, Mandarin, and French among other languages, pulling influence from wherever her work takes her. The makeup artist hinted at a sea-inspired theme for her first collection with Chanel Makeup.
Cécile Paravina is a unique avant-garde makeup artist whose work touches on elegance, and sensuality with a hint of darkness. Her work has a particularly European sensibility due to her extended time in Paris. Paravina doesn't believe in following rules or trends, depending on her own instincts the young makeup artist has made a name for herself and signed with Bryant Artists in 2019. An aficionado of the bleached brow, Paravina focuses on line, shape, and form. Most likely influenced by her time at the Royal Academy of Art Antwerp. "My intention is always to give and to inspire," she explains. Cécile looks forward to contributing to the evolution of Chanel's approach to makeup. 
 Ammy Drammeh is of Gambian and Spanish descent and works in London and was featured on the British Fashion Council's "New Waves Creatives" list in 2018 and 2019. Her preferred style of makeup is a bit more effortless than her two collective counterparts but effortless with a twist. The Spanish native believes that makeup should be freeing and uncomplicated, allowing attention to detail to shine through. The makeup artist's advice for the novice makeup user at home is, 'Don't be afraid. Don't limit yourself based on what trends and others think is right. Follow your instincts, play, and have fun!' Following Chanel's Official announcement of the Collective, Drammeh took to Instagram to express her enthusiasm about the partnership  "...I look forward to embark on an era where innovation exists without denying heritage."
Credits: Images courtesy of Chanel Beauty