Miu Miu Channels the Nostalgia of Proximity for Its Fall/Winter 2020 Campaign
Creative collaborators include supermodels Gigi Hadid and Kate Moss.
Creative collaborators include supermodels Gigi Hadid and Kate Moss.
The current state of the world has made physical closeness feel like a distant memory for a lot of us. There's a deep sense of nostalgia within the fashion world for close-up photographs, in-person meetings, and live audiences, most of which were given up as soon as social distancing became the norm. That's why Miu Miu's recent Fall/Winter ad campaign, "Close," centers on the concept of intimacy and proximity through a series of photographs.
Shot by a broad range of creatives before, during, and after Covid-19 lockdowns, the captivating snapshots play with the physical technique of closeness that juxtaposes times of isolation. These photographs were ultimately assembled in collages that add a welcomed – and very familiar during stay-at-home orders – DIY touch.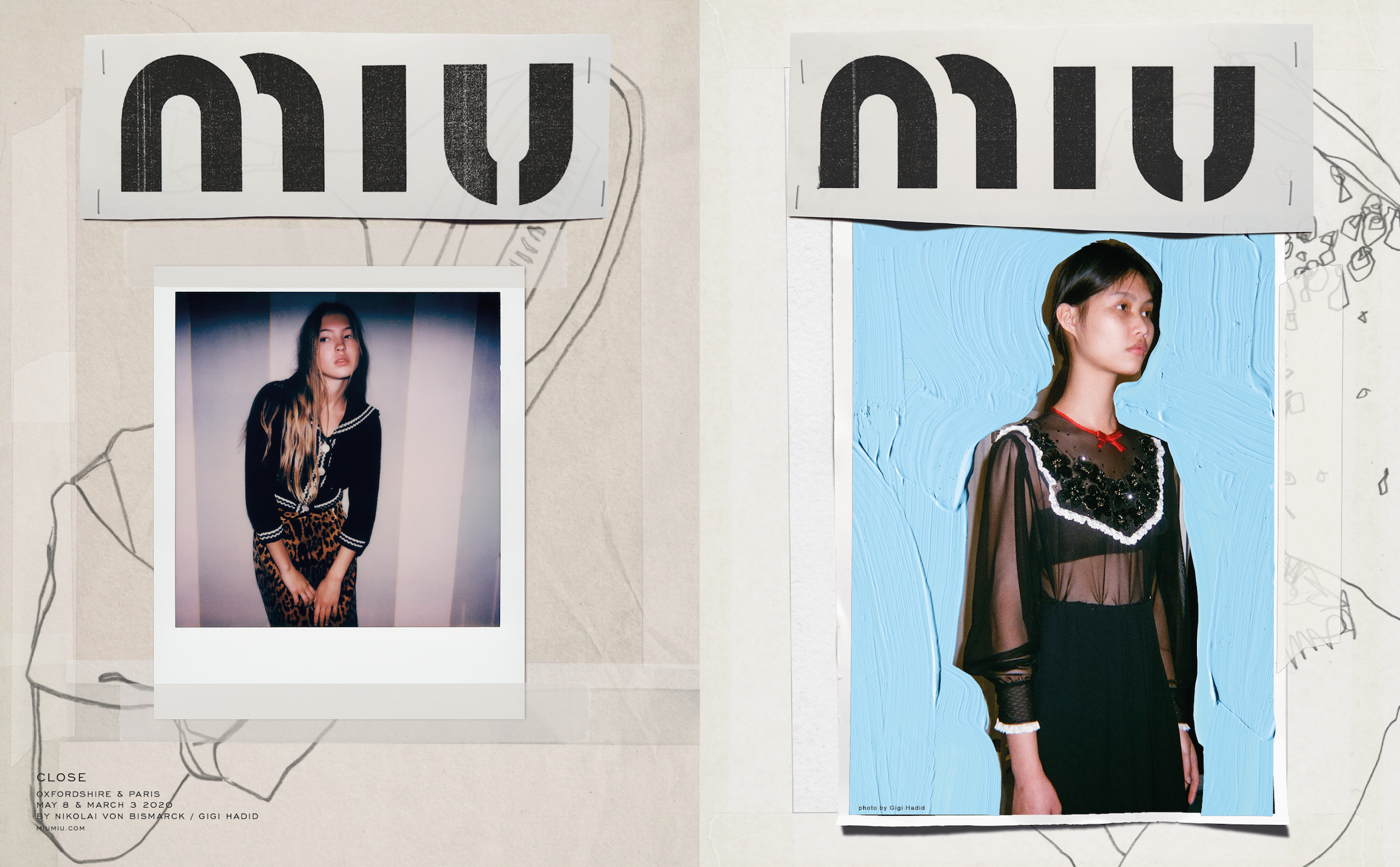 Collaborators for this project include Gigi Hadid, who documented the backstage scene during the Fall/Winter 2020 show in Paris back in March, and Liz Collins, adding more formal shots of the show's models, including Hadid, to the campaign.
Nikolai von Bismarck photographed Lila Moss for the fall collection, with the young model's mother Kate Moss and stylist Katie Grand co-styling the looks at her home. The Polaroid-style photos add a more personal, domestic feel to a traditional fashion shoot – indicative of a secluded time.
Other creatives include Steve Mackey, who photographed English model Kasper Kapica and the collection's elegant accessories in a local public park, and Patrick Waugh, who hand-painted the Polaroids to provide a creative touch to these pieces. Amber Pinkerton also captured a unique moment when young Londoners were free to socialize after a period of confinement.
The collages become complete with the hand-drawn illustrations that set the background of the campaign, created by Anthony Turner, Luella Bartley, Silvia Prada, and Chantal Stracey to celebrate the nostalgic spirit of the photographs and celebrating intimacy and freedom through art.
"Everyone participating in this project is already a part of Miu Miu's extended family," said the luxury fashion brand in a statement. "The participants' familiarity both with their subjects and with the broader world of Miu Miu gives 'Close' a profoundly personal and proximate quality at a moment in history that has required us to reevaluate our understanding of personal distance."
The "Close" campaign is set to be unveiled on July 21 on Miu Miu's social platforms.
Credits: Photos courtesy of Miu Miu