MY NEW YORK: KIDSUPER
The man behind the cult street-wear label KidSuper, Colm Dillane shows V the places that influenced his early artistry
The man behind the cult street-wear label KidSuper, Colm Dillane shows V the places that influenced his early artistry
On the weekends, you could find Colm Dillane sketching preliminary designs for his upcoming t-shirt drops. Designs he would later sell to his Brooklyn Tech classmates in the cafeteria during lunch. This passion for art and design, alongside his other big love of soccer, informed most of Dillane's childhood. At the time, fashion was just a passion project of his–something he would occasionally pick up to take his mind off of school. Yet, in the coming years, he's made this brand an extension of himself. It has blossomed into multiple realms, including an art show in Korea, a design collaboration with PUMA and a flagship store and studio in Brooklyn. 
"I started [KidSuper] when I was a kid and used clothing as a catalyst into all these creative projects that I wanted to do," he shared from his Brooklyn studio in a colorful KidSuper ensemble (printed sweater and pastel-colored pants, also painted). "It was built around this child-like sense of wonder that anything's possible." 
And as much as many contemporary designers imbue this in their practice, Colm has taken this ethos to new heights. Last year, the creative was included as a finalist for the coveted LVMH prize, which celebrates designers under 40 with more than two collections under their belts. And shortly after his ubiquitous KidSuper designs were seen everywhere, from the likes of pop culture icons like Angus Cloud and Joey Bada$$ to record-breaking musicians like Dua Lipa and Jack Harlow. 
"I was always different," he laughs. "I was always outside the box thinking. I didn't follow the rules."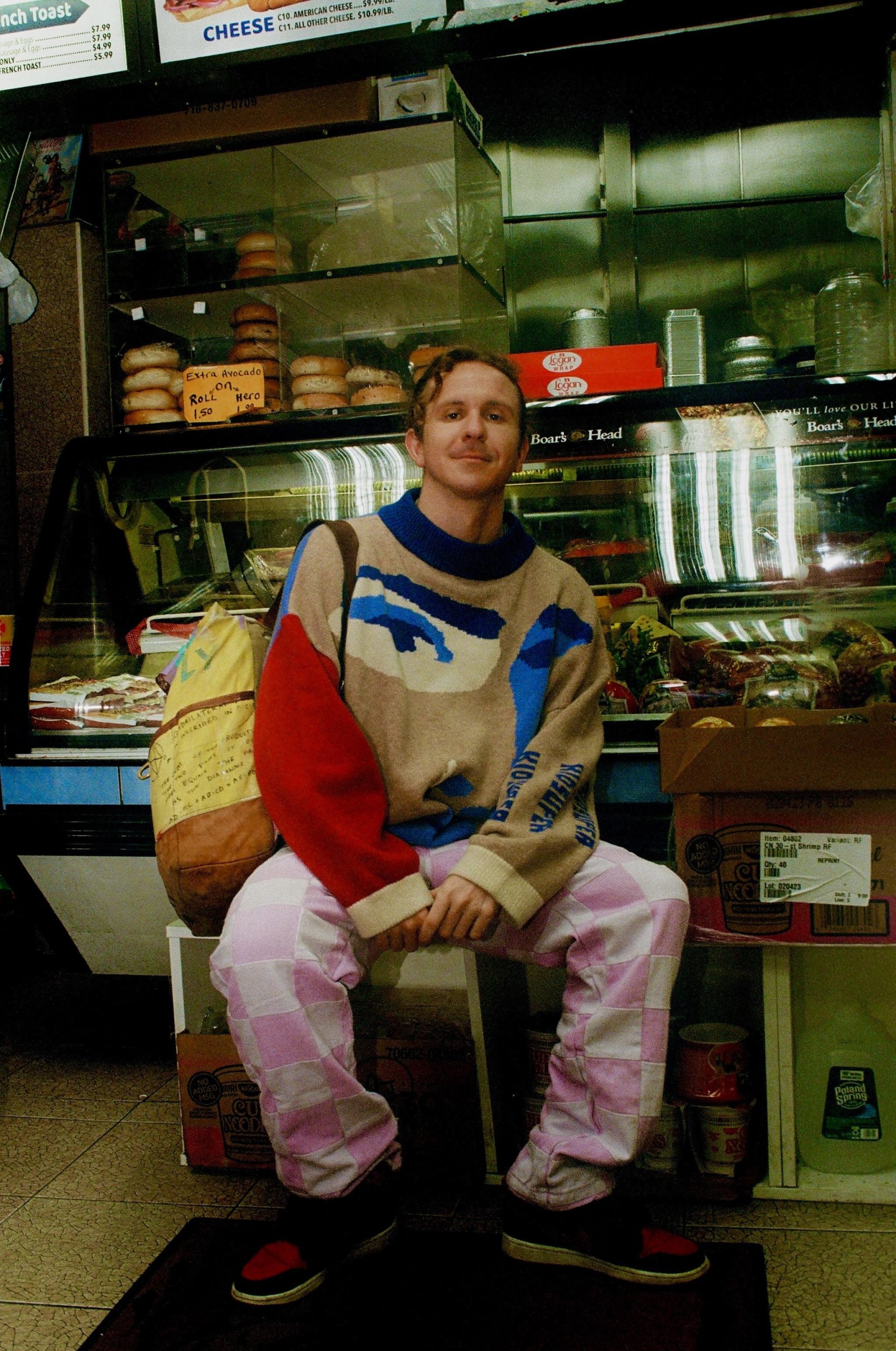 And he credits much of his "out of the box thinking" to growing up and absorbing different cultures and peoples. Born to a Spanish artist and an Irish fisherman, Colm moved a lot as a child – spending a few years in Wisconsin before ultimately moving to New York when he was 12. When his peers were blowing money on high-end brands (Bape and Supreme were a few in vogue at the time) he decided to make his own. At age 15, he and some friends started a design company, printing pizza-themed designs on t-shirts. 
While his brand has a fan base that spreads across multiple continents, Colm argues that it is still thoroughly rooted in the vibe of New York. He credits the majority of his artistry and subsequent designs to growing up in New York City and surrounding himself with its creatives.
"What I love about New York City is that everyone moves here to make it," he elaborates. "You don't move here to settle down. There's an energy and a drive, a feeling and a grinding." 
Today, when you say KidSuper you mean the brand, but also the guy. The passion process has expanded into an internationally-recognized brand and in the process has become an extension of the artist himself. And since he's been here and been cultivating a cult street-wear label, he's done the stuff of designer dreams. Think cliff diving with Steve Aoki off the coast of Spain and playing at Madison Square Garden with Gary Vaynerchuck and Danny Cole. In the past year, he's even had one of his designs showcased at the Metropolitan Museum of Art – yet another reason how it's Colm Dillane's world and we're just living in it. 
Check out the sixth episode of V Magazine's second season of  "My New York" created in collaboration with Milk Makeup.
Stay tuned for new episodes launching every Friday here on Vmagazine.com, the series will spotlight NYC's movers-and-shakers as they guide us through the formative spots in the city that have inspired and cultivated their craft.
Read the exclusive interview with Colm below!
V Magazine: Hi Colm, thanks for chatting with us. Can you describe the spirit of KidSuper? 
Colm Dillane: KidSuper was built around this child-like sense of wonder that anything's possible. I started when I was a kid and used the clothing as a catalyst for all these creative projects that I wanted to do.
V: Why do you love being a child and what does it mean to you? 
CD: When you're a kid, you're so free. Everything's amazing and everything seems possible. I never lost that spirit. I see so many people and I'm like, "How'd you lose the fun? The humor? The ambition?"
V: Can you recount the story of getting caught scaling SoHo fire escapes? 
CD: I used to climb roofs when I was in high school because I had lived in a lot of different places and exploring and adventure were always something I used to do as a kid. When I lived in Wisconsin, I'd go to the woods. And then when I moved to New York, there were no woods. The woods became these buildings, and I used to climb on scaffoldings and get on roofs and SoHo. I'd just walk across roofs, roofs, roofs, and you'd see into penthouses, you'd also see a different part of New York City. It's weirdly quiet, but you're also a part of it. It's beautiful. So anyways, one time I did it. We got caught and we got arrested because it's illegal. The cops press us and they're like, 'Where's your spray can? Where are the drugs?" And we're like, "We're just climbing it to see the stars." And that was this beautiful epiphany of using New York City in our own way to see the beauty of the stars. The stars could represent success, but also evolving as human beings. So "climbing the fire escape to see the stars" became this quote that I used. It was really authentic. 
V: And how did that encounter lead to the famous billboard? 
CD: Someone said, "Colm, we want you to do a billboard." I had a billion ideas. I was like, "Okay, if I do an art piece, it won't really translate." The things that are most effective on billboards are quotes. And I remember there used to be one that said, "Don't grow up." It resonated. So I was trying to come up with a Colm Dillane, KidSuper quote, and that "Climb the fire escape to see the stars," ended up being it.
V: Is the KidSuper brand your identity or do you feel there's a sense of performance? 
CD: Unfortunately, I feel like there's no sense of performance. At times it can be a lot because I am so much the brand that it makes me as a human being try to act a certain way. But 99% of it's positive. I called it KidSuper, so I have to take the leap. I called it KidSuper, so I have to spend 24 hours working on something. It's like the captain of a ship. He goes down with the ship. 
V: A few years ago you painted your first studio/store blue. Why did you decide to do that and what was the reaction? 
CD: Everyone thought I owned the building because I painted it blue. I wasn't trying to have this illusion that I owned the building. I was trying to have this illusion that this is like a Willy Wonka factory, there's magic here. I loved the idea that the building stood out like a sore thumb. 
V: Do you think you could have had the same success with KidSuper in a different city? 
CD: Not only do I think I wouldn't have had the same success, but I also don't think I would've started it. I wasn't so much a fashion person. I was a maker of things. Just in New York City fashion is the first thing you do. So if I hadn't lived in New York City, I don't think I would have started a brand.
V: How would you describe yourself as a person and artist? 
CD: Since day one, I was always screaming for attention. [laughs] I don't know if it's attention, but I was always different. I was always outside the box thinking. I didn't follow rules. I was always mischievous. But I was always really good at school and never into drugs. So my differentiating and saying f*ck you to the system wasn't what people think it is. It was more, I'm going to be different within this world. Like I'd get kicked out of class, but still get 100 on the test. So you can't hate me that much [laughs].
V: What do you love about NYC? 
CD: What I love about New York City is that everyone moves here to make it. You don't move here to settle down. There's an energy and a drive, a feeling and a grinding. You see real examples of success that you want and that's what makes New York so inspiring. I've lived in so many different places. I always wanted to create a home and for me, New York really feels like home.
V: What role does soccer play in your life? What do you love about it? 
CD: As I said before, I moved a lot and soccer was my connector as well. I'd move to a different place and I'd join the soccer team. Like I moved to New York City in August, I joined a soccer team in August and I started school in September. Soccer was always the thing I did first and my dad's from Ireland, my mom's from Spain. It was huge in our family. I love sports. I love the competitiveness. I love the people it brings. I love how you forget about personality, culture, everything. You're just a soccer player.
V: How has Pier 40, the soccer field in Manhattan, influenced your latest collection? 
CD: I grew up on Canal, Grand and Thompson, and Pier 40 is like 15 blocks from there. I would go to Pier 40, almost every day after school to play soccer, to play pickup. It was always a place where all of New York City would go if they were good at soccer because there are not that many soccer fields in New York. People would travel from Queens, the Bronx, and Brooklyn. So that was huge for my upbringing, but also, I had once stolen an M&M machine from Pier 40. And that led to an M&M doorway into a recording studio. That recording studio ended up being a big part of KidSuper and music. It went platinum and all this stuff. All the magic started from this Pier 40 space.
CD: ​​I think you need a vision and you need hard work. I think it's just vision and hard work. And if you have one vision, then you just need a bunch of hard work.
V: You definitely have both. The Metropolitan Museum of Art recently acquired one of your ensembles to their permanent fashion archive. How did this happen? 
CD: What's so crazy about the Metropolitan placement is you have to pass through Renaissance paintings, Egyptian artifacts, all of this amazing stuff from humanity. And then there's a thing that says, Colm Dillane. It is wild, especially thinking about what my initial vision of KidSuper was. That was not it. I wasn't working towards that. It was just something that they acknowledged, which is pretty amazing. So now, when people are studying fashion of the 2020s, they will pick up the Colm suit. 
V: What's the future of KidSuper?
CD: The pillars of KidSuper are art, music, fashion, film, community, and sport – and I want to expand on all of those. So for film, I want to get a TV show. For art, I want to do more art gallery shows. For the community, it's building this new space. This new space is a 10,000 square foot building in Brooklyn and I want it to be somewhat of a YMCA, but take out the "C" and the "Y." What's the "M" stand for? 
V: Men.
CD: Take that out. So basically just "A," association. I want it to be a YMCA of creatives where people come and work. It's what this building was but times ten.
Credits:
SERIES CREATORS: SAM TRACY & CZAR VAN GAAL
DIRECTOR: NICK FREEMAN AND GILES PERKINS
EXECUTIVE PRODUCER: KALA HERH
DIRECTOR OF PHOTOGRAPHY: JOHN ZENG PHOTOGRAPHER: JACOB LOWY
VIDEO EDITOR: NICK FREEMAN AND GILES PERKINS
ASSISTANT CAMERAS: ETHAN WEN AND STEVEN ZENG
SERIES BEAUTY DIRECTOR: MITCH YOSHIDA
PRODUCTION ASSISTANT: CARLOS CHINN