Spring Blazers That Will Brighten Your Wardrobe This Season
Spring blazers are officially in. Explore these 8 styles to add to your wardrobe right now.
Spring blazers are officially in. Explore these 8 styles to add to your wardrobe right now.
Whether for a casual outing or a night at the town, blazers will always be an essential wardrobe staple. From pastels, to bold hues, frills, tweed to everything in between they will forever be a part of ready-to-wear fashion and never fall out of style. To light up your seasonal wardrobe, here are 12 spring blazers that are springtime certified.
Geon.J Long Sleeve Blazer $965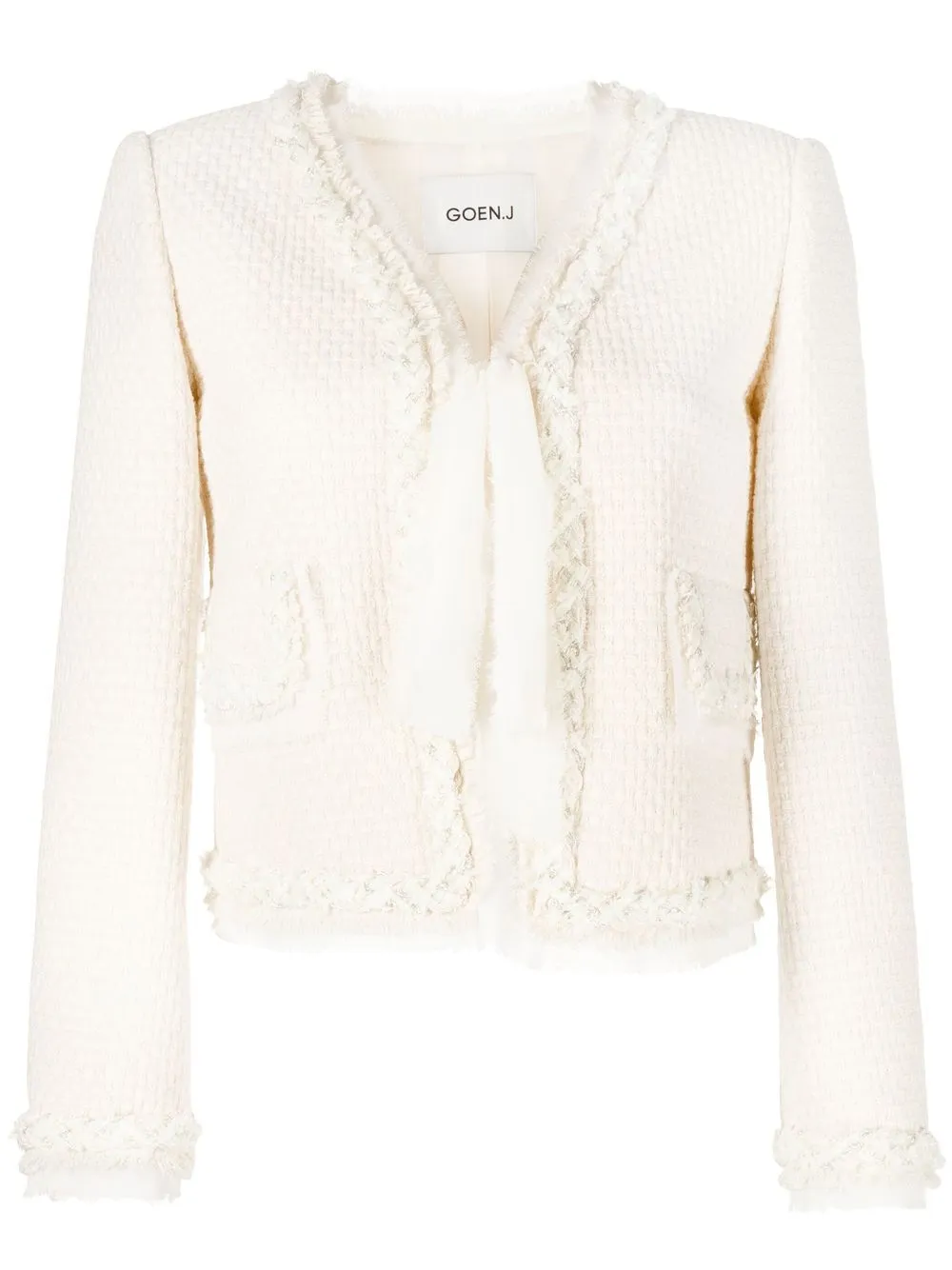 This ivory white Goen.J blazer exudes perfect Spring fashion.
See here
Generation Love Delilah Crepe Blazer $365
Generation Love's double breasted blazer with gold-hued buttons will have you feeling pretty in pink.
See here
Nanushka Single-Breasted Blazer $875
This Nanushka 'Manouk' blazer flawlessly joins with any minimalistic look you desire.
See here
ANDREEVA Vanilla Jacquard Jacket No.19 Blazer $390
ANDREEVA's signature jacquard style shines through with their floral print blazer and accompanying wrap-around belt. Another bonus? Its detachable feather cuffs.
See here
ALICE + OLIVIA By Stacey Bendet Macey Fitted Notch Collar Blazer $440
Whether pairing with flared jeans, crisp Bermuda shorts, or linen pants, this ALICE + OLIVIA by Stacy Bendet blazer will become your wardrobe go-to for spring blazers this season.
See here
Derek Lam 10 Crosby Courtney Cropped Single Breasted Blazer $550
If cropped looks are your general style choice, then this notch-lapeled ultra-cropped Derek Lam 10 Crosby blazer is for you.
See here
JACQUEMES Plaid Double-Breasted Blazer $1000
A signature style, plaid pattern and all.
See here
L'AGENCE Inez Suede Blazer $750
You can never go wrong with an earth-toned piece, especially in suede.
See here
Cinq à Sept Khloe Crepe 3/4 Sleeve Blazer $395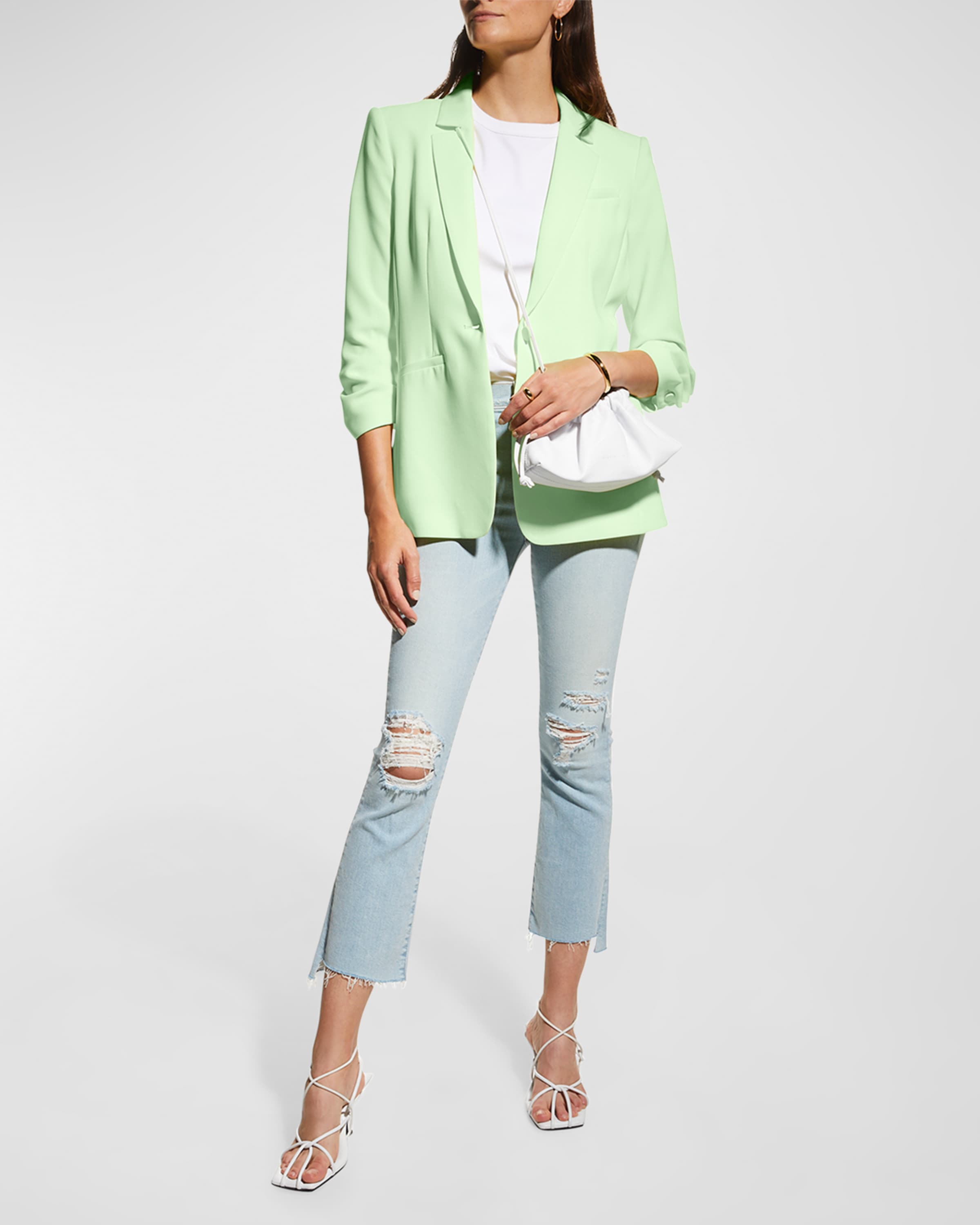 Also in a hot magenta colorway, Cinq à Sept's bright mint blazer will have you feeling fresh.
See here
Something Navy Cropped Tweed Frayed Hem Blazer $250
Cropped and frayed? Yes please. Something Navy's multitoned blazer can couple with its matching wide leg pants, denim skirt, or whatever you desire.
See here
ACNE STUDIOS Textured-Stretch Cotton Blazer $1150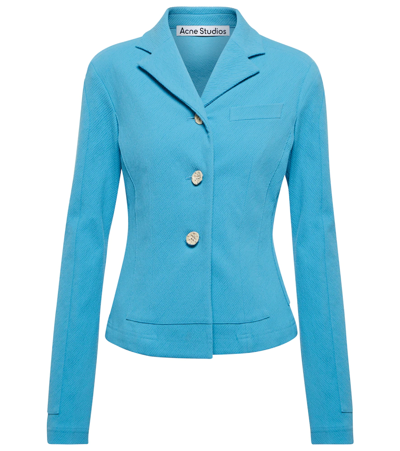 This ACNE STUDIOS bright-toned blue blazer is comfort go-to due to its elastic cotton material.
See here
Aeron Encino Blazer $1045
With an extended notched lapel and viscose satin lining throughout among other novel features, what more could you need?
See here