Dylan Sprouse and Barbara Palvin. You may recognize them from one of Heidi Klum's notorious Halloween parties, in which the two were spotted wearing matching Dragon Ball Z costumes. Or you may know them for being adorably affectionate and quippy on the red carpet. But we know them from a V Magazine party a few years back, when the then-freshly official couple had snuck out to smoke a cigarette and exchange their first I love you's. Now that
they're engaged, it only makes sense that they came back for our blessing. They sat down for a Zoom with the groom's twin and best man, Cole Sprouse, to chat about sliding into DMs, Hungarian wedding traditions, and their shared love for Naruto.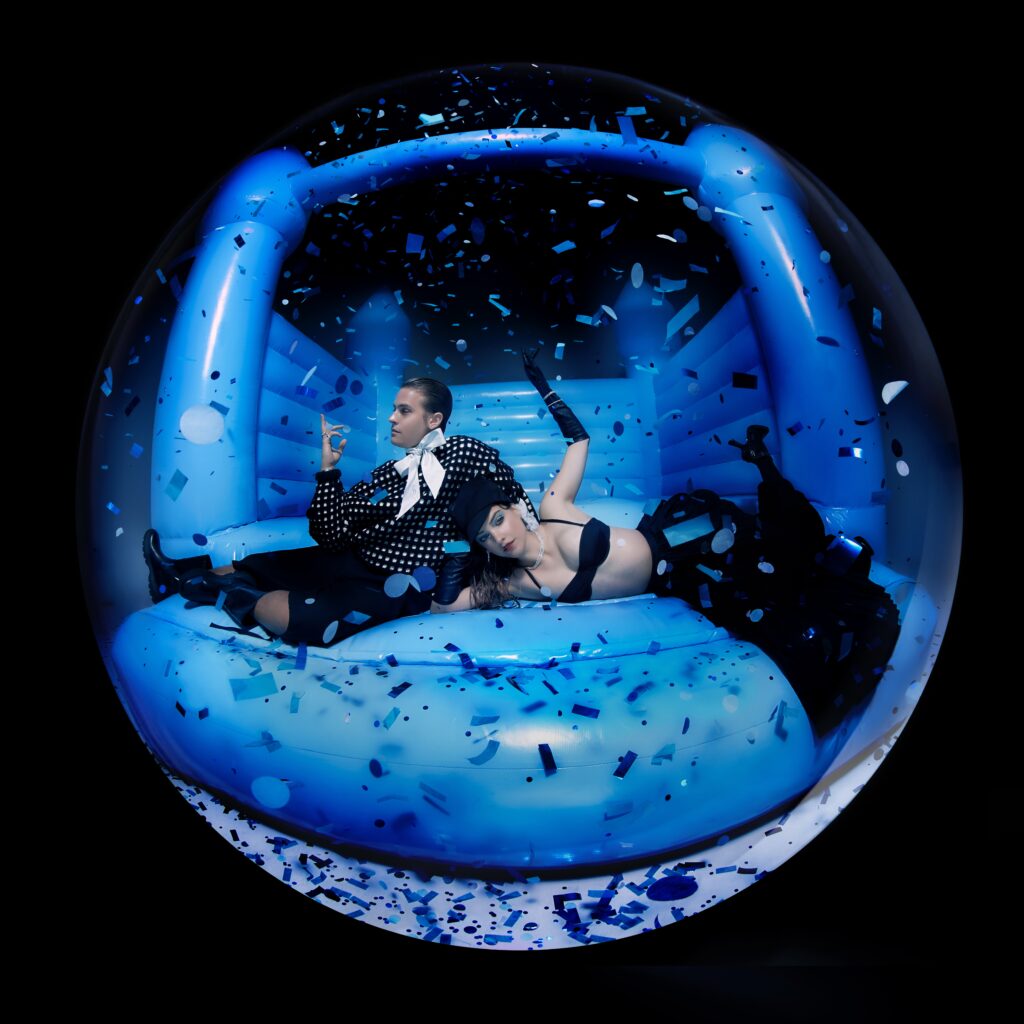 COLE SPROUSE: The beauty of this interview is how intimately I know you guys within the private space. So, I want to play around with the idea of public and private space by tapping into your public personas and how I understand you guys as a private couple. Do you guys [want] to start us off with the way you met?

BARBARA PALVIN: You take it, baby!

DYLAN SPROUSE: Barbara and I met now about five years ago—

BP: We met over five years ago. You know what? (Laughs) I'll take it. We've been dating for five years, officially, but we actually met
like eight months before at an event. That was just a short interaction and then I ghosted him for six months until I got myself back into the picture.

DS: That's the long and short of it. But I think the thing that really drew us together was our mutual roasting of each other when we first met. That was something that left a lasting impression.

BP: You had no chance. (Laughs)

DS: I had no chance. I got roasted from the jump.

DS: We had gone our separate ways for six months, then she hit me up six months later while I was filming this movie. She was like, "Hey, I'm in New York, do you want to hang out?" I was like, "Look, you picked the worst possible time, Barbara, because I'm going to be in China for six months." She told me in
return, "No, actually, I don't think it's the worst time because I'm going to have a campaign out there in about two months."
BP: An important bit of information is that my job actually canceled the shoot, but he still wanted me to go out there.

DS: I said, "Hey, why don't we jump out on a romantic limb and just do what we were planning to do anyway? I'll fly you out and we can hang out in Beijing." She was like, "I would love that, but I'll buy my own ticket." Which I thought was pretty cool.

BP: I didn't want to owe you anything! (Laughs)

CS: I'll never forget Dylan sent me a photo of you two [together]. Dylan had a cowboy hat on. In the back of my mind, I'm thinking, Damn, if she can love Dylan in the middle of this weird cowboy hat thing, then they're solid.

BP: I wasn't a fan. Let me just put that in here.
CS: Do you guys remember what you were bonding about in the beginning?

BP: I can tell you the moment I fell in love. We started talking about Naruto and then he did an impersonation.

DS: Oh, yeah. I impersonated Akamaru, he does this spin attack.

BP: He was like, "Akamaru!" and jumped and turned in the air to land on the bed and I filmed it in slow motion. It's my favorite video.

DS: It was also really hot. I was butt naked so it was really cool to see.

BP: No, he was not.

CS: Do you guys see that sort of roast ing sense of humor that you have as part of
a love language that you two established in the beginning?

DS: Yeah, I do. Humor has always been pretty important to us. Obviously, there's a time and a place for roasting…

BP: Which we had to learn…

DS: Which we had to learn, yes. Our sense of humor is aligned, and we don't take ourselves very seriously, which I think is good.

CS: One of the things that really interests me about your relationship is that there's a very public component to it.

DS: There's a lot of demand from the general public for full transparency. Which is funny to me because no relationship is fully transparent. This article, particularly, is timed up to the release of our engagement announcement, right? But we got engaged now, how many months ago?

BP: We got engaged in September.

DS: Holy cow. Yeah. We didn't necessarily feel the need to be fully transparent with the public about that aspect of our engagement. What we wanted to do with Stephen [Gan] and the V team is make something that was kind of tongue-in-cheek about the nature of private versus public. We're playing with the idea of perception.

BP: Also, we just want to do it on our time. When some people leaked the information that we got engaged, our PR team was like, "Hey, so you guys should do maybe a post about it or talk to this magazine or talk to that magazine…" That really annoyed me because I knew we were building this story up. So, I'm very happy that we ended up doing it our way.

CS: With social media, we've all become very accustomed to putting our best foot forward. How do you feel like that is directly opposed to being in a long-term relationship, which in so many ways requires work and overcoming obstacles?

DS: I mean, that's a tough question, right? Especially, Cole, for you and I, because we never really had a rubric growing up by which to understand a good, healthy long-term relationship. Barbara, you on the other hand, your parents have been married for how long?
BP: Very long. They met when they were 16 and got married six years later, and they're still together. So, I know more about relationships, and you should just listen to me all the time because I am always right.

DS: Yes, you're always right. (Laughs) I think the one thing that I've noticed with your parents is that they're still learning with each other and they're making mistakes, but growing from those mistakes.

BP: I know it's cliché, but a relationship is work. There's no human relationship that's just going to be perfect. You have to be vulnerable with your partner and you have to be honest, and sometimes your opinions are not going to align, but that's fine. The key is to always want to work together and not really try to win a fight. Because if one person wins, you both lose.

CS: I've always been fascinated with the concept of marriage in Hungary versus
the concept of marriage in the States. I'm wondering in what ways you have felt or seen those differences.

BP: I thought we would have a lot of cultural differences, but it's just that we have a lot more traditions surrounding a wedding. I think they're really fun, but, I don't see that big of a difference. I mean, marriage is just a partnership, you know? Same in America, same in Hungary.

CS: What about the tradition of kidnapping the bride on the wedding night?

BP: Well, yes, there's this fun little part where the groomsmen kidnap the bride and the bridesmaids put Dylan to the test to see if he really deserves me. He has to do challenges to get me back and then he has to find me.

DS: That's amazing. And the challenges…?

BP: They're usually silly. Like drinking out of your shoe, dancing, beatboxing—whatever the girls feel is necessary for you to prove your love.

CS: I love that. Let's talk a little bit about the concept of marriage and how you guys feel about this next step—the excitement, the nervousness, the public quality of it.

DS: I think the definition of marriage is very different for our generation than what it meant for the previous one. For me, at least, marriage is a promise of kind of loving you endlessly and being your partner. I'm nervous about the event. Frankly, it's about the first dance. I'm nervous about a choreographed dance.

CS: Why? Is it because you can't dance? At all?

DS: I'm not a good dancer. And I'm nervous about remembering the steps.

CS: Yeah, I know you have to do a flip at one point.

DS: The backflip was a little ambitious…

BP: But your splits are good now.

CS: You've gotten really limber over the years…

DS: I've been stretching and doing ballet…

CS: What about you, Babs?
BP: I'm really not nervous about getting married. I think the engagement stressed me more than the wedding. I mean, a man has time to prepare for the proposal—Dylan kept the ring for seven months before he asked the question—but for me, it was right then and there. I knew since we started dating that I want to marry him, but it's a big decision.

CS: I know that this wedding is in Hungary, which is quite exciting for everyone. But what about it being in Hungary really appeals to both of you?

BP: I'm excited to show that side of me and introduce my culture, the places I grew up, and the places I went to. I feel like a lot of people will learn even more about me this way. I know there was no way we would have not had a wedding in Hungary because my parents would have killed me.

CS: Yes, I'm excited to meet your parents.

DS: I know. It's gonna be a big event, with both of our parents meeting for the first time, too. I think it's exciting for me, not only because I love the kind of historical traditions of the event, but because, Cole, we came from a very
small family unit. Barbara, on the other hand, has quite a large family unit. They look at her like their princess and I think it's going to be a really special moment to see them all reacting to that amidst their traditions. I'm excited for that aspect of it and I'm excited for you guys to see what Barbara has shown me in Hungary, which is a beautiful country.

BP: And, finally, you guys will all learn to look at me like a princess.

DS: That's right.

CS: Yeah, fat chance. I'm really excited to eat hard-boiled eggs.

BP: Hey! I can revoke your invitation to the wedding. Remember, I'm the bride and the bride is always right.
This story appears in the pages of V143: our upcoming Fall Preview 2023 issue! Subscribe here to secure your copy when it drops!
Photography Rob Rusling
Fashion Gro Curtis
Makeup Frank B (Home Agency)
Hair Owen Gould (The Wall Group)
Manicure Jazz Style (SEE Management)
Set design Way Out Studio (11th House agency)
Executive producer Johnny Pascucci (Photobomb)
Project manager David Newman
Production coordinator Nick Lambrakis
Digital technician Nick Lambrakis
Photo assistants Justin Mulroy, John Ruiz, Cesar Rebollar
Stylist assistants Emma Oleck, Marissa Lee
Makeup assistant Natsuka Hirabayashi
Production assistant Armando Guerrero
Wedding cake Vincenzo Salvatore Cakes
Location Smashbox Studios BK