Stylish Denim Shorts for Summer
Coast through summer in style with the perfect pair of denim shorts.
With the weather heating up, your wardrobe is helping you dress down. Denim is a year-round staple, and when it comes to summertime, it's never been more fun and playful; shorts take the lead in these warmer months, making denim shorts a must-have wardrobe staple. Looking for the perfect pair to get you through the summer? Read on for 8 recommendations of the very best denim shorts of the season.
1. Saint Laurent Destroyed California Shorts in Repaired Dirty Blue Denim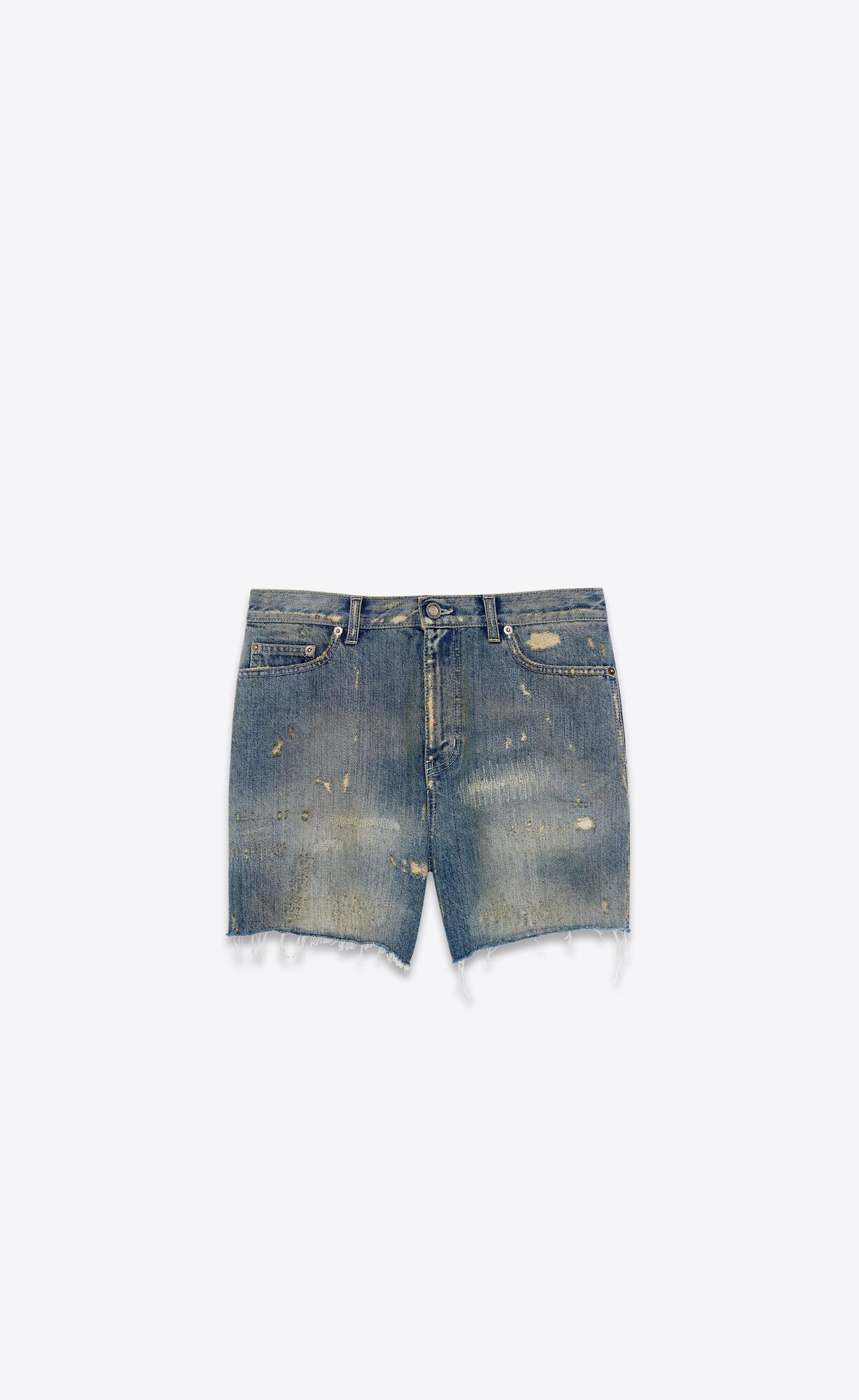 Casual enough for any occasion but crafted from YSL's signature refined luxury, these five-pocket California jean shorts are a timeless summer classic. With raw-edge cuffs and a destroyed and repaired treatment, these are at once fun and fashionable, just as easily paired with a tee as a linen button down.
Shop the Destroyed California Shorts for $650 here.
2. Levi's 565 Men's Shorts
As long-time practitioners of the denim game, Levi's have mastered the jean short. The 565s channel retro, vintage energy, bringing '80s vibes to this summer with a loose, wide-leg fit and stonewash denim. With bold colors splattered just above the knee, these shorts were made for the summer.
Shop the 565 Men's Shorts for $195 here.
3. Kapital Distressed Appliquéd Denim Shorts
For statement denim with a twist, Kapital brings a groovy skeleton motif to the classic summer outfit. The brand's unofficial signature adorns these wide-leg shorts with Japanese embroidery, and with raw hems that hit just below the knees, casual has never looked so cool.
Shop the Distressed Appliquéd Denim Shorts for $595 here.
4. COS Denim Shorts
Simple and classic, COS brings a timeless piece to the present just in time for summer. Crafted from organic cotton, these denim shorts are easy to style with anything, and with just a hint of stretch, they'll be a seasonal essential.
Shop the Denim Shorts for $89 here.
5. Saturdays NYC Quinn Denim Short
Denim shorts meet a utilitarian inspiration with these pull-on, midweight shorts. Indigo washed denim goes hand-in-hand with clean stitching and a relaxed fit with these comfy shorts, perfect for days spent exploring the outdoors or relaxed by the water. And with two large front patch pockets, they're just as functional as they are fashionable.
Shop the Quinn Denim Short for $145 here.
6. Fiorucci Icon Angels Loose Denim Shorts
Simple, clean and iconic, Fiorucci's denim shorts are a key to summer style. Made from a light vintage wash and adorned with the mini Fiorucci Angels patch on the front pocket, these longline denim shorts are relaxed and stylish, making for an all-around put-together vibe.
Shop the Icon Angels Loose Denim Shorts for $105 here.
7. Versace Denim Shorts
Versace's signature craftsmanship meets the relaxation of summer with these slim fit denim shorts. Embellished with triple gold-tone stitching and featuring a metal hardware logo on the back belt loop, these are cool and casual, a seasonal piece that pairs with just about anything.
Shop the Denim Shorts for $325 here.
8. Celine Bermuda Skate Pants in Dark Union Wash Denim
For a darker wash short, Celine Homme brings edgy, rugged vibes with their raw-hem denim. These skate-style pants are cut off right at the knee, and feature 5 pockets in a mid-rise classic fit plus a Celine-engraved button and zipper for maximum style all summer long.
Shop the Bermuda Skate Pants in Dark Union Wash for $590 here.