The 13 Most Iconic Met Gala Looks of All Time
Ahead of Monday's event, here's a round-up of the best looks in Met Gala history.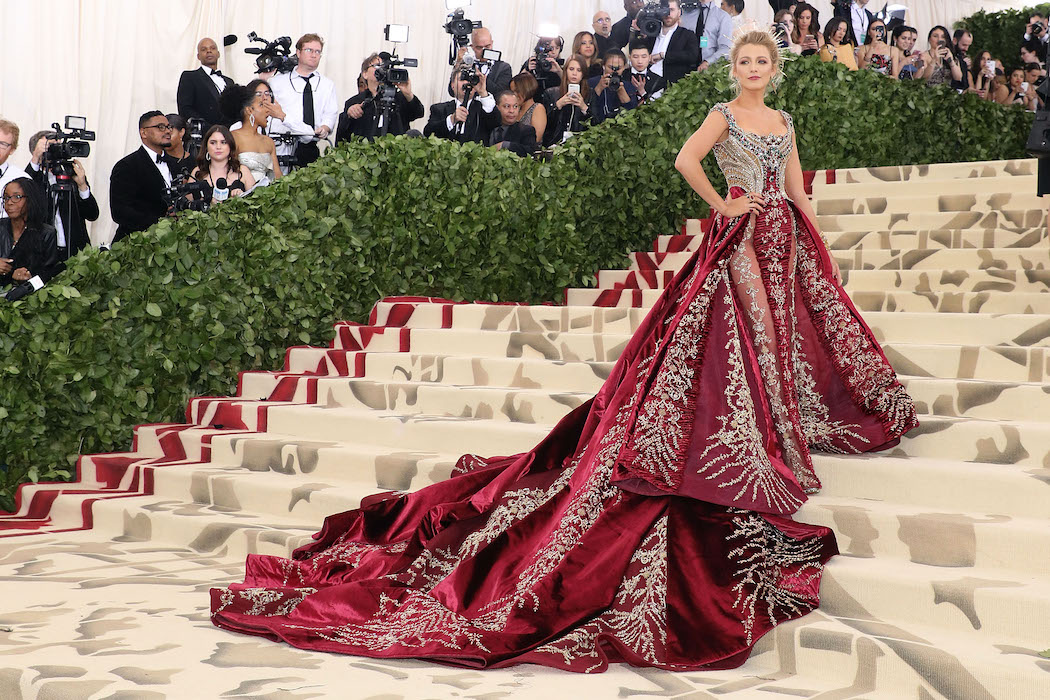 The Met Gala, "Fashion's Biggest Night," is upon us once again. After being postponed in 2020 due to the pandemic and returning in September 2021, the Met Gala is now back to its regular first Monday of May schedule.
2021's continuation of the "In America" theme was a success, and this year's theme, Gilded Glamour, is sure to bring about lots of larger-than-life looks, probably complete with full skirts, corsets, gloves, and maybe even hats.
But while we anxiously wait for Monday night to come around, let's take a walk through memory lane at some of the best Met Gala looks in history. The Met Gala was technically founded in 1948, but it took its current form in 1971, so there are literally thousands of looks to chose from, making this list almost impossible to make. However, we sorted through them all and rounded-up our top 13 looks, some new, and some old.
Blake Lively: Heavenly Bodies: Fashion and the Catholic Imagination, 2018
One of most iconic Met Gala look of all time. This year's co-chair, Blake Lively, stunned in an ornate ruby Versace gown, compete with a beaded train and a jeweled corset that took a combined 600 hours to complete. Not only was the gown exquisitely made, it was dead-on theme. The look was elevated even further by a gorgeous gold headpiece, making Lively look like a Venetian queen.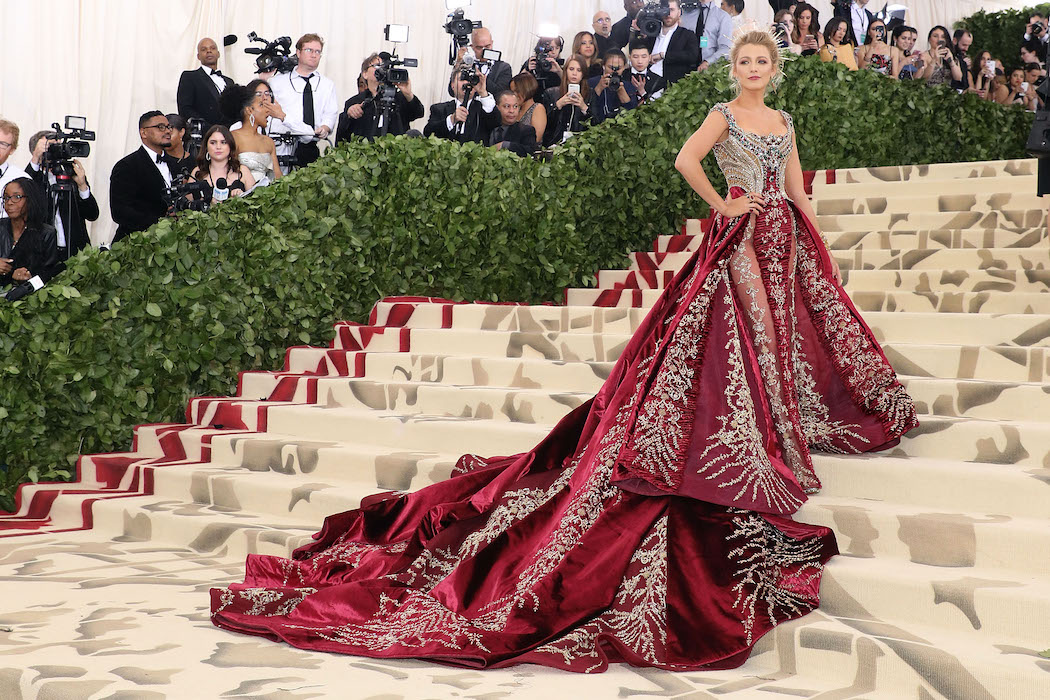 Cher: Romantic and Glamorous Hollywood Design, 1974
This look ties Blake Lively for most iconic Met Gala look. Cher's Bob Mackie dress for the 1974 Met Gala has its own name (the Naked dress) and has been on the cover of TIME magazine. The dress was made out of souffle, a french fabric that was banned in the USA, which was then wet in order to stick to her body, hence giving it a naked look. Kim Kardashian referenced this look for her 2015 Met Gala dress.
Zendaya: Heavenly Bodies: Fashion and the Catholic Imagination, 2018
Zendaya's chainlink, medieval knight look from the 2018 Met Gala was one of her best red carpet looks ever (and that's saying a lot!!). The Atelier Versace dress was inspired by Joan of Arc, complete with a metal breastplate, a spiked belt, and sky-high metallic heels.
Rihanna: China: Through the Looking Glass, 2015
Rihanna's imperial yellow Guo Pei gown for the 2015 Met Gala took two years to make, which given the sheer size of its train, makes sense. The look included matching yellow fur trim, as well as a headdress that matched the stitching details of the dress.
Princess Diana: Christian Dior, 1996
As expected at the Christian Dior themed 1996 Met Gala, Princess Diana wore a beautiful Dior gown. What was unexpected was the daring blue satin slip dress she showed up in, complete with a black lace trim. Her diamond and sapphire choker reminded us of the princess that she was.
Kendall Jenner: In America: A Lexicon of Fashion, 2021
Kendall Jenner's sheer Givenchy gown from the 2021 Met Gala was the epitome of American grandeur. The Audrey Hepburn inspired look saw Jenner covered head-to-toe in diamonds. Her statement choker necklace and crystal embellished shoes tied the entire look together.
Gisele Bündchen: Rock Style, 1999
V's newest cover star stunned in a beaded, zig-zag pattered Versace gown at the 1999 Met Gala. With red and pink beads contrasting the nude lining, Bündchen made waves that night. She kept is simple accessories wise, showing off her dewy makeup look and high cheekbones with a slicked back, beach wave ponytail.
Lady Gaga: Camp: Notes on Fashion, 2019
Lady Gaga's 2019 Met Gala look included not one, not two, but four outfit changes. Her fluffy, hot pink Brandon Maxwell dress with a matching bow was one of the best looks of the night, and also one of the most on-theme looks that year.
Naomi Campbell: Haute Couture, 1995
Naomi Campbell's dazzling silver Versace dress at the 1995 Met Gala is another look that has stood the test of time, one that people circle back to when they reminisce on the era of the true supermodel. The strapless stress sparkled from every single angle, making Campbell look like a mirrorball.
Cara Delevingne: Rei Kawakubo/Comme des Garçons, 2017
Cara Delevingne debuted her shaved head at the 2017 Met Gala, and for the occasion, she spray-painted her head a metallic silver color and added rhinestones to it. Her Chanel pantsuit stole the show, however, with silver mirrored suns. Very tin man chic.
Taylor Swift: Charles James: Beyond Fashion, 2014
Taylor Swift has had many memorable Met Gala looks over the years, but her 2014 blush pink Oscar de la Renta gown takes the cake. With a sizable train and a large bow, Swift looked pretty as a present. She really had the whole "red lip, classic" look down at that point, too.
Jackie Onassis: Fashions of The Hapsburg Era, 1979
Jackie Onassis wore a classic black dress to the 1974 Met Gala. The black dress was anything but boring, however: it was a flowing, ruffled, strapless Valentino gown fit for America's queen's official debut at the gala.
Claire Danes: The House of Chanel, 2005
Claire Danes' mermaid gown at the 2005 Met Gala screamed Chanel. The black lace and dainty pink shoulder jacket looked like they were made to be worn on the streets of Paris, sealing the deal for this look being most on-theme that year.