The Best New Sunnies of 2020
No matter your price point, the perfect pair of sunglasses is waiting for you.
Sunglasses are an essential accessory to any good outfit. Not only are they functional in their use, but they can also make or break an entire look—and in 2020, we saw a variety of new shades which are the perfect topper to any fit. Below, we're sharing our favorite sunglasses of the year.
DiorArchitectural by Dior ($540)
When it comes to innovative sunnies, Dior truly does it best. These shades evoke '90s frames in their shape, while the ultra-thin, open construction in a silver-finish metal surrounds circular gray lenses for an avant-garde look. The geometric shape is unique and daring, and will elevate any look you pair it with.
Clifton by Oliver Peoples ($473)
Available in 5 show-stopping colors, these tinted glass lenses feature the custom Oliver Peoples breath logo in timeless square frames crafted in Italy. Subtle, stylish and undoubtedly chic, these are the perfect accessory to be seen in, and the perfect accessory to see from.
Fletcher by Tom Ford ($395)
Tom Ford is all about style, taste and refinement, and these Italian-made frames epitomize just that. In shades of black, havana and gradient havana, these thick square frames demand your attention, equally as eye-catching as they are eye-protecting.
Frank Legend Gold by Ray-Ban ($154)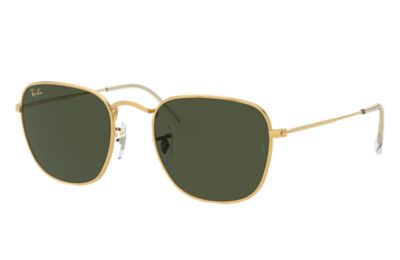 In 7 cool colors, the Frank Legend Gold sunnies use Ray-Ban's iconic Classic G-15 lenses to recreate a look straight from the 90s vault. With shiny metal frames and edgy acetate lenses, they combine sophisticated and casual for a classy, contemporary look.
Panthos Man Sunglasses by Emporio Armani ($154)
With a contemporary geometric design and sleek all-black color scheme, Armani presents shades that epitomize cool. With super-slim lenses and a squared, masculine top and rounded bottoms, these shades will make you want to wear sunglasses indoors all the time.
The Sugar Rush by Crap Eyewear ($79)
Crap Eyewear specializes in funky sunnies, and these bubblegum pink wraparounds don't disappoint. With Y2K vibes, 100% of the proceeds go to benefit the Black Image Center—a pair of shades that helps sponsor creativity while being the product of out-of-the-box fashion itself.
Metal Round Sunglasses by Guess ($78)
In sleek shiny gold/green or vibrant black and orange, these rounded frames by Guess add a cool finish to your look with a thin metal rim and colored enamel tips in a tortoiseshell print.
Carmito by Le Specs ($59)
In 4 daring shades, these masculine, angled sunnies use a narrow rectangular silhouette to form unisex eyewear. With the iconic Le Specs flagstripe metal hardware and tinted lenses, these will make any outfit more vibrant, bold and fun.
The 3.0.5 by Privé Revaux ($29.95)
Retro has never looked so modern. This chunky aviator style is available in a variety of color schemes, and the square lenses and tortoise-shell frames evoke a carefree Miami luxe vibe.
DAPP Yellow Shield Sunglasses by Giant Vintage ($16)
If you're looking for a unique pair of shades that no one else has, look no further. These thick, vintage wraparounds are part of DAPP deadstock vintage and have never been worn before. With contrasting tall black lenses and an electric shock of neon yellow for the upper rim, it's safe to say these glasses are as daring as it gets.