Top 25 Supreme Collaborations of All Time
In honor of the brand's 25th anniversary, VMAN rounded up 25 of the all-time best collaborations that Supreme has released over the years.
The trendsetting & forward-thinking streetwear label turned 25 this year, so VMAN curated 25 of the best drops that Supreme has released, with that iconic red-box logo plastered across all of them. (& we're going allllllll the way back to some collections you probably didn't even know about.)
So sit back (in your Supreme Inflatable Chair), snuggle up (with your Supreme Steiff Bear), pour yourself a drink (with your Supreme Sake set) & ENJOY.
This one's for you, hypebeast flex-ers.
(*This is in no particular order, so calm down.*)
Supreme x Louis Vuitton Collection 
Wow. Just WOW. This particular collection disrupted the high-fashion and streetwear worlds simultaneously. This was, debatably, the collection that started a revolution, in regards to luxury brands tapping into the streetwear/skating world, in a way that generated a response like never before.
Supreme Meissen Hand-Painted Porcelain Cupid Figurine
One of the most grail worthy items that quickly captured the attention of all hype-beasts. The hand-painted porcelain cupid is seen uniting two hearts in love, all while wearing a box-logo tee. Who wouldn't want this rare, tongue-in-cheek collectors item?
Supreme x The North Face
There is no particular collection in this continuous collaboration that we could point out as being the best. Of course, some collections were better than others but the relationship between the two iconic brands, as a whole, deserves a spotlight of its own.
Supreme x Fender Stratocaster Guitar
Can you imagine B.B. King, Slash or Santana jamming out on one of these bad boys?
Supreme x COMMES DES GARCONS
One of the first endeavors that Supreme took, in the world of high fashion. Many over-and-under hyped collections later, the relationship between the two labels remains a follower favorite.
Supreme x Cash Cannon Money Gun
Ideal for all those "make it rain" moments, but super messy because who's going to clean up all those hundreds? Definitely not us.
Supreme x Visvim
An honorable mention from one of the older collections from '08. Supreme was kind of ahead of their time in declaring that Visvim jackets are an important staple to have in one's wardrobe.
Supreme Brick
Honorable mention because what the f*ck? and to make this drop even better, you guys actually bought this. Bravo. What an investment.
Supreme x Kermit The Frog
Supreme-ception. A Supreme tee of Kermit The Frog wearing a Supreme tee. 2008 was a fun year.
Supreme x Advanced Elements Packlite Kayak
This one is for all of you adventurous hype-beasts. This was your chance to dominate the high seas in the flashiest way possible.
Supreme x Damien Hirst
No stranger to the art world, Supreme commissioned one of the greats, Damien Hirst, for a collaboration. Think Box logo meets Hirst's multi-colored spots.
Supreme x Original Fake
One of the most major collaborations in Supreme history involved legendary New York-based artist Brian Donnelly, aka KAWS. His now-defunct OriginalFake label spotlighted the concept of "art as product", making any piece from this collection a customer-cherished item.
Supreme x Everlast Boxing Gloves
"Mama said knock out out." James Jebbia is apparently a huge boxing fan, so a collaboration with two brands was a no-brainer.
Supreme x George Condo 
SKATE! BOARDS! Remaining true to the roots of the brand, Supreme teamed up with Artist George Condo to release a collection of beautifully striking boards. Who would ever dare use this to actually skate?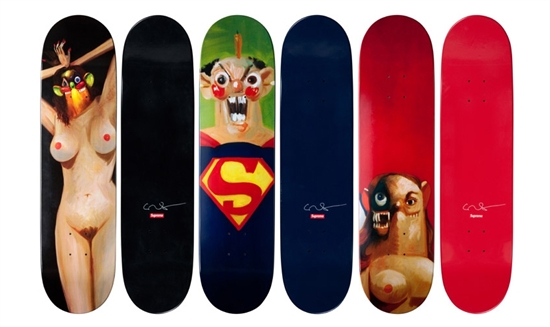 Supreme x Louisville Slugger
Look Out Sucka! Would you mind if your partner takes a Supreme Louisville Slugger to both headlights and slashes a hole in all four tires?
Supreme x SCHOTT 
This rare collaboration that no one ever really acknowledges, we feel should be explored a bit more. Quite a drastic shift in aesthetics for the skater-boy brand, Supreme went to legendary brand Schott to re-imagine the classic leather biker jacket that Schott is known for. Think: Fringe!
Supreme x RIMOWA
Basically, How To Get Robbed 101
Supreme x Jean-Michel Basquiat 
One of those collections where Supreme actually created a super chic collection that can legitimately be worn anywhere, dressed up or down. Kudos to Supreme for polishing these boys up for a change.
Supreme x Honda CRF 250R Dirt Bike
Vroom Vroom, Skrrt Skrrt, & all that sh*t.
Supreme x Roy Lichtenstein
POP. ART. Supreme really went for the POW! factor with a collaboration with Artist Roy Lichtenstein. Another forgotten/overlooked collection that shows the ever expansive and visionary mind of Supreme.
Supreme Bible Stash Box
Perfect for hiding your little treasures *wink wink*. Whatever they may be. (Also a clever disguise for anyone coming over to give the whole "in-touch-with-my-spritual-side" vibe.
Supreme MTA Metro Card
If you didn't get one of those, are you even a real NYC hype-beast?
Supreme Playboy Key
In the 60's, Playboy had a Chicago nightclub & club members received a Bunny adorned Playboy key, required for entry into the club, which quickly became a status symbol. Fast-Forward into the future, the brand launched a playboy capsule collection in 2011, which included a red-box version of the infamous key. (We wonder if it'll work at the Playboy Mansion. Gotta call Holly, Bridget or Kendra and find out if they have one.)
Photo via Highsnobiety 
Supreme Domino Set
This domino set is perfect for going head-to-head in an intense game with someone's grandpa in Union Square Park.
Supreme x Steiff 
A childhood favorite amongst us all. The Supreme x Steiff teddy bear collaboration, in which the bear donned its own box logo hoodie, was by far the cuddliest and cutest in the 25 year run of the brand.