Tyler Ford At South By Southwest
Tyler Ford was thrust into the media spotlight after Miley Cyrus took the agender writer/speaker as her date to the 2015 amfAR inspiration gala, and ever since Ford has used the new-found platform to bring awareness to the issues that queer communities face everyday.
The My Friend Tyler-founder has seen their works published in the NY Times, The Guardian, and V Magazine (for V97, our "Best of the Best" issue). Recently, Ford joined beauty writer Arabelle Sicardi, designer Becca McCharen, and trend forecaster Shepherd Laughlin for "Generation Z and Gender: Beyond Binaries?," a panel at SXSW that addressed the "evolving attitudes on gender and an age-old teen desire: the quest to find an identity that feels authentic."
Here, V follows up with Ford to dive a little deeper into how brands could better understand gender fluidity, the lack of difference between bullying online and real life, and the simplest ways places could accommodate all people.
The Internet is definitely helping people find their own definition of gender; have you seen any ways social media or digital culture has been bad for young people's relationship with their gender?
TYLER FORD No. What does "bad for young people's relationship with their gender" even mean?
Online bullying is a huge issue. Do you see this getting worse or better? 
TF I think a lot of people (who don't get harassed online) tend to separate online abuse from abuse that happens in our day-to-day physical lives. People are still stuck on this notion that what happens on the Internet "doesn't matter" or "isn't real." It's all real and it's all intertwined. I don't see online abuse getting better because people still refuse to even take it seriously. Then again, many people don't take abuse in any of its forms seriously. We have a huge problem with the way we address interpersonal and systemic violence in this country.
So many brands are trying to understand gender fluidity in young people. Is this a good thing? Are they just trying to sell more product or do brands have a role to play in this cultural conversation?
TF I haven't seen many brands actually "try to understand" folks like me. That would require initiative in reaching out to trans & other marginalized people. It would require hiring us on every level (from consulting to modeling to designing to advertising, etc.)—they can't know or meet our needs without knowing us. Brands have a role to play in the same way that we all have a responsibility to making the world a safer place for everyone. But I can't pretend that brands or their gender-neutral collections are the key to our liberation from the gender binary.
At SXSW there's a lot of conversation around gender and the tech industry, what have you noticed as a first time SXSW Interactive attendee? 
TF SXSW attendees are mostly older cisgender white professionals, many in corporate jobs (not surprising considering the cost of attendance). Even the LGBT meetup was lacking in any kind of diversity, so Arabelle and I grabbed a couple of their cupcakes and left. I felt very strange and out of place—more so than I generally do, which says a lot. I also noticed that there were 2 panels on the future of gender and 1 on queerness (on the day of my panel), but the hotel in which these panels took place did not make an effort to provide gender-neutral bathrooms. (The easy way to do this is to tape a paper sign over the existing restroom sign that reads "all gender restroom." It doesn't require a complete re-design of your facilities.)
What are your initial impressions of Austin? 
TF It's weird.
Besides yourself, who are some other young digitally-powered trailblazers in the world of gender identity? Anyone who really inspires you right now?
TF A few inspiring trans and gender non-conforming folks:
DarkMatter @darkmatterpoets
Jamal Lewis @fatfemme
Joshua Allen @joshuaobawole (Instagram)
Reina Gossett @reinagossett
Che Gossett @chegossett
Alex-Quan Pham @tropicalfemme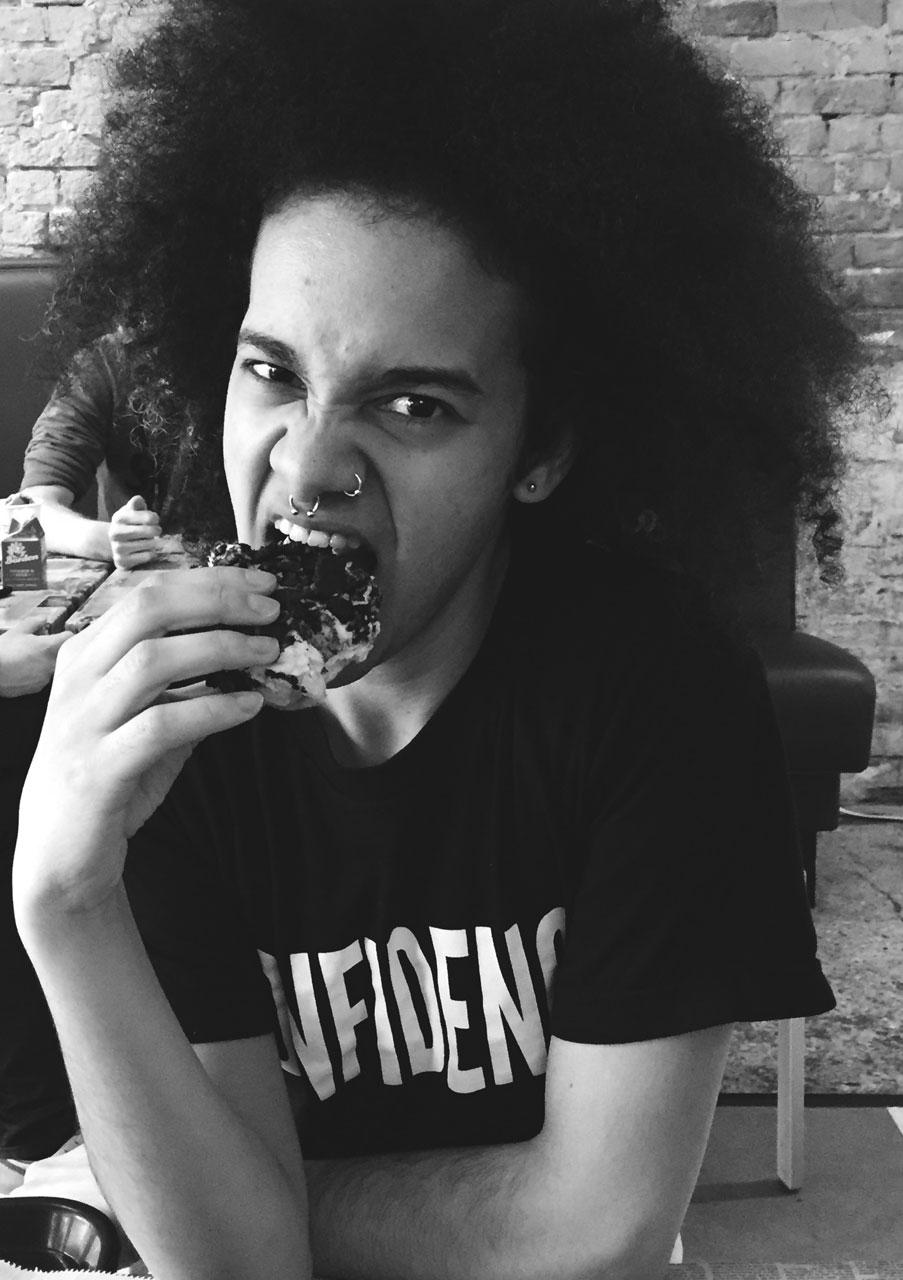 TYLER FORD AT VOODOO DONUTS, AUSTIN, TEXAS