V Exclusive: Wisdom Kaye Stars In The New Coach x Champion Campaign
The TikTok sensation is adding yet another high-profile brand to his roster of clients and collaborators.
Launching today is the new and exciting project from Coach x Champion — a collaborative Athleticwear collection launches with a campaign featuring TikTok star, Wisdom Kaye, and other TikTok counterparts such as Maha Gondal, Jeffrey Tung, and model Paloma Elsesser. Lensed and directed by Alessandro Simonetti, the limited-edition range brings together two American icons, combining Coach's distinct attitude and legacy of craftsmanship with Champion's authority in authentic athletic apparel.
"I'm excited to introduce Coach x Champion, a collection grounded in the authentic American heritage we share," said Coach Creative Director Stuart Vevers. "I was inspired by the idea of elevating sportswear silhouettes in an unmistakably Coach way using leather, shearling and by combining our iconic symbols in a way that feels fresh, youthful and immediate."
Featuring leather bags, leather jogger pants, sweaters, and shearling jackets, the range combines the House's symbols (including the iconic storypatch) with Champion's recognizable C-logo, reimagining the shared heritage of both brands with a fresh, modern lens. To celebrate the new collection, Coach is released a series of images and "How to Coach a Champion" TikTok challenges where the campaign cast invites all the fashion fans to participate in a series of fun challenges inspired by Coach's fashion authority and Champion's expertise in athleticwear.
To honor the launch, V hopped on Zoom with Kaye who's currently spending the winter months in his hometown of Houston, Texas. Check out the full interview, alongside the exclusive campaign imagery provided by Wisdom and Coach, below:
VMAGAZINE  Congrats on your new Coach x Champion project launching today — can you talk a little bit about how you got yourself involved in this collaborative campaign?
Wisdom Kaye One day, I was just kind of chilling, doing my thing and then my agents come to me and tell me about this amazing campaign with Coach — and I'm a really big fan of Coach, and so is my mom, she has a lot of Coach products. We both shopped there before, so I was like, 'I really like the brand and this collaboration, so I'd totally love to be like a part of this.' And it was really fun to be a part of!
V What were your first thoughts when you heard about and saw this collection?
WK I was excited, honestly, because I have Champion products that I've worn for years and still wear a lot, and the same goes for Coach too. So it was really cool to hear that they were coming together for this collaboration.
V Prior to your involvement in this campaign, did you find yourself featuring these two brands in your TikToks or wearing them IRL?
WK I was mainly just wearing both Coach and Champion in my everyday life. Because, you know, not everything that I have on in a photo online is the stuff that you can wear to school and things like that. A lot of stuff they have is really comfortable, really easy to put on, which is the kind of thing I typically wear 'in real life' when I'm going about running errands and everything like that. Both brands are actively in my wardrobe as the things that I would quickly throw if I'm going anywhere — not necessarily for, say, a photo shoot or anything like that. But I definitely like to wear these items just because they are really comfortable.
V How would you describe or explain this collaborative range in your own words? What does it mean or represent to you?
WK I'd definitely say it's a lot like athleisure, the type of stuff you could wear and have someone say out of nowhere, 'Hey, there's going to be like a pick-up game at the court' or something, no problem — it's very comfortable. It's very much like a lifestyle where you can wear it, you know, going here and there, but also there's like an athletic feel to it as well. A lot of the stuff you could wear for sporting reasons — like if it's cold outside but you still want to play like basketball or football something. I mean, you could still go and what you're wearing, um, or whatever it is. It's athletic yet still stylish, still fashionable and still comfortable.
V What was working on this campaign like for you? Can you walk me through the creative and communication processes between you and Coach as you were gearing up for the big launch?
WK It was actually so fun! This is definitely one of my all-time favorite campaigns that I've worked on. I loved everyone who was on set — makeup, photography, directing, everything was really great Obviously, because of COVID, there was a lot of communication via Zoom with the director and everything like that, but it all went smoothly and it was really cohesive; I loved that part of it.
I had a lot of creative freedom myself when it came to making the video, for example, and some other content. It was really just me getting to do like what I normally do — putting the camera up, moving around, you know, getting to say, 'Hey, can you put this song on so I can just get into the vibe of things.' So it was a really good time creatively from an individual perspective but then also from a model perspective, carrying out the vision of the people behind the campaign and everything like that.
V Do you have one piece from this collection that's your personal favorite?
WK I do — there was this black-and-blue windbreaker, I'm a really big fan of that one. I also absolutely love these trainers that we used in the campaign, and I love them for a lot of reasons: the colors on them, the design of the shoe… I'm a big soccer guy and with these, if I wanted to play an indoor match — I could literally put these on and just play in them. Super lightweight, super comfy — I'm so so happy I got to keep these as well.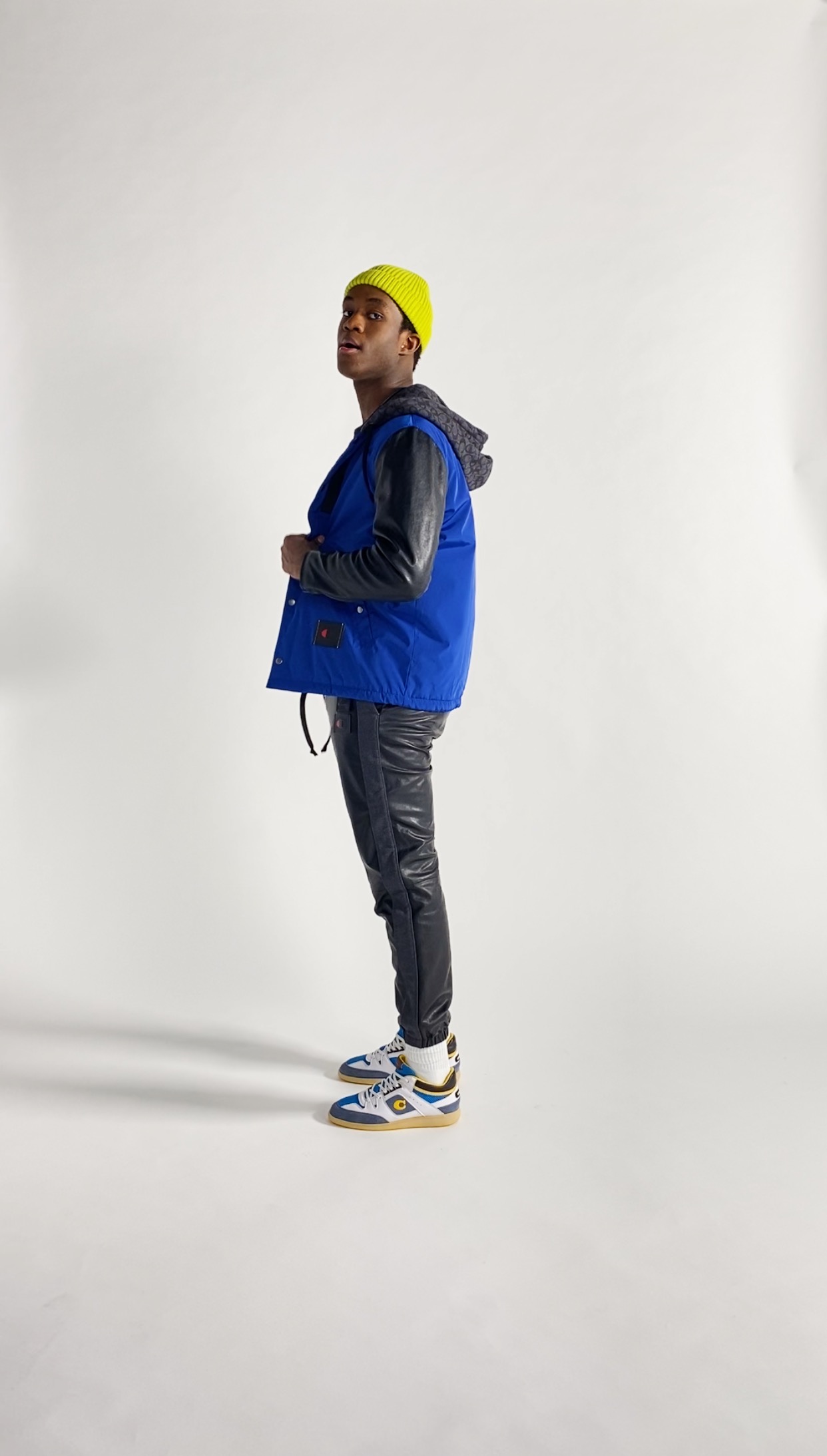 V And what was the most difficult (or challenging) part of working on this campaign for you?
WK Honestly, everything went so smoothly. You know, typically like whenever, you know, you do a job and you work on a campaign on, it said there maybe like one thing or two things I'm uncomfortable or feeling kind of 'eh' about, but here, everything was really so great! Everyone was really fun to work with, the general energy and the vibe were there. It was good.
I had lots of time, you know, working on the content for the campaign as well, the TikTok and everything like that, and the Coach team were really so easy-going and just letting me do what I was doing. There's really nothing that I had a problem with, it was honestly amazing from start to finish.
V What's next for Wisdom? Anything else that you're working on or excited to work on in the near future?
WK You know, Wisdom's been working a lot of stuff, there has been a lot of stuff going on and it wasn't, you know, just life and stuff. She's got some things, she's planning some things —  oh I'm actually receiving a call from Wisdom right now, he's telling me to keep some things under the wraps. Okay, I got it, Wisdom! (laughs)
There's a lot of exciting things I definitely am working on — I don't want to say anything prematurely, but I'm definitely someone who likes to branch out and put his hands in other things and other fields. We'll see what the year brings — I'm just going with it and seeing what happens.
Check out the exclusive Coach x Champion Campaign video below: