V LEGENDS: Willy Vanderperre And Olivier Rizzo
FOR THE 100TH ISSUE, V PAYS HOMAGE TO THE CREATIVE MINDS OF OUR MANY LOYAL CONTRIBUTORS. YOU CAN CALL THEM LEGENDS. HERE, WE LOOK AT DUO WILLY VANDERPERRE AND OLIVIER RIZZO, WHO HAVE BEEN CRAFTING INSPIRING FASHION PHOTOS TOGETHER FOR V SINCE DAY ONE
FOR THE 100TH ISSUE, V PAYS HOMAGE TO THE CREATIVE MINDS OF OUR MANY LOYAL CONTRIBUTORS. YOU CAN CALL THEM LEGENDS. HERE, WE LOOK AT DUO WILLY VANDERPERRE AND OLIVIER RIZZO, WHO HAVE BEEN CRAFTING INSPIRING FASHION PHOTOS TOGETHER FOR V SINCE DAY ONE
Photographer Willy Vanderperre and stylist Olivier Rizzo's first contribution to V came before the magazine even technically existed. Their 1999 image of the model Robbie Snelders in Raf Simons, his face painted by makeup artist Peter Phillips to look like Mickey Mouse, appeared in V's inception issue, V0, used to demo the concept of the magazine to potential advertisers. That indelible image has gone on to epitomize exuberant youth and fashion anarchy, later published as the cover of Simon's and Francesco Bonami's cult style bible The Fourth Sex: Adolescent Extremes, in 2003. Vanderperre and Rizzo have since become globally recognized for their campaigns with Simons (for his men's label as well as for Jil Sander and Dior, when Simons was at the helm of each), and continue to inspire and provoke with their unflinching look at youth culture and their signature street-influenced style. In V, their work has defied expectation, such as when they photographed Miranda Kerr for her first story in V wearing stuffed dresses (V66), the acclaimed actress Charlotte Rampling in Gaultier Paris for V68, or the breakout model Lea T for V70, four years before the transgender tipping point would alter mainstream perception of beauty worldwide. To us, that very first image of Robbie shot in an apartment in Antwerp will always best reflect who Vanderperre and Rizzo are: a couple of punk kids operating on instinct, making fashion dreams come true.
This is an excerpt from V Legends: a special supplement to V100. To read the full compendium, order your copy of V100 here, or pick up the issue on stands now.
ADAM FOR V14.
MIRANDA KERR FOR V66.
LEA T FOR V70. 
CHARLOTTE RAMPLING FOR V68.
THOMAS, ANDREAS, ROBBIE, KIM, AND SELM FOR V6.
CHLOE FOR V17. 
AMANDA LAINE FOR V54.
SUVI KOPONEN FOR V45.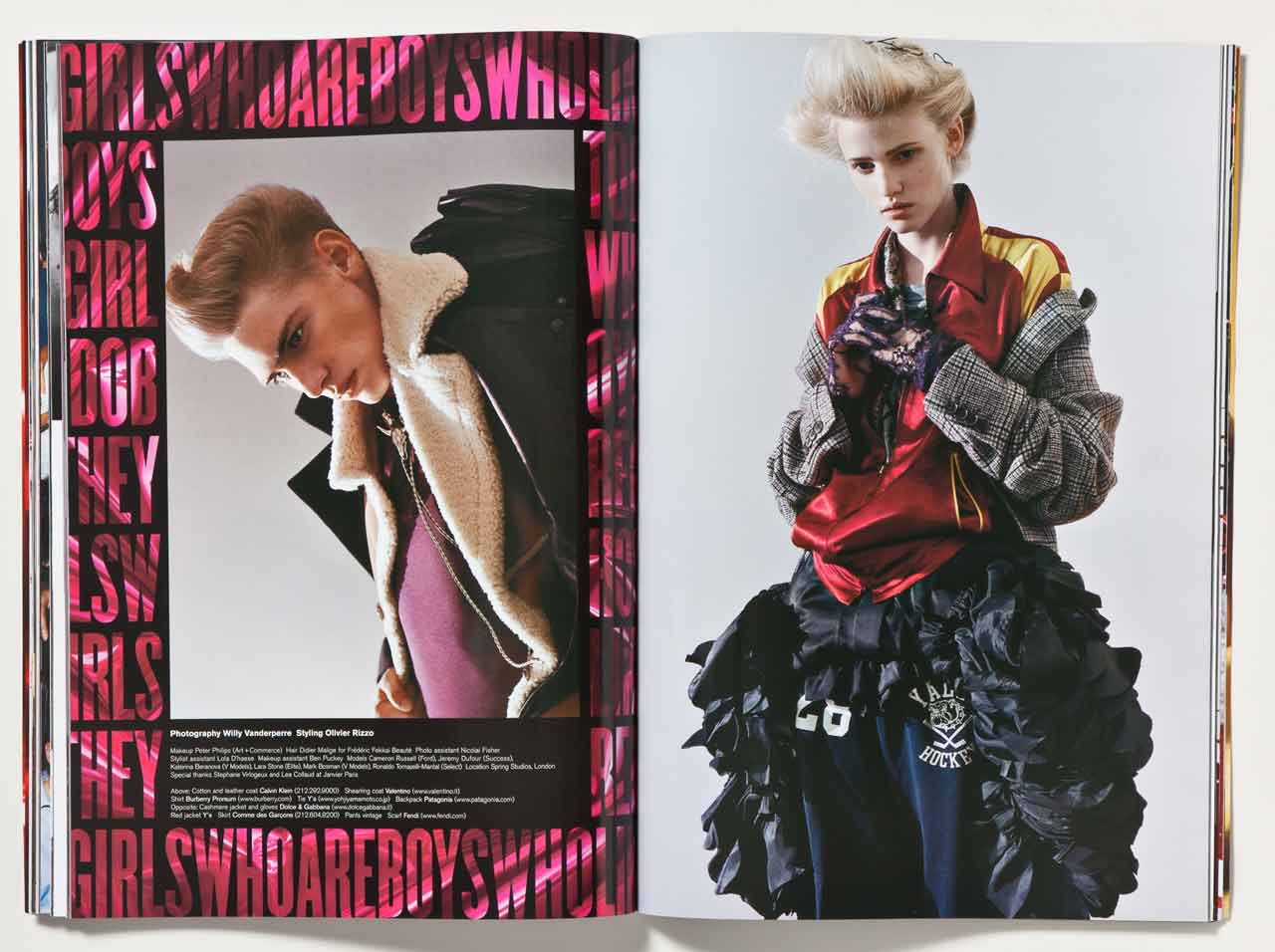 JEREMY DUFOUR AND LARA STONE FOR V32.
LARA STONE AND NATASHA POLY FOR V55.
JIMMY PEARCE AND TIM CULPIN FOR V21. 
SASHA PIVOVAROVA FOR V40.
NATASHA POLY AND RAQUEL ZIMMERMANN FOR V57. 
ROBBIE SNELDERS FOR V0.
IRIS STRUBEGGER FOR V60.