V133: Kacey Musgraves is On Fire
With her most personal album yet, Musgraves flame is burning brighter than ever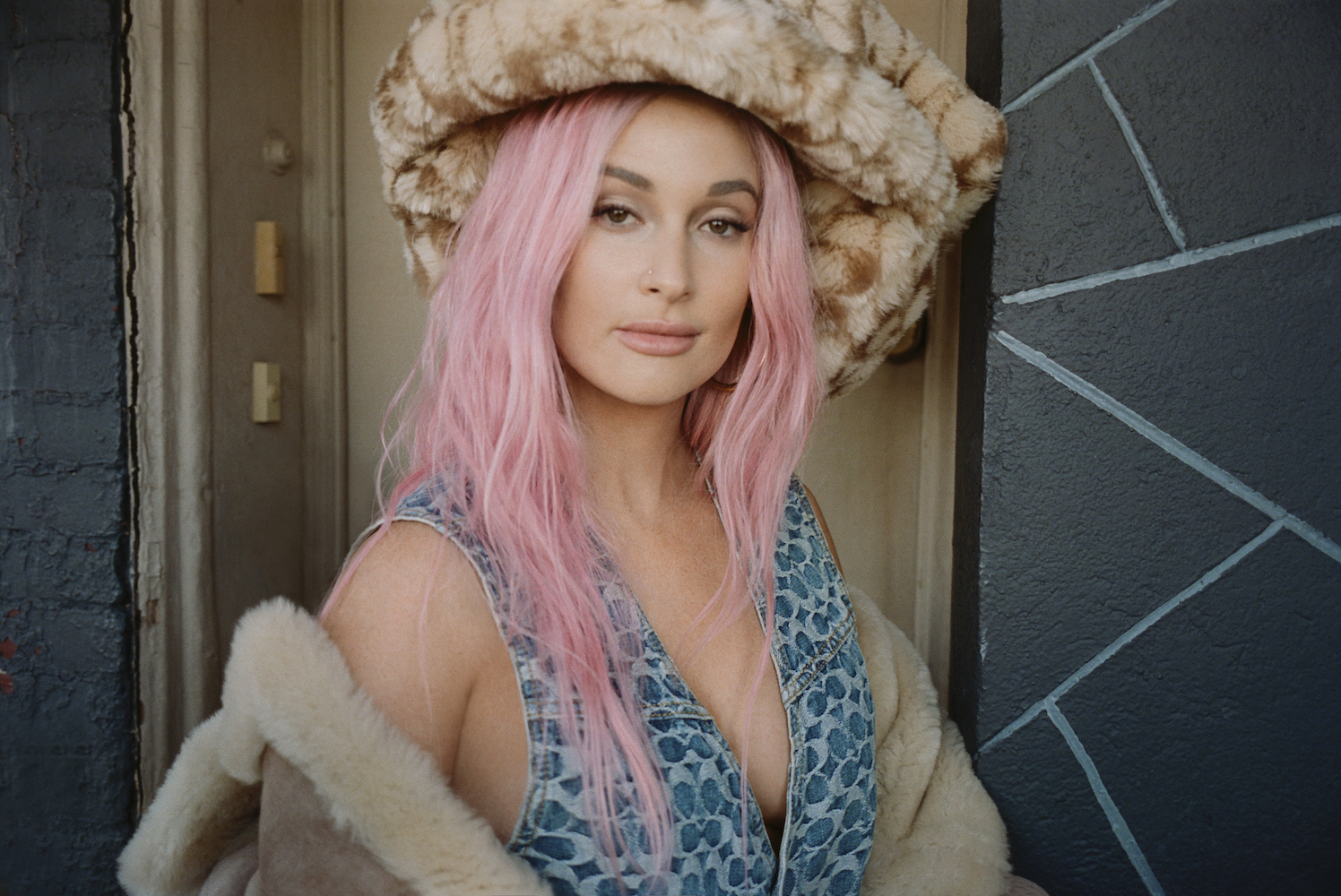 This digital cover story appears in a special V133 issue available for purchase now. 
Country music has never seen something quite like Kacey Musgraves. Having put out five studio albums, the 33-year-old has revolutionized the genre by continually pushing its sound and look in new directions. With her most recent album, star-crossed, Musgraves furthered her spot as a forerunner in her unique country-meets-singer-songwriter-meets-pop sound, all culminating as the soundtrack to her equally playful, heart wrenching, and relatable lyrics about love and life. As time goes on, Musgraves' star seems to only shine brighter, with an international fan base that includes both country music die-hards and listeners who likely thought they'd never listen to country music a day in their lives. While in Paris, V Magazine's Editor-in-Chief Stephen Gan called Musgraves in New York the morning after she performed on Saturday Night Live—in the nude, no less.
Read about her approach to life and relationships and her upcoming tour, below.
Kacey Musgraves: Oh, hi.
Stephen Gan: From hotel room to hotel room!
KM: Look at what I've got here. Can I flip the camera around? I just got my pancakes and a breakfast sandwich. I got my coffee over there. I took an Excedrin and I'm ready to go.
SG: Does Excedrin help hangovers?
KM: It helped me. I was pounding when I woke up.
SG: Well, thank you for wanting to be in V. The conversation started over a year ago when we had that drink. That hour with you was kind of life-changing for me. You know, do you ever have a chance encounter with someone that's so unexpected, and then you feel like you can pour your heart out to this person?
KM: I have always felt a connection with you. You're so fun and easy to talk to.
SG: Speaking of your new album, Star-Crossed, I was watching your Apple Music interview with Zane Lowe this morning. And you said these lines that were so strong to me: "I think there's always reward in choosing to be the most vulnerable."
KM: That's some advice that I was given. At the beginning of this year, when I was kind of in the throes of a lot of personal change, I was told that being witnessed by others being vulnerable is one of the strongest things that you can ever do. Showing emotion, isn't always the easiest, but I think it's just really vital to be witnessed being vulnerable, you know? And I think it's even important for kids to see their parents cry and have moments with things like that. But it's definitely not easy for sure.
SG: You've actually been able to turn it into your art and have it speak to the world.
KM: It's definitely scary. You know, it's a freaky thing to put your emotions on display and have them offer it up for dissection. But what's the point of creating art if you can't do that. I'm just in this chapter where I'm trying to lean into vulnerability, and maybe try to get away from perfection. You know what I mean? Nobody likes perfect. It's boring as hell.
SG: I love how you will get so real.
KM: Well, I think also that when you lose something in your life—it might be a friendship or relationship, or even a business relationship or something like that— we're all conditioned to think, Oh my gosh, this one thing is ending. This is the worst; it shouldn't be this way. But it's really cool that life can have this beautiful surprise around the corner from you.
SG: When I met you and we had that drink, you just kind of struck a chord in me. You were so visibly happy with your [new] relationship. And then a lot of people learned [another side of you ] from the lyrics of Star-Crossed. The line that hit me hardest is from the title track, when you sing, "I signed the papers yesterday / You came and took your things away."
KM: It's the ultimate decision you can make for yourself, to move on from something that isn't serving you or that other person anymore. I think that we've all probably learned a lot about self-care in the last year-and-a-half with the pandemic, and re-evaluating what is of the utmost importance for me to be happy. And even just in terms of work, to be productive. I don't know how you feel, but after a year-and-a-half of the wheels stopping, getting back on the hamster wheel seems mentally very difficult for me right now. I'm coming off of a week of doing SNL and the V shoot— which I love by the way; it turned out beautiful. Have you seen the pink hair?
SG: Yes! I was just editing the pictures; they're so good. You can attend the Met Gala with Ralph Lauren, as you did this past September, and then you can do the cool underground thing, too. You're doing that with your music videos and film for Star-Crossed. I get jealous when I watch your music videos! I could never do a shoot where girls come in with bazookas and shatter glass. It's just so good.
KM: It's interesting, right? I think that sometimes it's the balance between making sure everyone feels safe and represented—and then also, how does that affect art? And you know, sometimes art is reckless! That's a very hard line to walk because I think that sometimes art at its true core is inflammatory,
SG: Right. And it is expression. I heard that you want to move to Japan one day. Is that true?
KM: Whenever I've been, I just don't want to leave it. We'll see how it goes, but I'd really love to get out of America and get into a rhythm somewhere else. There's a really unique and beautiful energy there in Japan. Everything is full of such intent and respect. I loved the chance to write that piece on Hayao Miyazaki for V. And since that transpired, a really cool opportunity to do an actual voiceover for a Miyazaki film [2020's Earwig and the Witch, directed by Hayao's son Gorô Miyazaki] came to light. I had like seven lines, but now I have an actual voice in one of their newest films.
SG: I didn't know! That's an honor, right?
KM: Holy crap. Yeah. I think that American children sometimes are underestimated in terms of their attention span and capabilities. One thing I appreciate about Japanese animation and Miyazaki's art is that he doesn't try to pander to a child's attention span or awareness. He just makes beautiful and artful moments, sometimes with really long pauses. It's never dumbed down for a child.
SG: In Japan, you'll go visit someone's home and their grandma will bring out one strawberry. And my friend will be like, "But you don't understand. It's a $40 strawberry and it's the perfect strawberry." There's this belief in quality over quantity.
KM: That right there is my mantra for this time period in my life: Less but better.
SG: Does that also apply to your personal life?
KM: Definitely. I would much rather have a stronger connection with one person than to know twenty times that amount of people, where the connection is strained. If you're not careful, you can look up like, "Oh my God, I have so many energy drainers." I think you've got to be ruthless in cutting some of that out and know that it is okay for things to have seasons. Not everything has to last forever.
SG: I think that is something that turning 30 brings.
KM: Oh, gosh. Yeah. So I'm 33, and I just put this record out. At base level, I enjoy the creation process—shaping something from nothing, taking little seeds of song ideas, and seeing them come to fruition in a larger statement. But as I am navigating through this I'm really examining, what about it makes me happy? It's not the grind that makes me happy. I think as you know, your passion in whatever industry you're in is unfortunately sometimes a small percentage of what you actually have to do on a daily basis. I've been thinking about that this week: what about this really makes me happy? How can I stay connected to that and minimize those other things? You know, less but better.
SG: You just want to be able to do what you want. It really seemed like you had a clear vision for your SNL performance of "Justified" last night. What inspired that?
KM: It was an idea that hit me last minute. A lot of my ideas come like a lightning bolt with no explanation. A couple of days ago I was getting a workout and I had this image pop into my mind of Jenny from Forrest Gump, naked on a stool. I just thought, with "Justified," I had to do it. I thought there was a lot of symbolism there for me. This [album] is the most naked that I have been artistically. So why not make it literal?
SG: I love that.
KM: I haven't heard from my grandma yet. I'm not sure if she noticed.
SG: As long as you have grace, I feel like things don't come across as cheap or tacky.
KM: Yeah. I would hope that people have come to know me for my lyrics and my integrity to the art. So I think a choice like that is okay for me. I don't lean on sexuality as a main component for what I offer to the world. So I liked the juxtaposition.
SG: Right. If things aren't going right, like with your vision, on a music video or something, do you ever have meltdowns?
KM: I wouldn't say a meltdown, but I have no problem advocating for myself. If I'm seeing something that isn't coming to fruition the right way, I will say that. I'm very detail-oriented, but details are important. Sometimes I feel like the world is run on details. If you don't know me, I think that I can come across as a little bit standoffish cold sometimes, but in reality, I'm pretty shy. When it comes to my art, I have a really strict internal compass as to what's going to work for me or not. And if I don't align with something, you can't convince me that it's going to be right for me.
SG: We're approaching the end of the year. What are your plans for 2022?
KM: I have a tour coming up—my first arena tour that starts mid-January. And there will be some international festivals in the summer. And in between those times where I am promoting this current record, I'd like to get in and explore where I'm at creatively now, because creative expression is often delayed. You know, I made [Star-Crossed] a year ago. It's about a past relationship, and in a lot of ways I'm in a different place now, in my life and in my personal relationships. So I think it's important to stay tapped into where you are creatively. Even if you're busy, promoting something else, like getting in and allowing for there to be some room to nourish my perspective creatively.
SG: I love that. Thank you Kacey. I know we're going to be doing so many covers together.
KM: I'm game. Any time!
This digital cover story appears in a special V133 issue available for purchase now.