VMagazine's 2021 Advent Calendar
Check out our handpicked gifts for this holiday season updated daily
Check out our handpicked gifts for this holiday season updated daily
This year, we've handpicked some particularly bomb items to give as gifts to your loved ones. Every day, we will release a new product on this list, which we're calling the official V advent calendar. In-store, we have luxury goods, fun accessories, little items to spruce up the home, and much more. So, if you haven't finished your holiday shopping, or you're just looking for a little treat to gift yourself, stay tuned to see what we think is the best on the market.
If you plan on making a statement this winter, go big-- or high in this case. Step into any holiday party with the right foot forward to elevate any cocktail dress, jeans, or trouser. These platform loafers come in three different colorways, but baby pink seemed just the hint of merry we need to brighten up a dark winter wardrobe. You can purchase these on Versace's website for $1,425.
This set includes four of Dior's most iconic products: J'adore Eau de Parfum, Miss Dior Eau de Parfum, a Rouge Dior lipstick with satin finish in shade 999, and Dior Prestige La Micro-Huile de Rose Advanced Serum. Available for $97 on the Dior website.
Looking to make a statement? Listen in style with these Louis Vuitton Horizon Wireless Earphones. Ideal for on-the-go or just lounging around the house, these earphones offer optimal sound quality and noise cancelling modes. Nestled in a stainless steel case, with a pink-gold stud these are essentials for a unique way of experiencing sophisticated auditory listening. Available for $1,190 on the Louis Vuitton website.
From the dance floor to your weekly errands, these Ninette-V Zelda Uve Lois jeans will take you there. Not only making you look good, they'll make you feel good too, knowing that they're made with Lois' eco wash technique which saves more than 60% water. Available on their website for $189.95. 
It's all in the details with this one. This Celine wallet has a delicate calfskin lining with gold metal hardware finishes. With a Triomphe Button closure, five card slots and a coin pocket, this wallet fits perfectly in a large tote or tiny shoulder bag. Available on their website for $590. 
Say how you really feel this holiday season with this dazzling timepiece encased in a steel casing and set with 44  cut diamonds. Offset with a calfskin strap, and steel ardillon buckle. The Balllon Blanc de Cartier Watch retails for $8,150, head to Cartier's website to find out more information.
Treat someone you love or maybe just yourself this year. The Medium 4G Bag in Box Leather with Chain is showstopping meets sophistication and will add a little bit of spice to any ensemble. This investment piece can be yours for $2,490 on Givenchy's website. 
Is there a better way to say those three little words to someone special? Say it with jewelry. With 18 kt gold and encrusted with diamonds, this timeless piece of hardware is sure to be the perfect heirloom for decades to come. Available now for $10,400 head to Bvlgari's website to find out more.
Ready to hit the slopes or the lodge? Pull up in style with this cropped, monogram, down Fendi Ski Jacket with a removable hood. Priced at all $3,100, the jacket can be yours. Head to Fendi's site for more information.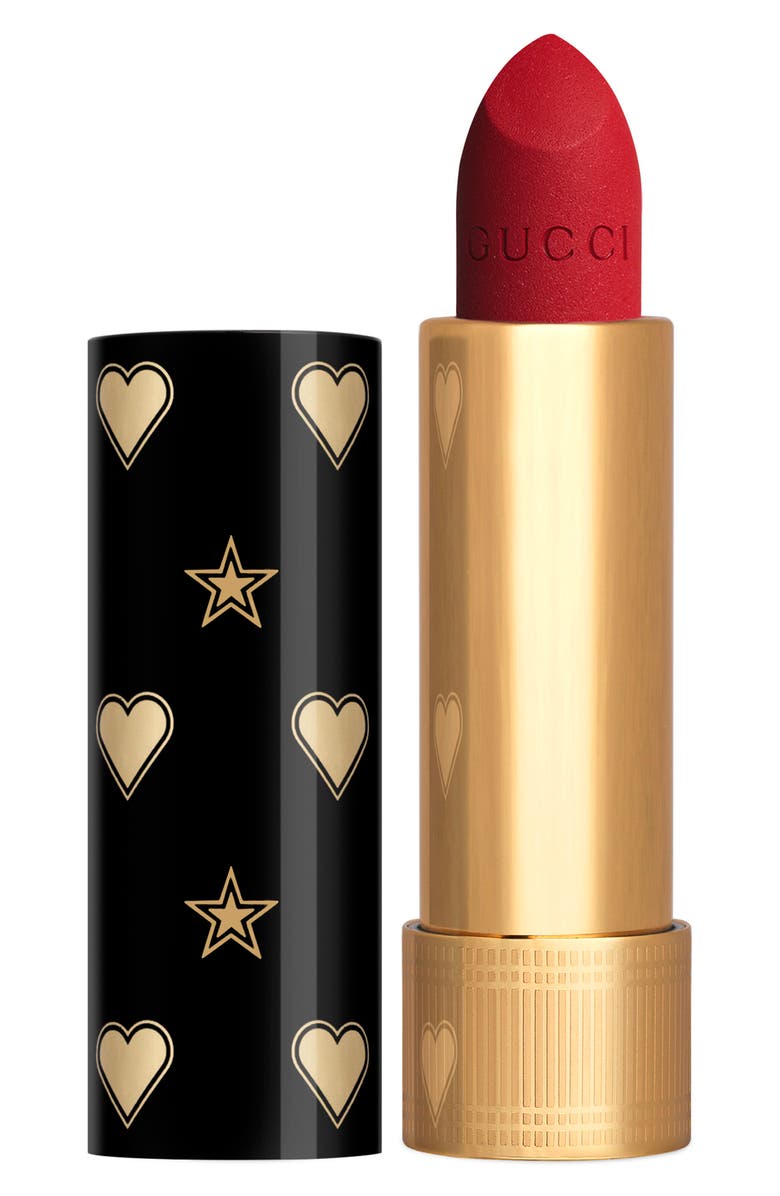 Pucker up under the mistletoe this year! The perfect red lipstick does exist and just in time for the holidays. This stocking stuffer favorite for any beauty lover is available for $42 on Gucci's website. 
Cute, cozy and chic. You cannot go wrong with a fun beanie for winter dressing. Keep warm in style with this pink 6 Logo Beanie hater this winter season. Available for $157 on Maison Margiela's website. 
What better way to settle into the holidays than in a classic cardigan, Dress it up for the holiday party or opt for something casual paired with slouchy jeans. This Monogram Wool Cashmere Blend Cardigan is available for $960 on Burberry's website.
Giving the gift of fragrance is always a good idea, and a staple favorite? Chanel N° 5. Make it extra special with their 100-year Anniversary Collector's Edition. Available for $150 on Chanel's website snag yours for someone special, or just treat yourself.
Stay warm this winter with these cashmere gloves from Giorgio Armani. Easy to pair with any coat, these are the ideal gift for anyone. Available now for $425 at Giorgio Armani's website.
Let's bring all the drama to the holidays, and by that, we mean with our jewelry. Sparkle with the OMEGA Constellation Quartz 28 mm timepiece. Characterized by its famous half-moons, "claws" on the case and mono-rang bracelet, and dazzling in 18K yellow gold stainless steel model features a bezel engraved with Roman numerals, white mother-of-pearl dial with diamond hour markers and scratch-resistant sapphire crystal. Available for $5,850 on OMEGA's website.
What to give the person who has everything? Some cool and cozy of course. This faux fur GCDS mini jacket is the perfect pick. Available for $850 on GCDS' website. 
Anyone looking for heavenly hardware?  The classic "Clic Clac H" bracelet is a fabulous addition to anyone's arm party. Available in various colors for $790 on Hermés' website. 
Cheers to new beginnings in 2022, and good ones at that. Bid adieu to 2021 in style with these crystal Balenciaga flutes. Available now for $335 this set can be purchased on their website. 
Welcome back the early 2000s! Get into the trend with this Prada  Re-Edition 2000 sequined Re-Nylon mini-bag. Blast some Britney Spears, put on your shortest pleated mini skirt, and sling this over your shoulder for the ultimate Y2K look. Available for $1720 on Prada's website. 
Perfect in pink. We're all here for the glamourous moments in 2022. This faux fur coat will be sure to make any outfit pop. Available for $398 on GUESS's website. 
A perfect neutral staple for anyone's wardrobe. Thick wool fabric, will keep you warm, but the aviation-style will gives off the coolest vibe. Available for $595 on BOSS's website. 
For your friends who always have their cameras out, this one's for you. Ray-Ban Smart Glasses, skip the phone and use your eyes for a perfect point of view videography. Available in different styles colors, head to Ray-Ban's website to find out more.