What Would They Buy Now: Cruella de Vil
IN THIS WEEK'S EDITION OF "WHAT WOULD THEY BUY NOW?" V PREDICTS WHAT NOTORIOUS VILLAIN CRUELLA DE VIL WOULD SPLURGE ON TODAY
IN THIS WEEK'S EDITION OF "WHAT WOULD THEY BUY NOW?" V PREDICTS WHAT NOTORIOUS VILLAIN CRUELLA DE VIL WOULD SPLURGE ON TODAY
Originally a fictional character appearing as the main antagonist in Dodie Smith's 1956 children's novel The Hundred and One Dalmatians, Cruella de Vil's most infamous and celebrated portrayals remain Walt Disney's animated and live-action films. Both renditions are beyond memorable and it's easy to see why: the 1961 animated version was based on legendary actress Tallulah Bankhead's mannerisms and personality while Glenn Close took on the task to perfection in 1996, and again four years later.
Eccentric to say the least, Cruella champions the meaning of possessing "style" (some would consider her "kitsch") and would flourish in today's world with her controversial love of animal skin. In a day and age where almost everything has been and can be done, let's just say it's fairly certain PETA would open a department dedicated solely to crusading against the woman.
Exotic skins are her weakness and if she could live in a house with leopard walls, she would. It's pretty evident Cruella would turn to designers famous for blending the sensual appeal of animal prints and feminine designs such as Tom Ford and Azzedine Alaïa. Remember that Autumn-Winter 1991 collection of his with leopard print coats, leotards, leggings et al? She'd rummage the best vintage troves to find them all, and that's a fact.
That said, she'd also channel her deep appreciation for black and white ensembles, a node to her renowned hairstyle (the Honorable Daphne Guinness probably have the villain to thank for her own unique interpretation); she'd collect anything and everything about sublime creaturesbooks and objets d'art of animals, particularly those found in Sub-saharan Africa; and she'd definitely live in a domain most likely resembling that of a jungle.
Yes: you'd find her immoral, extravagant, ridiculous, cruel even--but you wouldn't expect anything else. Other than a woman you'd love to loathe (and secretly want to be).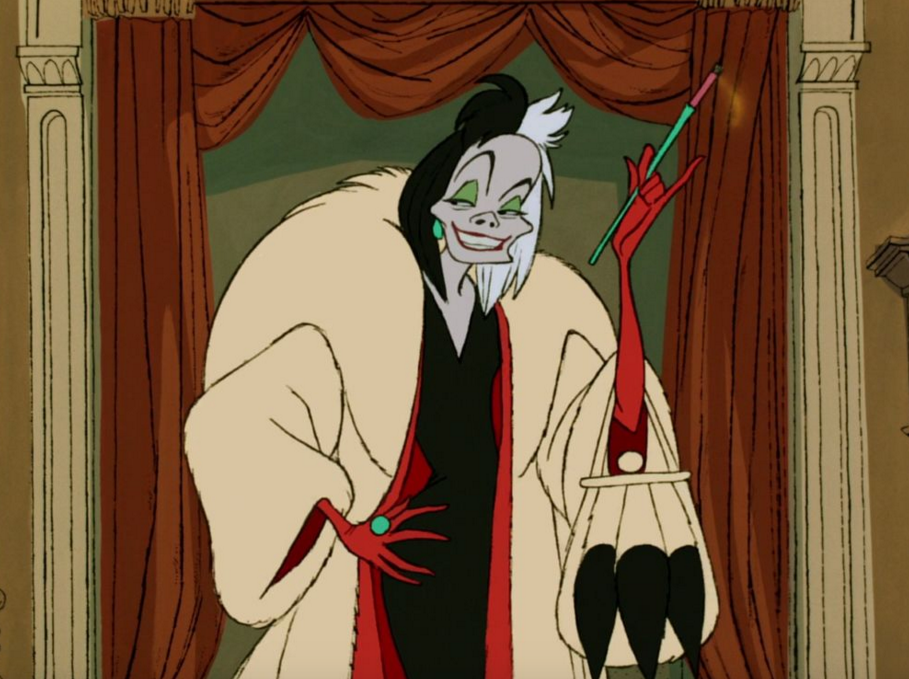 The Dress: Mugler cutout two-tone cady gown
The Jacket: Azzedine Alaïa leopard pony fur jacket
The Night-Table Reading: "Peter Beard" by Nejma & Peter Beard (2013, Taschen)
The Blanket: Hermès cashmere and silk blanket with "Léopard de Ceylan"
The Boot: Dolce & Gabbana 105 MM "Kate" stretch lace boots
The Beauty Item: Givenchy "Le Rouge" lipstick - 306 Carmin Escarpin
The Eyewear: Jeremy Scott by Linda Farrow zebra printed acetate cat eye sunglasses
The Handbag: Marni zebra print calf hair trunk bag.
The Coat: Liska check mink coat
The Artwork: Dalmatians painting by unknown artist (circa 1980)
The Gloves: Maison Margiela leather and stretch-mesh gloves
The Sheets: Betsey Johnson Bedding "Wild Thing" comforter set