YOOX hosts a virtual International Women's Day chat featuring Zara Larsson
Who run the world? You guessed it: girls.
Who run the world? You guessed it: girls.
In celebration of International Women's Day, YOOX hosted a star-studded virtual roundtable discussion about women empowerment and ultimately, creating a more inclusive world. The chat is part of style outlet, YOOX and its ongoing campaign "And So Do Girls" aimed to celebrate female movers and shakers.
The conversation flowed effortlessly between Zara Larsson, an internationally renowned pop star and dancer, Yinka Bokinni, renowned British TV and radio broadcaster, Alexandra Botez, a world leading chess player, live streamer on Twitch and YouTuber and Leticia Bufoni, a Brazilian professional street skateboarder. Despite their different backgrounds, the four famous ladies share the same empowering attitude of challenging the status quo and redefining what it means to be a woman.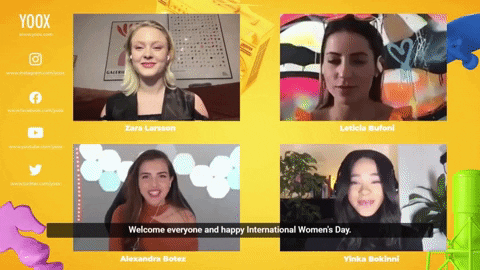 Larsson reflected on her own experience of being a woman in the music industry, a field dominated by men. "There are a lot of great writers that are women, there are a lot of great artists, but I don't feel that there's a lot of women sitting in the big chairs at the big tables," Larsson said. "But I do feel like it's changing." 
The multihyphenate talent explained the positive changes she has noticed over the years regarding female representation in the music world. "I really hope it's something that we will continue doing and not just, you know, a trend." The Swedish-born singer explained the increase in women leadership in her industry has cultivated a friendlier environment sans unwarranted remarks and uncomfortable jibes.
The four ladies discussed feminist topics including imposter syndrome and the focus on gender in their respective job titles.
"I always notice that they call me a female DJ, or they'll call you a female chess player or a female skateboarder," Bokkini stated, with her fellow ladies' heads nodding in agreement. "When we drop the caveat, then I think it will be equal. It's not a precursor to what you do."
The nearly hour-long chat anticipated the premiere of Larsson's newest music video for "Look What You've Done", a track off her freshly released album. The song is described as a tribute to women who have overcome adversity by showing strength and resilience and by putting a positive focus on themselves. 
You can check out the ladies' inspiring conversation on YOOX's Instagram.